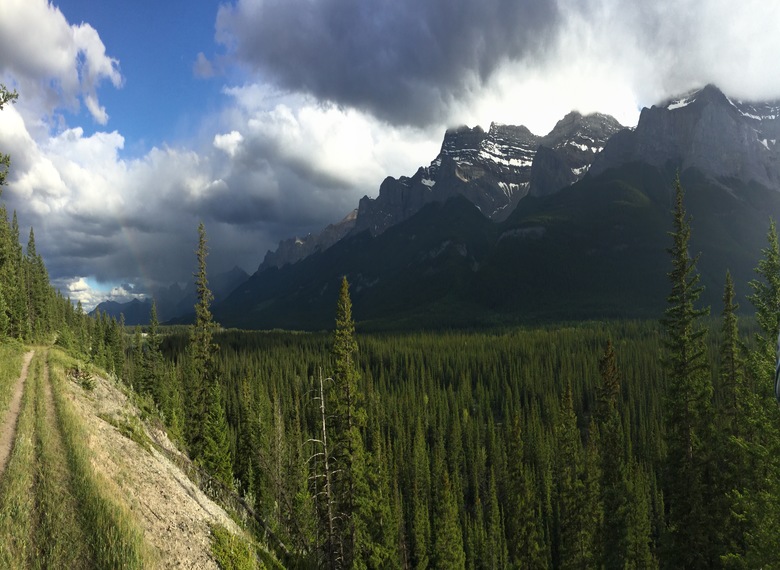 Kristen Hutchinson, Rainbow in the Rockies, 2016.
PHOTO Courtesy of the artist.
It is fitting that the 20th issue of Luma Quarterly is comprised of articles all about Alberta: mainstream films shot here, the innovative distribution of media art in Edmonton, an exhibition in Calgary, a documentary about Albertan oil workers, and films about the Calgary Stampede. 
In our first issue, launched in the summer of 2015, former editor Lindsay Sorrell wrote: "Criticism, reflection, journalism, whatever you want to call it, is here to tell us that, on all sides, there are people, erred, full of emotion, and able to believe the world was built on a turtle's back despite all the weight of science. There are fields of study more interesting than art itself, and…that is why art exists." Twenty issues later, we continue to investigate and publish articles about media art and film in Canada, with a specific focus on Western Canada. 
I think the longevity of our open access online journal, without advertisements, is a real accomplishment for all of us who have been involved over the last six years. I would like to give a special shout out to Vicki Chau, the former programmer at EMMEDIA, who gave so much of her time, energy, kindness, and organizational superpowers to Luma Quarterly. We miss you already and wish you all the best in whatever you set your wonderful and creative mind to next. 
The view from here is indeed a special one. Many people have negative views of Alberta, and in some instances rightly so. With the particularly horrible brand of toxic masculinity found here, the current reticence to socially isolate due to COVID 19 that I see in my neighborhood every day, and the extreme nastiness of our provincial government, there is certainly a lot to critique. While it did take me a while to acclimatize, as noted in a previous editor's note, I have discovered from living in Alberta for almost 12 years, there is much to celebrate too.
 As I embark on a new journey, moving back to Montreal this summer, there are many aspects and people I will miss about living in this province such as the stunning variety that the landscape has to offer, especially in the Rocky Mountains and the Badlands; the supportive, resilient, and encouraging media art community across the province, especially AMAAS and FAVA; the River Valley trails in Edmonton; the DIY, "We Can Do It" attitude of Alberta's creative people; the Banff Centre; giving presentations about popular culture with amazing co-panelists at the Calgary and Edmonton Comic & Entertainment Expos; the remarkable students I have taught at the University of Alberta, in independent seminars in my Edmonton living room, and in my collage workshops at the Paint Spot; and some of the best friends I have ever had. There ARE good people here in Alberta, especially in the arts communities, and I have been fortunate to meet, collaborate, and become friends with so many of them. 
Thankfully, I will continue on as the editor of Luma Quarterly, bringing my almost twenty-two years of connections and experience of living in Western Canada to this marvelous journal. After twenty issues, we are still here, exploring media art and film from Western Canada and beyond. I am so fortunate to be part of this publication whose mandate I truly believe in. I hope you enjoy our 20th issue, with all its magnificent Alberta content.