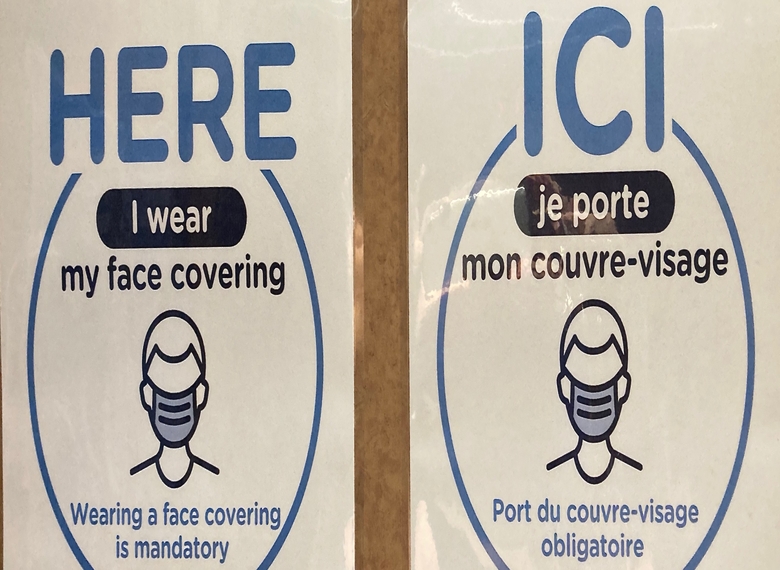 Kristen Hutchinson, Here I wear my face covering, 2020.
Photo Courtesy of the artist.
Art During the Pandemic
Remember in April when we (or maybe it was just me) thought that self-isolating for a few weeks would nip this COVID-19 in the bud entirely? Well, several months later this pandemic isn't going away any time soon. Many Canadian arts organizations have done an admirable job of adapting, moving their offerings online, and finding new ways to engage with audiences and each other. The articles in this issue address art making during the pandemic and the move to presenting art online rather than in real time through streaming services or in virtual spaces like Instagram.
Media art and film creators are particularly fortunate given their creations can often be made available to the online masses either for free or behind a paywall. Still it is important to consider what might have become lost in this transition. For example, I have been really missing the immersive experience of going out to the movies with friends and chomping down on a large box of popcorn (which I always pretty much inhale within the first half an hour, if not sooner). I am still reticent to go to movie theatres and I'm not sure what it will take for me to feel like it is safe enough. 
There is also much to be said for entering a darkened room in a gallery or museum to become completely absorbed in a large-scale projection with no distractions other than trying to not get in other people's way too much. In the before the pandemic times, I would often maintain a social distance in galleries, out of politeness that everyone gets an equally good view rather than trying to avoid COVID. As many cities are thankfully making masks mandatory inside public spaces, it felt safer to me to head back to a gallery.
For me gallery going is one of the safer public activities to pursue these days: an almost silent, distanced, and individualistic time to commune with the artworks on display. A recent visit to Rafael Lozano-Hemmer's exhibition Cercanía at Arsenal Contemporary Art in Montreal reminded me of the necessity of seeing media art in the real. This was my first time in a gallery since January, which is a rather long period of gallery abstinence for me. I felt at ease due to the required masks, timed entrances, and limited numbers of viewers in the gallery.
Lozano-Hemmer's works are immersive and interactive dialogues with technology, often placing the body of the viewer at the centre of the artworks. The exhibition "includes a 30 metre long interactive projection room, a 2,300-channel sound sculpture, a computerized shadow play, as well as a water fountain that 'draws' ephemeral portraits of people with cold water vapour."1For Recorded Assembly (2017), you are asking to enter a small cordoned area and take off your face mask to be recorded by face detection algorithms that overlap images of live and past participants.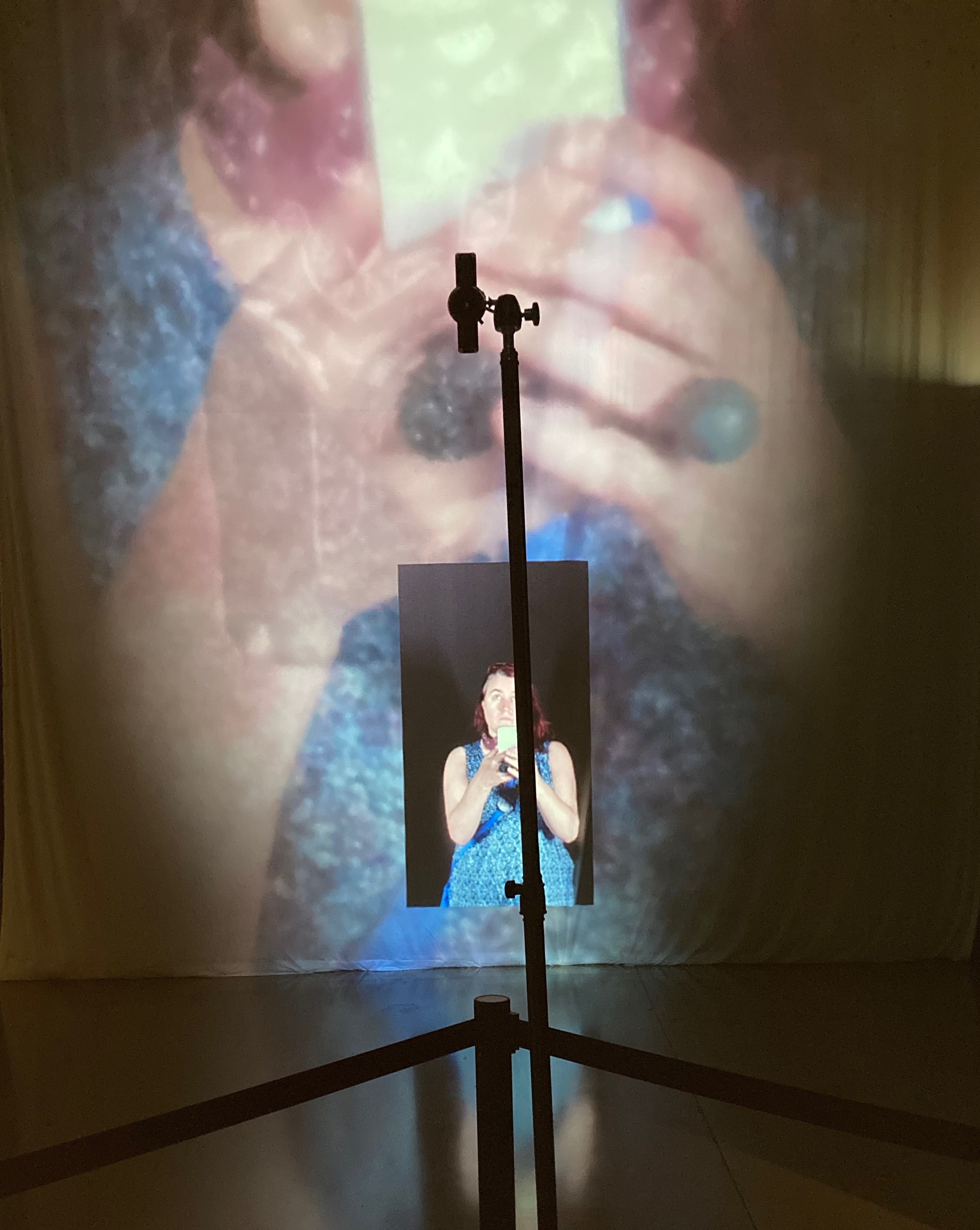 Kristen Hutchinson, Experiencing Rafael Lozano-Hemmer's Recorded Assembly, 2020.
Photo Courtesy of the artist.
Lozano-Hemmer comments on art during the pandemic:
With the continued devastation of COVID-19, experts have predicted that Museums will take years to recover, that crowded shows will be a thing of the past, that art will take place in online viewing rooms or VR, that we are effectively trapped in the glass jail of videoconferencing. I don't agree: immunity, vaccines, treatments, prevention and testing will no doubt get us through this pandemic eventually, as they have before. In the near future we will hang out, embrace new friends, go vote, live shared experiences, and make new relationships. We will be out in force, in solidarity, in protest, in mourning.2
I agree with the artist that things will return to "normal" eventually. Hopefully we will create better forms of "normal" where we will use the pandemic as a wake-up call to actually deal with the problems of climate change, inequalities, and wealth distribution. The exhibition also reinforced my belief in the importance of seeing art in the real. I encourage you to go and see an exhibition at a gallery or museum near you, if you feel comfortable doing so, with a mask on and social distancing of course. Going to Arsenal helped me feel like the life I had in the before times was still possible, even if it is a little different.
Issue 021 Header Image: Terrance Houle, Ghost Days: CVD 19 Series, 2020