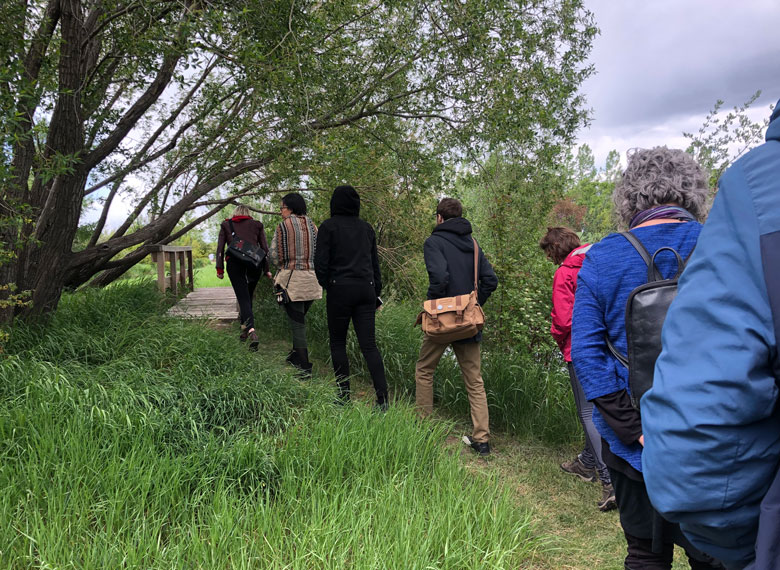 Raylene Campbell leads a deep listening workshop during the On Sound Conference, 2019.
PHOTO Suzette Chan
The term "sound art" was originally associated with early 20th century Russian Futurist Luigi Russolo and became popular in 1984 by the Sound/Art exhibit at New York's Sculpture Centre.1Edmonton had already hosted concerts by Robert Fripp, on August 7, 1979 at the Provincial Museum, and Chris and Cosey on October 6, 1985 at Dinwoodie Lounge at the University of Alberta. These two acts ushered in a generation of adventurous fans and musicians from prog rock and punk to experimental electronic music.2
The summer of 1985 featured the Edmonton debut of Ohama, a multimedia electroacoustic performer then based in Lethbridge. The following year saw the first edition of The Works Art & Design Festival, a sprawling downtown event intended to appeal to the masses. The festival introduced many Edmontonians to multi-media installations and performances. By the mid-1980s, Edmonton the sound art community was ready to take off.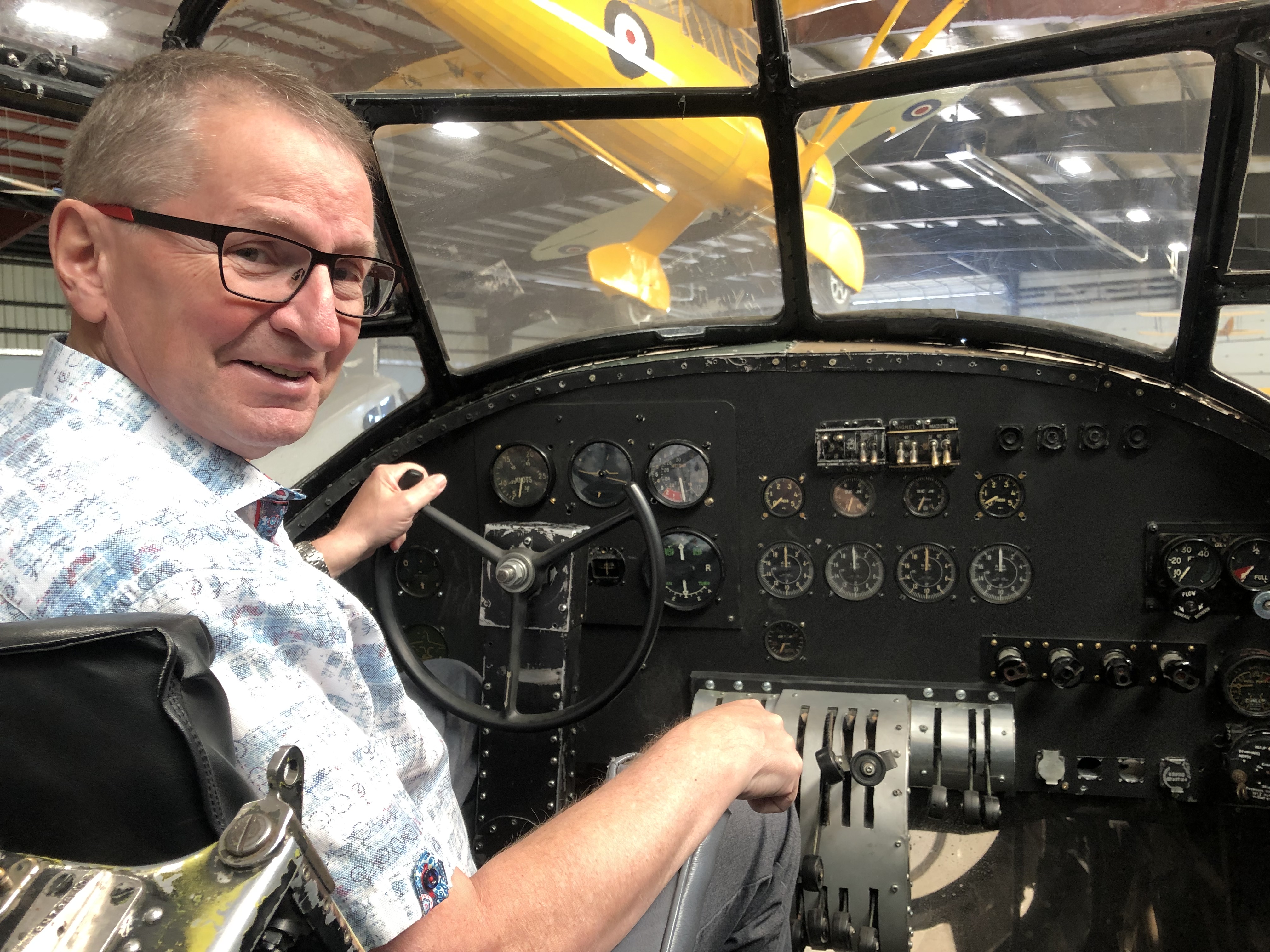 Marcel Dion, creator of the influential radio program Departures, at the Bomber Command Museum of Canada in Nanton, 2019. 
PHOTO Suzette Chan
Marcel Dion
In many ways, the current Edmonton sound art scene goes back to a campus radio show that began the year before the Sound/Art exhibit: Departures, hosted by Marcel Dion from 1983 to 1992. I'd seen Dion around the conference, but had no idea how influential he had been for many of the participants or the scene from which they came. 
Dion became interested in experimental music through the music of Sun Ra and other avant-garde artists that he heard on a radio show hosted by Marc Vasey on CKUA, Alberta's public broadcasting system.3He loved the music on Vasey's show, but felt that it wasn't enough."I wanted to hear more of it on the radio," he told me.4Luckily, he was friends with Gene Kosowan, the station manager of CJSR, the University of Alberta campus radio station:"I asked him if there was an electronic and experimental show on CJSR, and he said, 'No. You have the knowledge in this area, so why don't you do a show?'"5
With no radio experience, Dion undertook the task in true Edmonton DIY fashion. Hosting a show on CJSR was and continues to be a volunteer gig. Much of the music that came to the station were from record companies focusing on college radio. Dion recalls, "Many cassettes came into the station because of CJSR being included in the Contact List of Electronic Music. It was a pre-internet mailout put together by Vancouver's Alex Douglas. It went around the world and was highly valuable for us."6

In his spare time at his night job at an industrial gas processing company, Dion wrote to small labels that specialized in the type of music he wanted to hear. He received music from obscure acts as well as from electroacoustic legends like Klaus Schultz and Suzanne Ciani. He also got music from a future academy award winner: "Mychael Dyanna sent his own cassettes, as well as cassettes made with his associate, Tim Clement."7

Professional musicians weren't the only ones sending music to Dion. Dion notes, "Over the course of the show, there would be people showing up at the station with tape in hand, saying, 'I recorded this in my basement.' Shawn was one of them."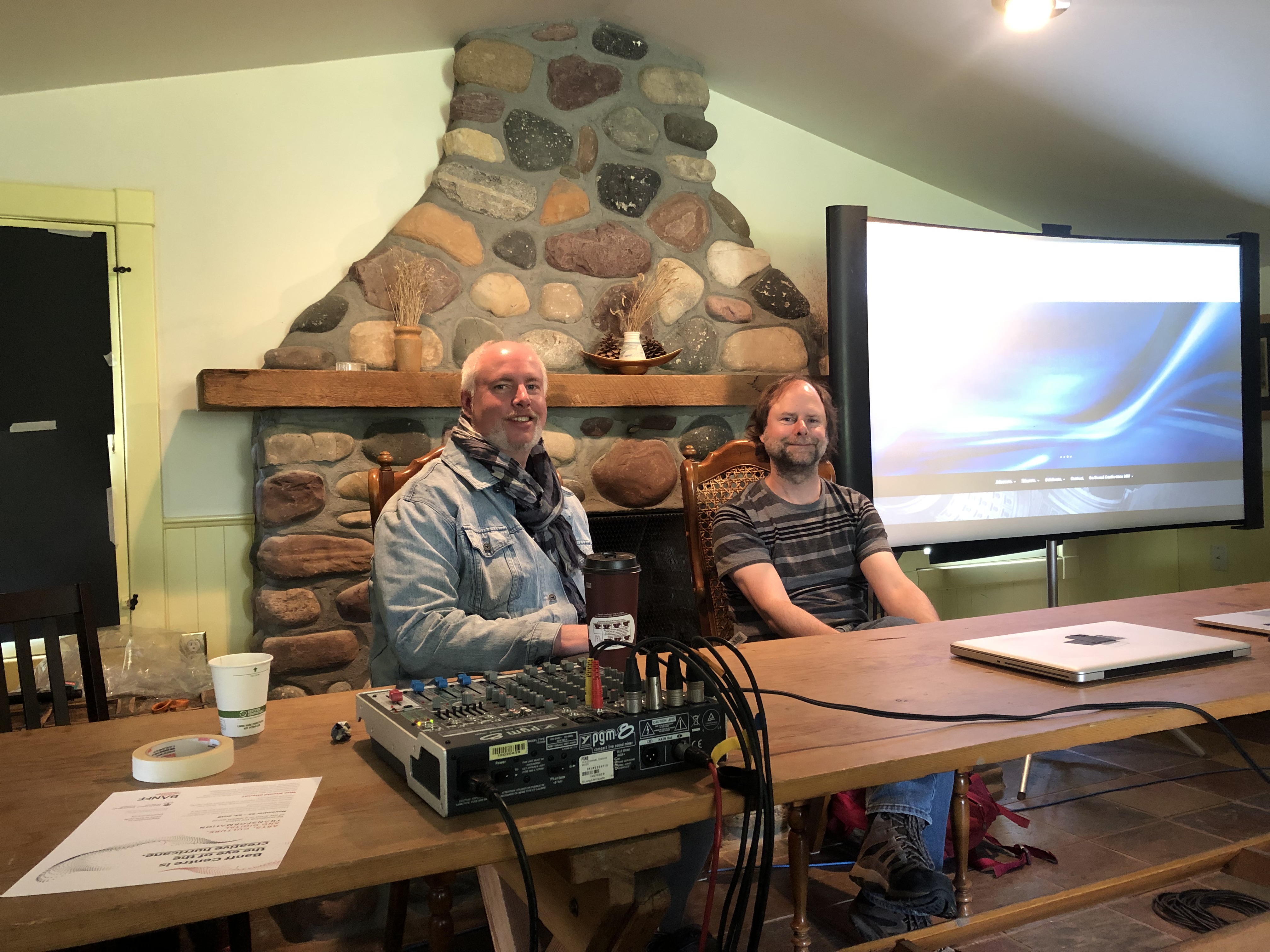 Gary James Joynes and Shawn Pinchbeck before their talk during the 2019 On Sound Conference, 2019.
PHOTO Suzette Chan
Shawn Pinchbeck
The "Shawn" that Dion mentioned was Shawn Pinchbeck, who was just 15 when he showed up on CJSR's doorstep with tapes of his own original music. 
"We would come in to his show and play them live," Pinchbeck remembers. "Sometimes the music would be fresh off the presses, the day before or something. When I made releases, we would drop copies at the station for the library. There might still be cassettes of mine at CJSR, if they haven't been binned over the years."8

Having grown up with older brothers, Pinchbeck was already a fan of prog rock groups like Tangerine Dream. However, he says, "Departures was probably my first exposure to other kinds of electronic music, like industrial and experimental." Pinchbeck's high school friends were also into listening to and making electronic music. Three of them went on to industrial music careers: Dwayne Goettel and brothers Darrin and Stephen Huss formed the band Psyche, who also dropped a tape off to Dion. Goettel later joined Skinny Puppy.
Starting in 1983 or 1984, Pinchbeck and friends began to put on "crazy multimedia shows"9a couple of times a year to showcase the music they wanted to perform. They rented the Chinook Theatre (now rebuilt and rechristened the Varscona Theatre) for $125 a night and sold tickets to the public at $5 each. Later, Pinchbeck organized gigs in the basement of an independent music store called Auracle Records on Whyte Avenue. (That storefront now houses an insurance office, going from a venue for the risky to a business for the risk-averse.)
There were so many artists and events at the time that Dion, Kosowan, and their friend Ray Walker began to realize they should organize a music society. They took Dion's idea for a name and called it the Boreal Electro-Acoustic Music Society (BEAMS) and elected Dion president.
Pinchbeck got involved with the organization early on. Through BEAMS, Pinchbeck brought superstar Michael Brook to Edmonton, organized four editions of what became known as the Edmonton Intermedia Art Festival and three editions of the Sea of Sound Festival. In 1999, he began programming events with The Works. 
After years as a successful self-taught solo performer, soundtrack composer, and event organizer, Pinchbeck went to study composition at the University of Alberta in 1991. Garth Hobden, his instructor for the Electroacoustics I and II courses, influenced his future direction. "It was my first formal composition studies and what made me decide that I should pursue music as a career," Pinchbeck says. "We did some field recording together after that, which ended up being used by both of us in compositions."10Pinchbeck went on to earn a PhD in music composition from the University of Birmingham. 
Pinchbeck is still actively making new work. He has teamed up with former Strawberry Switchblade musician Rose McDowall to record an album called Gem. He is also an instructor himself, teaching music technology to a new generation of sound artists at Grand Prairie Regional College. After a 2000 residency at the Estonian Academy of Arts, Pinchbeck has forged strong ties to the Estonian cultural scene. He organizes a visual arts residency in partnership with Viljandi Teatrihoov, a theatre company which runs the Koidu Seltsimaja culture house.11The Edmonton sound art scene is so large and active that there is never a shortage of volunteers for the exchange. "We've just been doing experimental concerts in Edmonton for a long time," says Pinchbeck. "It's made it easier for what's been going on now."12
ALTERNATE ROUTES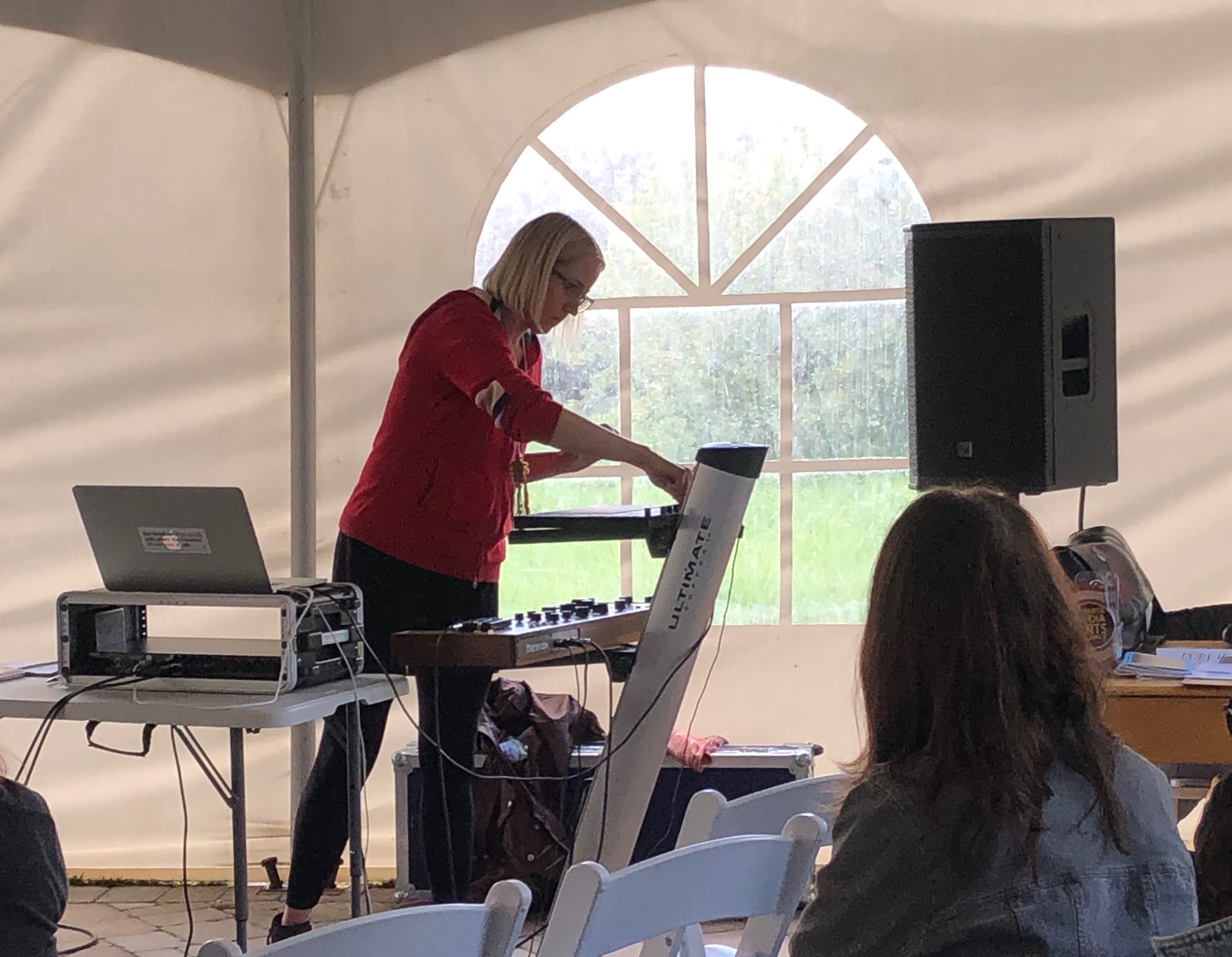 Raylene Campbell plays the Therevox during her performance at the 2019 On Sound Conference, 2019.
Photo Suzette Chan
Raylene Campbell
"The year is 1974, and it's just after dinnertime in Sherwood Park, Alberta."13Raylene Campbell is setting the scene for her musical origin story during an AMAAS after-party in the busy and very loud bar of the Auditorium Hotel (known locally as The Aud). It's pretty much the opposite of the quiet, suburban family hour she's been describing.
'There's a knock on the door," she continues. "There's a salesman, and he's selling accordion lessons. He says he's testing kids to see if they're talented enough to take classes at the new accordion school down the block."14Campbell was 6 years old at the time, and was chuffed that she and her older brother had passed the test. But when they went to class, they saw that every kid in the neighbourhood was apparently talented enough to take accordion lessons. Though her family realized the sales pitch was a scam, the young Campbells decided they really did want to learn.
Campbell has fond memories of her parents watching The Lawrence Welk Show. "We loved watching the accordion player, Myron Floren." (Campbell eventually did see her accordion idol, when Floren played at a local polka competition in the 1990s.) Music, memories, and sound would feature prominently in her later work as an Edmonton sound artist.
At the University of Alberta, she met the musician Bill Damur, with whom she would play in experimental bands Baffin Island Party and Sticks and Stones. Damur hosted a new music show on CJSR called Op. 88, which ran from 1988 to 2000, coinciding with much of Marcel Dion's run on Departures. It was Damur "who roped me into BEAMS", says Campbell, who was involved with the organization early on. 
Years later, while attending the music program at MacEwan, Campbell played in the light classical trio Café Musique, with Damur on flute and cellist Christine Hanson, who was a MacEwan cohort of Campbell's and a collaborator with Damur in other ensembles. "We ended up gigging together for about ten years, until I moved to NY to attend my MFA program."
Campbell did her MFA at Bard College, which boasted an internationally recognized, multidisciplinary music program. At Bard, Campbell studied with Pauline Oliveros, a sound artist whose work she first heard on Op. 88. Oliveros also started out playing accordion as a child, and later became known for her sonic awareness theory and deep listening techniques. Campbell was fascinated with deep listening, which Oliveros developed to help calm musicians who suffered from performance anxiety. After Bard, Campbell moved Montréal, where she performed extensively. She also held artist residencies in Toronto and Amsterdam. 
Campbell became a certified deep listening practitioner and instructor. She demonstrated deep listening techniques at the AMAAS conference, leading participants on a walk to capture field recordings at the conference site, the Coutts Centre for Western Canadian Heritage, a donated homestead about 20 minutes outside of Nanton. The practice of focused listening to one's surroundings, including one's breath, is a perfect exercise for anyone interested in sound art. 
In 2009, Campbell returned to Edmonton for family reasons, which ultimately led to solo work, including sound installations, based on memory, sounds, and objects. She also decided to quit the accordion. "I had stopped playing the accordion in Montréal," Campbell says. "It kept breaking and needing repairs. My body was breaking down, too: the accordion weighed 40 pounds."15Before retiring the instrument permanently, she painstakingly recorded every note it could produce, and saved them as digital files. "The transition to stop playing accordion took about 10 years," she says.16

Campbell has uploaded those samples to her new instrument, the Therevox, a two-octave synthesizer inspired by the Ondes Martenot. She had first seen it played by Suzanne Binet Audet at a 2015 recital presented by New Music Edmonton. "I bought the Therevox about three months after seeing that concert," says Campbell.17She's given her old instrument a new voice. The accordion defined Campbell's past. It's now taking her into the future.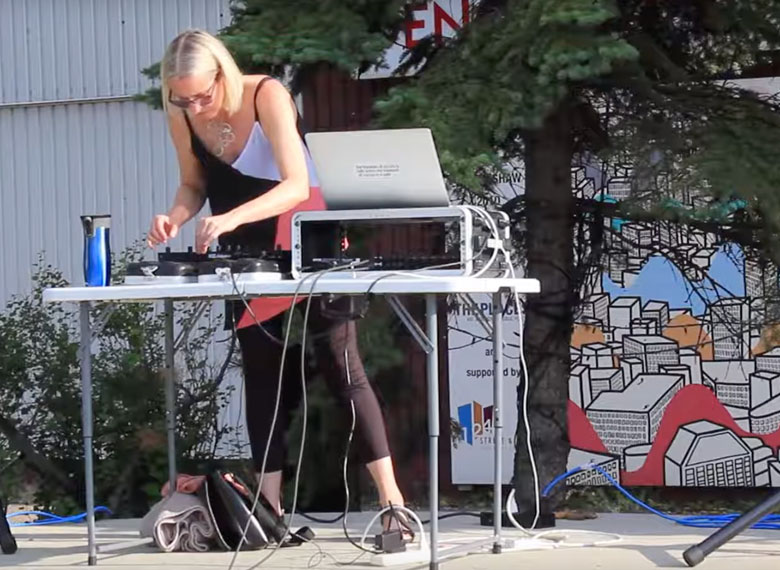 Video Abram Hindle
Gary James Joynes
Gary James Joynes spent his 20s and 30s in rock bands playing original music, striving in the later years to land a record deal, the brass ring for musicians back then. He got close three times: "It was overwhelmingly difficult to have invested almost 10 years actively pursuing the chemistry of original projects that could stay focused and not break up. When the third band fell apart, I just thought to myself, 'I don't know if I can do this band thing again.'"18

His music career might have ended there but friends introduced him to ambient music. Without other musical distractions, Joynes started to really listen, and was hooked. The stripped-down sounds ran counter to what he had been doing in pop bands, which he called "additive."19Rule #8 in a set of sound art rules that Joynes improvised at his AMAAS talk was: "Embrace the drone. It's about trying to get to a deeper level of listening, listening to subtle changes, and trying to look at the sound microscopically."
Inspired, Joynes began to make music again: "I already had all this recording equipment, so I built a studio."20In 2000, Joynes went to Montréal to attend MUTEK, what he calls "the most important sound festival of the time."21He loved it, and made it a goal to play the festival in two years. In 2002, as the one-person band Clinker, Joynes was on the MUTEK stage, "playing alongside my idols."22Joynes has now played MUTEK a total of five times.
Joynes expanded his art practice to embrace other media: "I enjoy the process of finding the connection between sound and visual art."23He found opportunities to intersect with the visual art world at venues such as the Banff Centre of the Arts, Latitude 53 Gallery, and dc3 Art Projects. Edmonton dance legend Brian Webb contacted Joynes with a proposal to adapt Broken Sound, an installation that combined giant microphotography images and the physicality of sound, for the stage. The result was Broken Sound 2, the first collaboration between Joynes and Webb. At the On Sound conference, Joynes previewed a portion of his 2019 collaboration with Webb, Liminal.24
"The most memorable lessons and experiences have come in how vastly different and personally rewarding my collaborative projects have been," Joynes says. "I have always learned different ways of feeling and seeing and hearing things by sharing with all of these amazingly talented people, gaining from their perspectives and styles, giving space to everyone's ideas to shine and have voice. The wonderful layering and artistic moments that can come from this process-based sharing truly are the sum of the parts and individual ideas."25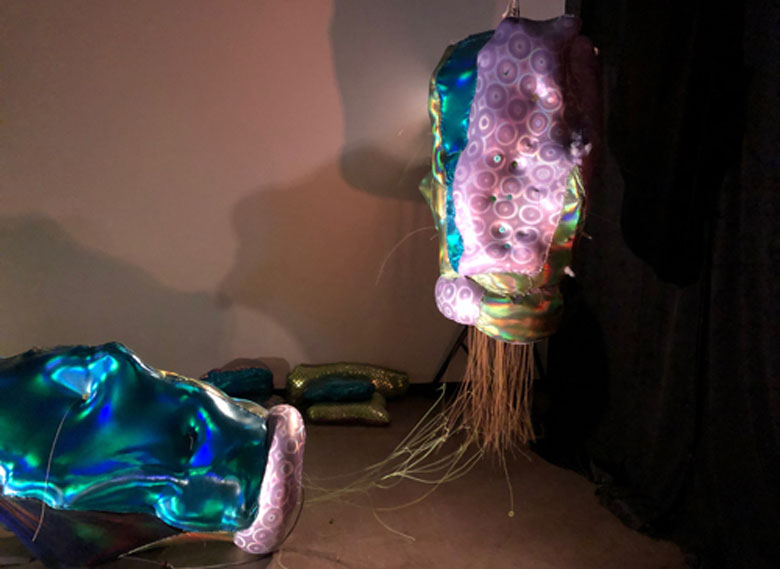 Anticipated Alliterations (Body Talk), an installation by Gary James Joynes and Kasie Campbell, part of the exhibit DYSCORPIA: Future Intersections of the Body and Technology at Enterprise Square Galleries. Photographed on May 25, 2019.
PHOTO Suzette Chan
ARRIVALS
Matthew Cardinal
At the age of 27, Matthew Cardinal is one of the younger sound artists in Edmonton. His interest in music is rooted in country: "A lot of people in my family played music, but it was country music in Lac La Biche. My sister got me interested in more alternative music."
In the 1990s, Cardinal became a fan of The Smashing Pumpkins, Dinosaur Jr, and My Bloody Valentine. Those noise guitar bands edged Cardinal to adventurous electronic, minimalist, and classical music. He cited Steve Reich and 1990s Warp Records as particular influences: "I liked these sounds, and I wanted to make these sounds."26

At the age of 15, he started out playing the instrument of his guitar heroes; he's now working with modular synthesizers, drum machines, and sequencers. After gigging with a band called Little Blue, at the age of 19, Cardinal joined his first band, Diamond Mind, and played with them for five years. In 2016, he joined nêhiyawak, a trio signed to the prestige indie label Arts & Crafts. He also has a solo act, playing more ambient music, and performing at events like Nuit Blanche, which originates from the visual art community, and at BEAMS events.  
"The band is more song-based, and I know what I'm getting into musically. My solo stuff is more off the cuff."27Cardinal has a mixtape of recordings from 2011 to now. "In the coming months I will be releasing a score to documentary director Dylan Rhys Howard's Digging In The Dirt, as well as a proper solo recording.""28In August 2019, he embarks on his first tour as a solo act.
Cardinal has also teamed up with Calgary-based musician and spoken word artist Curtis Running Rabbit Lefthand to form the duo Iitaakoowa. They have performed at the Banff Centre and the Winspear Centre as part of an Indigenous artists event called "In Memorium."
At the On Sound conference, Cardinal handled the electronic programming while Lefthand laid sage on a blanket before taking up the guitar and singing during the performance. They incorporated a clip of the "Take Back the Earth" speech by John Trudell, the 1960s American Indian Movement (AIM) leader.29The performance felt like a natural melding of music, genres, cultures, and an improvisational spirit which suits Cardinal. "I do what comes naturally," he says, "I want to make things that sound pretty to me."30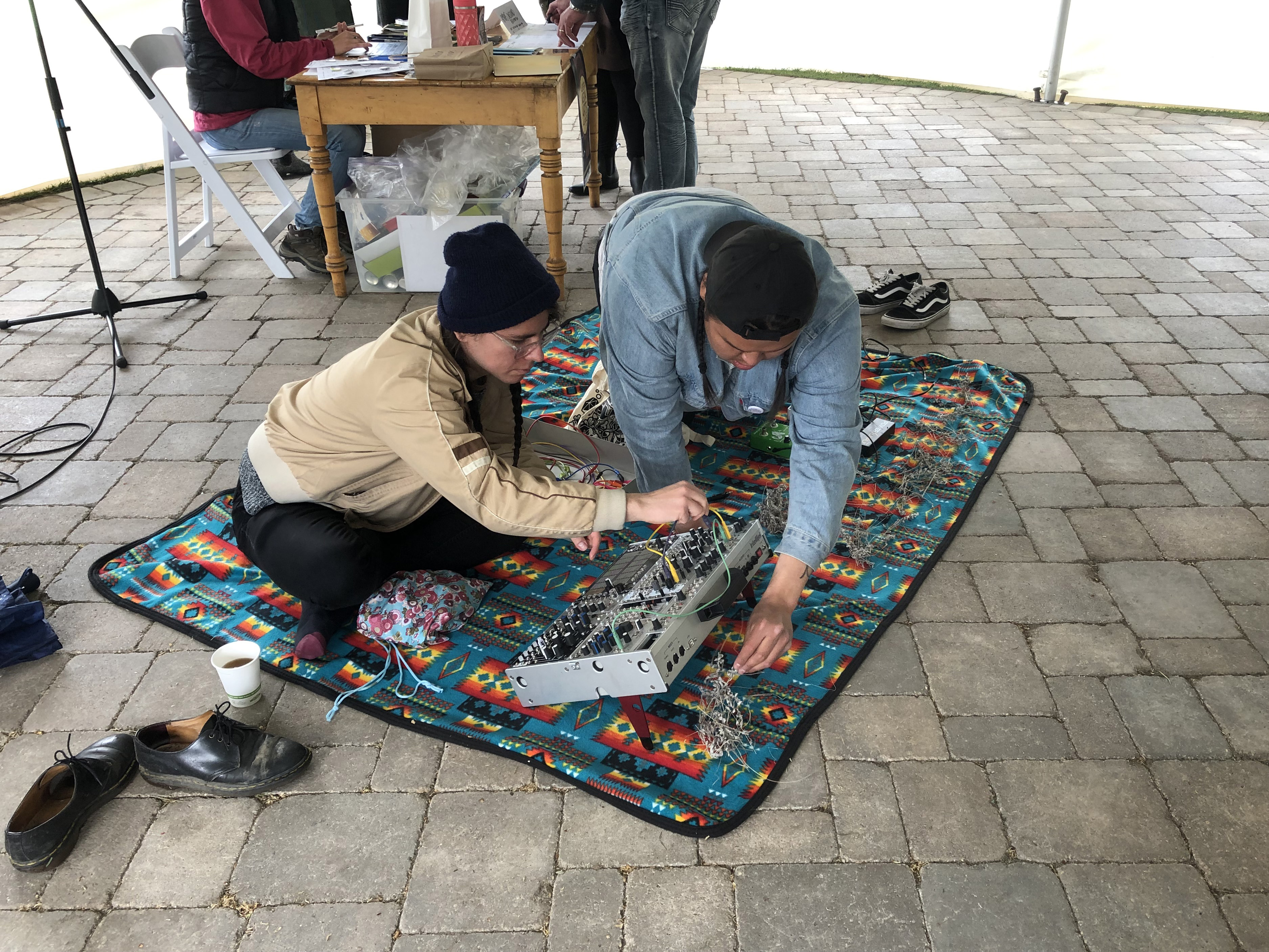 Matthew Cardinal programming while Curtis Running Rabbit Lefthand lays down sage before their performance as Iitaakoowa, 2019. 
PHOTO Suzette Chan
NEW HORIZONS
The Edmonton sound art scene now counts generations of artists. In the weeks after AMAAS's On Sound conference, Matthew Cardinal and Raylene Campbell played at The Works, Shawn Pinchbeck MC'd the 20th anniversary of BEAMS, Gary James Joynes performed Liminal with Brian Webb, and Marcel Dion hosted the 30th-anniversary concert of BEAMS. As an audience member at some of these events, I met emerging artists whom pioneering artists had told me about, and even newer members of the scene that the emerging artists told me about. In my exploration of the Edmonton sound scene, I hadn't come to the end of a journey. I was taking off on the next leg.
---
Stayed tuned for the second installment of Suzette Chan's investigation of Edmonton's sound art scene in the November 2019 issue of Luma Quarterly.
The fourth Sound, Media, Movement and Visual Artist Residency in Viljandi, Estonia will take place from May 22 to June 6, 2020. The residency is not funded (artists are responsible for airfare, accommodations, and meals), but BEAMS and Viljandi Teatrihoov provide facilities conducive to creative work in a culturally vital community. The early bird deadline for applications is January 6, 2020. For details, see https://blog.beams.ca or contact Pinchbeck at shawn@beams.ca
Dylan Rhys Howard's documentary Digging In The Dirt will air on CBC TV in Alberta on September 14th at 7:00 pm.