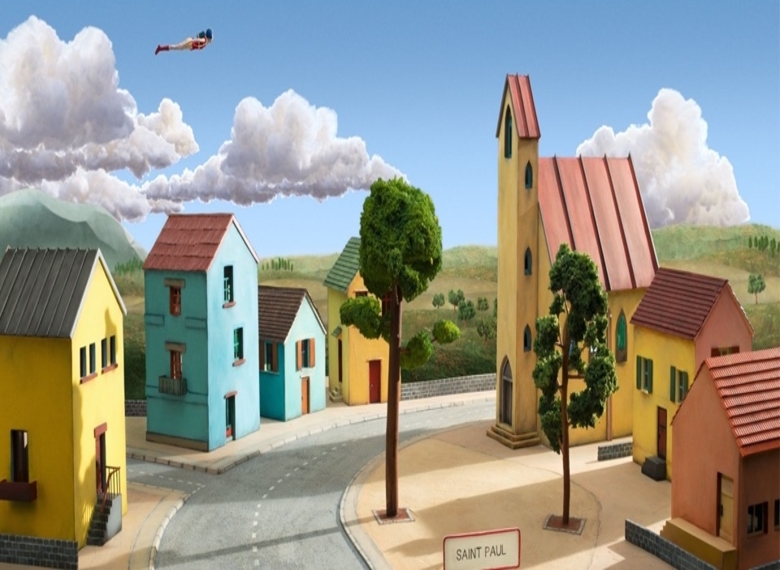 Albertine Zullo and David Toutevoix, The Cannonball Woman, 2017.
Still Courtesy of the NFB
In 1996, Studio D sadly closed its doors due to budget cuts. Part of the National Film Board (NFB), this feminist film production unit helped the creation of works by women for twenty two years.1 The legacy of Studio D lives on at the NFB including in the organization's gender parity initiative "that at least half of its productions will be directed by women and half of all production spending will be allocated to films directed by women."2 Studio D's focus on feminist issues has continued on in NFB animated works by women during the last ten years.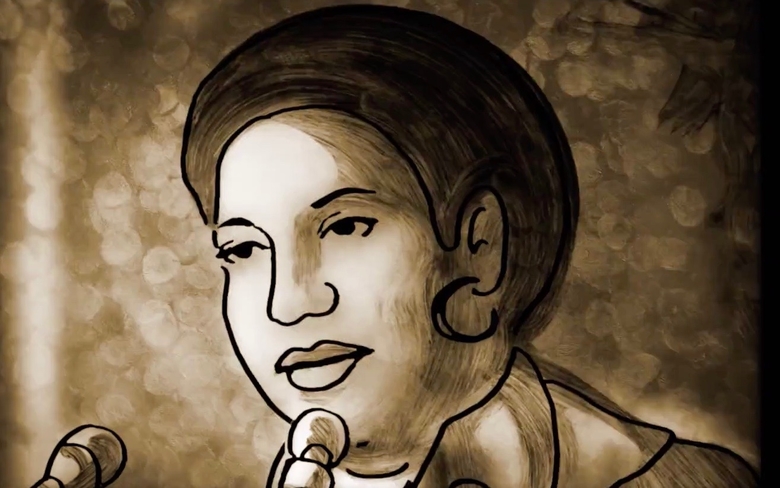 Jen Strom, Assembly, 2012. 
Still Courtesy of the NFB

Jen Strom's Assembly from 2012 is dedicated to the memory of Kathleen Shannon, an editor and Executive Producer of Studio D. The four-minute paint-on-glass animated film explores the process of editing of sound and image to construct a feminist message. As the description notes, we first see "a woman's hands cutting and editing a reel of film on a flatbed editing table as fragments of women walking in chains, protesting with placards, and speaking at podiums are inter-cut."3 We see and hear the film spooling through the editing machine as it is spliced and reassembled.
Starting with a suffragist march in the 19th century, the voice over narrator imparts a series of fragmented statements: "The things that are said…you're too emotional…invalidated…naïve…stop being idealistic…have to stop being…invalidated… stop being…naïve…we have to stop being too emotional."4 We see more images of diverse women protesting from the 1920s to the 1970s to the present. The sound fragments come together in the end as the voice says: "We have to stop being invalidated by people that call us idealistic or naïve or too emotional. All these other things that are said to silence the brilliance of ordinary people."5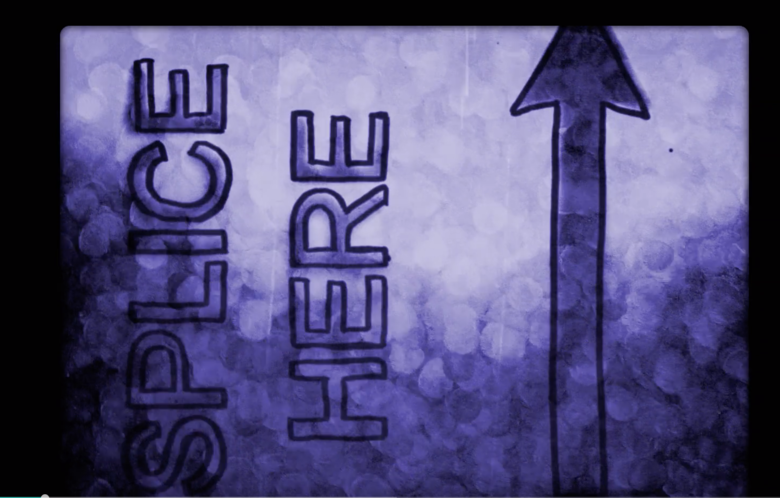 Jenn Strom, Assembly, 2012.
Still Courtesy of the NFB
The short animation points to how media has distorted feminist messages and seeks to redress these negative perceptions. The continued representations of women protesting in Assembly throughout the last three centuries shows how there is still much to be done and how inequalities and sexism still exist and must be continually fought against. Strom urges us to not be silenced.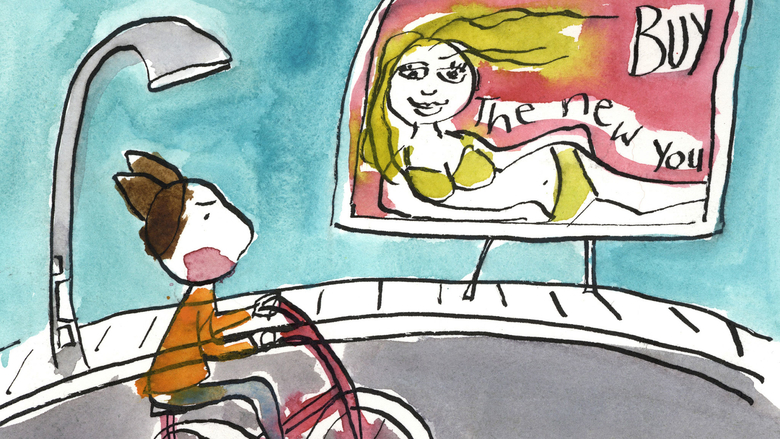 Andrea Dorfman, Flawed, 2010.
Still Courtesy of the NFB
In Flawed (2010), Andrea Dorfman takes on the issue of body image. She draws and paints in real time as she tells a series of stories from her adolescence and adult life. She recounts meeting a plastic surgeon while on vacation and not liking him at first because she thought his vocation "made people feel flawed."6 But as she got to know him she realized he was a lovely person and was also an artist. She goes on to deconstruct how she sees herself as flawed by going back to the origins of that feeling in her teenage years when she began to compare herself to others and envy what they had and she didn't. She became obsessed with the size of her nose and worried about her large thighs and felt like she was flawed. Dorfman says, "I started to hate my nose and I blamed it on cosmetic surgery resenting it for making me feel like there was a right kind of nose and for putting me in a position to choose whether to get mine fixed."7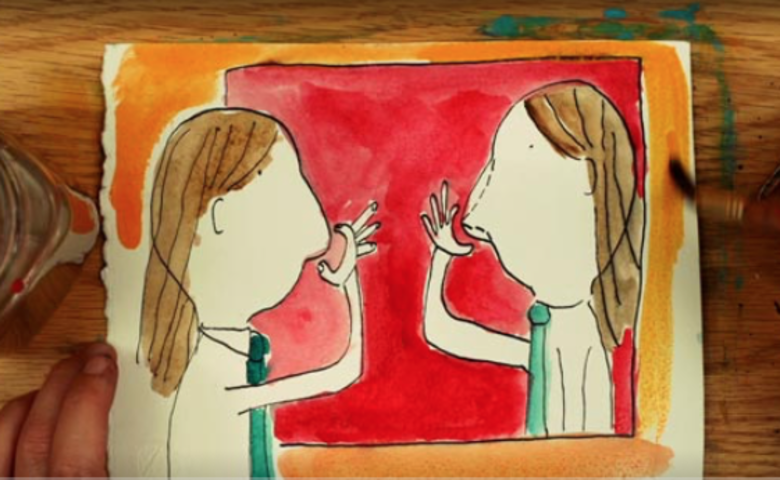 Andrea Dorfman, Flawed, 2010.
Still Courtesy of the artist
When she fell in love with the plastic surgeon, she couldn't ignore how she felt about her appearance anymore. The animation speaks to how our negative judgements of others might be rooted in our childhood traumas and insecurities. Once she tells her boyfriend about being insecure about her nose, her "flaw immediately stopped being a flaw and just became my nose again."8 We all might have parts of our bodies we dislike but Flawed asks us to think about where that dislike comes from and how we might heal those perceptions of ourselves in order to accept who and how we are.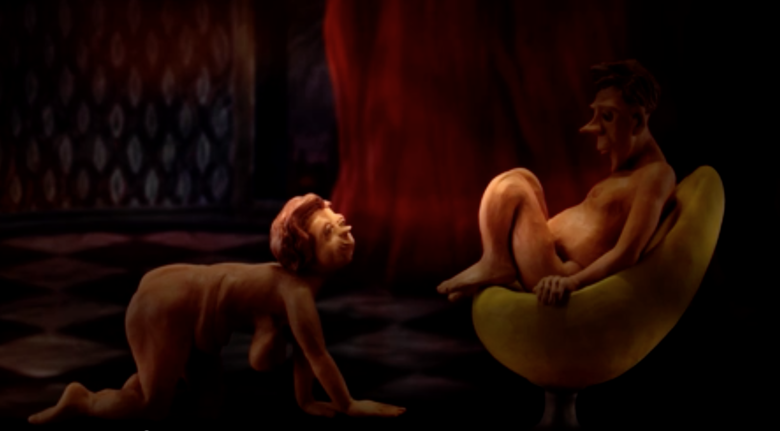 Izabela Pluckinska, Sexy Laundry, 2012
Still Courtesy of the NFB
Izabela Pluckinska uses Claymation to portray an older couple as sexual beings in Sexy Laundry (2012). The couple has rented a hotel room in attempt to rekindle their physical relationship after not having sex for a long time. We begin by seeing the husband massaging his wife's ass, the clay moving like flesh. The woman's attempt to turn him on proves unsuccessful and the couple gets increasingly frustrated with each other.
"Animation is thus a perfect space for stories created by, and about, women to be told."
Her attempt at sexy talk is downright humorous: "I'm going to come over there and take your cucumber and mix it together with yogurt and we're going to make ourselves some tzatziki. Don't you want to play with my uh my, oh what do they call that bread, pita! You got a little feta for me big guy?"9 He responds, "I'm not sure this Greek thing is working."10 They do finally roll around the hotel room but she becomes distraught saying, "I'm not that girl anymore." He talks about how sexy he finds it when she folds the laundry. We hear some happy sighs and moans as the credits roll.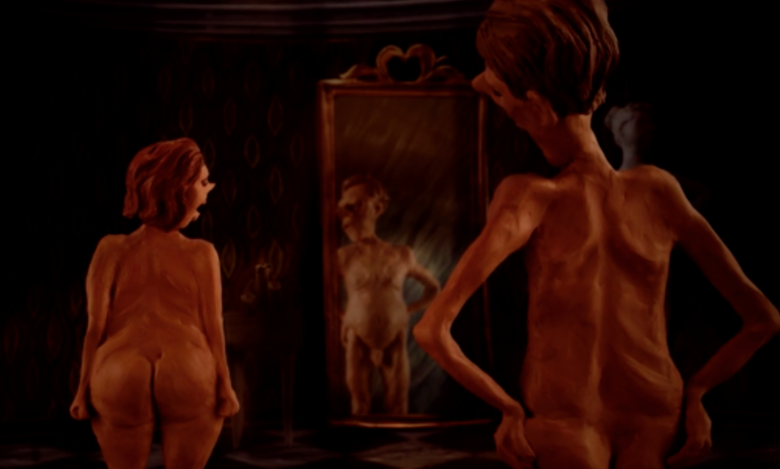 Izabela Pluckinska, Sexy Laundry, 2012.
Still Courtesy of the NFB
When I show this film in my Feminism & Popular Culture classes, my students often comment upon how unusual it is to see older and unidealized naked bodies on screen, much less older people that are talking about, and trying to have, sex. The Geena Davis Institute on Gender in Media recently developed The Ageless Test that calls for films to have "at least one female character who is 50+ who matters and is tied into the plot in such a way that their removal would have a significant effect and that the character must be presented in humanizing ways and not reduce to ageist stereotypes.⁠"11 A study launched by the institute in 2019 of the top grossing films in the US, the UK, France and Germany found that: "No women over 50 were cast in leading roles in 2019's top films, while two men over 50 were featured as leads. And when older women did appear, they were cast in stereotypical fashion (stubborn, 33%; unattractive, 17%; grumpy, 32%; unfashionable, 18%)."12
The use of Claymation is particularly effective in representing their bodies: his flaccid penis and the rounded belly on his otherwise thin body, her pendulous breasts and wide hips. Pluckinska depicts their struggles to reconnect with each other and how their passion is rekindled through an appreciation of how sexiness can be found in the every day. Sexy Laundry takes up the feminist call for body positivity and acceptance, shows us that all bodies are sexy. This twelve-minute animated film certainly passes The Ageless Test.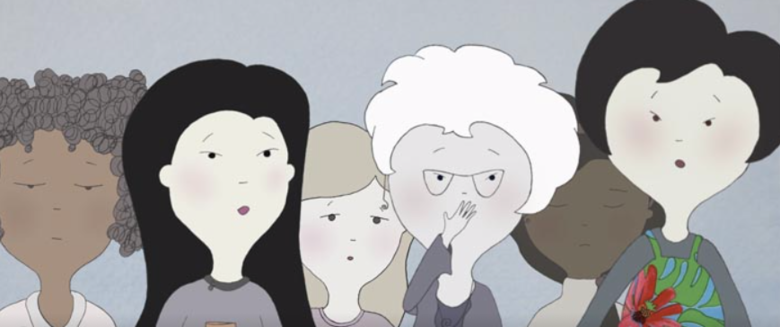 Sam Decoste, Mary & Myself, 2013.
Still Courtesy of the NFB
Sam Decoste's Mary & Myself from 2013 follows two Chinese Canadian women as they rehearse for a production of Eve Ensler's The Vagina Monologues13 where they are going to play the parts of "comfort women." As the description notes: "Fusing activism and performance, the film honours the thousands of girls and women from Korea, China, Japan, and the Philippines who were forced into sexual slavery, into providing 'comfort' to soldiers in the Imperial Japanese military during the 1930s and 40s."14 We hear the story through a voice-over by Jia Tsu Thompson. She remembers having stage fright as a child and wants to take on the challenge of the theatrical production.
The two friends rehearse together and Mary Mohammed couldn't stop crying due to lines such as "They do it when we were bleeding, they do it when we are so young before we were bleeding. Fifty soldiers a day. Sometimes a shipload of them."15 The animation is interspersed with photographs of older women who were comfort women. In the end they manage to not forget any of their lines and in the end "the whole audience was crying."16 At the viewing party, the group of assembled women realize that the Vagina Monologue recording had been switched with a Catholic priest's ordination. The women laughed and hoped that someone in the congregation would enjoy their performance.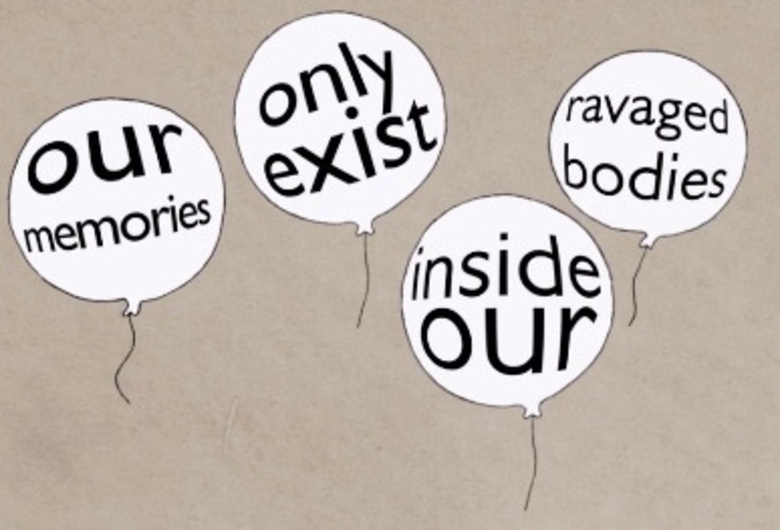 Sam Decoste, Mary & Myself, 2013.
Still Courtesy of the NFB
The animation uses first person narration to tell not only the story of the performance but also to call attention to the history of "comfort women". More historical information is provided during the credits: "Media sources estimate 200,000 young women were recruited or kidnapped by Japanese soldiers to serve in military brothels during World War II."17Mary & Myself also passes The Ageless Test with flying colours.
Albertine Zullo and David Toutevoix, The Cannonball Woman, 2017.
Still Courtesy of the NFB
Albertine Zullo and David Toutevoix's The Cannonball Woman (2017) is about Madeline, a woman who loves to fly through the air after being shot out of a cannon. Using Claymation combined with small sculptures creates an accurate yet whimsical representation of this world. After being shot out of the canon so far that it takes her all day to walk home, she tells her partner that he has used too much powder. He ignores her protestations. The next time they perform their act in the village, she once again flies much too far. This time she doesn't come home. He finds her parachute and helmet in the woods. He justifies his refusal to change by talking to himself as he gets drunk: "But if we don't use the enough powder, it won't have the same effect!"18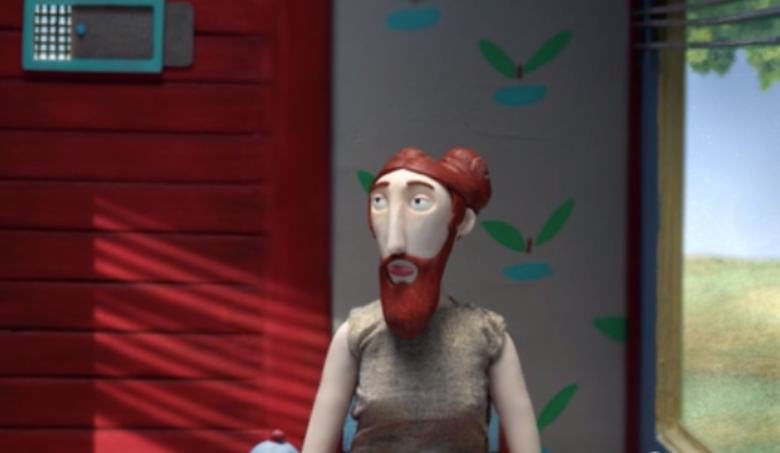 Albertine Zullo and David Toutevoix, The Cannonball Woman, 2017.
Still Courtesy of the NFB
She takes up a job as a bearded lady in a sideshow but eventually comes back to her partner. It would seem that she misses flying through the air. I assumed that the beard was fake but liked that it needs to be trimmed and shaved to be removed, illustrating that women too are capable of growing beards. She is again flying through the air although this time her partner follows her on his Vespa so she can get home more easily. He seems to have learned from his mistakes and wants to make life easier for her. They drive back home with a bouquet of flowers she picked in the countryside tucked under her arm.
"There is still much to be done and how inequalities and sexism still exist and must be continually fought against. "
I interpret the motto of the story being that in a partnership both partners needs and ideas must be taken into consideration. I especially like that the male partner is shown as capable of changing and finding a way to better accommodate his partner in their mutual venture. I see this as a feminist message for sure.
One of the merits of animation as a medium is the ability to tell underrepresented stories in innovative ways that would be far more difficult in live action films due to the need for larger budgets and a larger cast and crew. Animation is thus a perfect space for stories created by, and about, women to be told.
---
 To read about queer representation in NFB animation, check out my article in the last issue of Luma Quarterly from August 2020. To view a wide selection of animated works from the NFB, visit: https://www.nfb.ca/animation/.