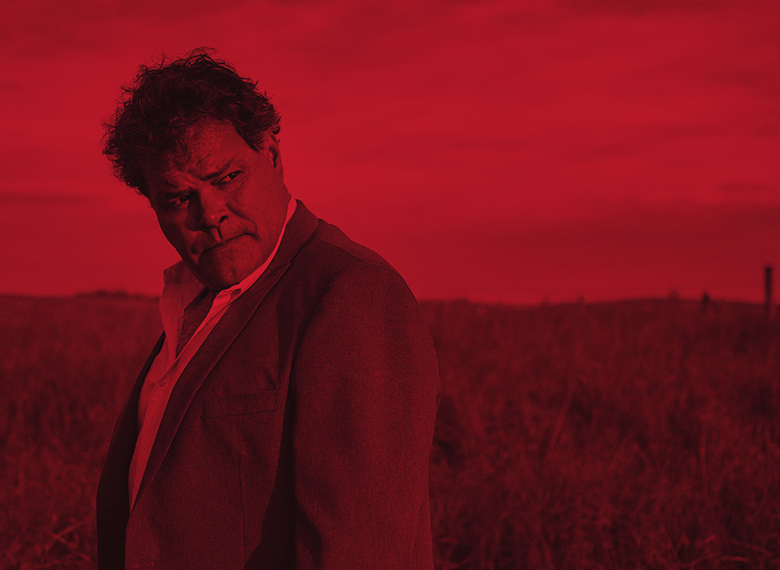 In Plainview, directed by Matt Watterworth, 2018. 
Still Courtesy of Matt Watterworth.
It's a great pleasure to see any homegrown film make it beyond the four Alberta-shaped walls of our province. So, to be able to open your iPad, tap into a streaming service, and watch one is beyond thrilling. But we lucky Albertans get to do just that: experience the gorgeous landscape of our province as the backdrop to the 2018 film In Plainview, which dropped earlier this year.
The film follows the colliding worlds of ex-cops and former partners, Penner (Aaron Douglas) and Rand (Stafford Perry). Fresh out of jail, Penner is on the hunt for Rand who betrayed him, and his search sends him to the small town of Plainview. Sex, betrayal, a little gun action, and a slightly-shady priest: what more could you want? If you're looking for a dark-slow-burn that has gorgeous Alberta setting, this is your Saturday night movie.
It is gritty revenge thriller with a similar "let's get the job done" pacing of Steven Soderbergh's No Sudden Move. But the vibe is less 1950s cool cats and more Alberta back-country small-time criminals. 
I had the pleasure of (virtually) sitting down with writer Kevin Doree (who you can see slinging drinks in the film), director Matt Watterworth, and producer Scott Westby to chat about the lessons they learned during the making of the film.
Westby described it with a laugh by saying, "If you like In Plainview, you will like No Country for Old Men. [Though] I don't know that it works the other way around."
Watterworth chimed in adding that visually it's akin to Hell or High Water, a slow-burn story of two brothers who turn to bank robbing when they can't pay the mortgage that came out the same year In Plainview was filmed. Spiritually, he says it's aligned with Blue Ruin. Doree doesn't miss a beat when he compares it to another Cohen brother's favourite, Blood Simple.
No matter what comparison you choose to believe, if you're in the mood for a gritty revenge thriller that will give you a 90-minute reprieve from everyday life, cue up your TV, grab the popcorn, and enjoy the show!
"It's a testament to how great of a talent well we have in Alberta."
The film was made under what is now called Telefilm Canada's Talent to Watch program.1 This program awards emerging Canadian filmmakers with small amounts of money (in the film world anyway) to help move their feature film or narrative project along.
In 2021, there was a maximum program contribution of up to $150,000 for feature films and $125,000 for narrative-based projects of over seventy-five minutes. Filmmakers wanting to participate have to have previously produced, directed, or written at least one short film, but cannot have held the same position in a feature length film.
"If you want to make a movie, and you want to do it through a cultural organization, Telefilm is one of, if not your best, bet," said Westby who produced In Plainview.2

Filmmakers need to apply through one of Telefilm's partner programs for vetting. For In Plainview, that agency was the Calgary Society of Independent Filmmakers who made the recommendation. After being recommended, it made its way to Telefilm who, after a bit of suspense, decided to fund it.
"We got a letter from them in May of 2016, that said you may be greenlit," said Westby. "May" being the operative word, they still had to undergo their own vetting process. The letter went on to say, "If you're greenlit, your film is due one year [from] today."
This created a bit of uncertainty for the emerging filmmakers. The film does not take place in the winter. This meant that unpredictable Canadian weather could easily crash their party if the official notice took too long. Doree, Watterworth, and Westby waited on pins and needles for a while before making plans. In Plainview ended up being shot in October 2016.
Westby said, from the producer's point of view, Telefilm was a dream to work with: "They didn't really ask for much, which was really a gift and I think it spoiled us a little bit. They were concerned about how it was going for us—if we were feeling supported."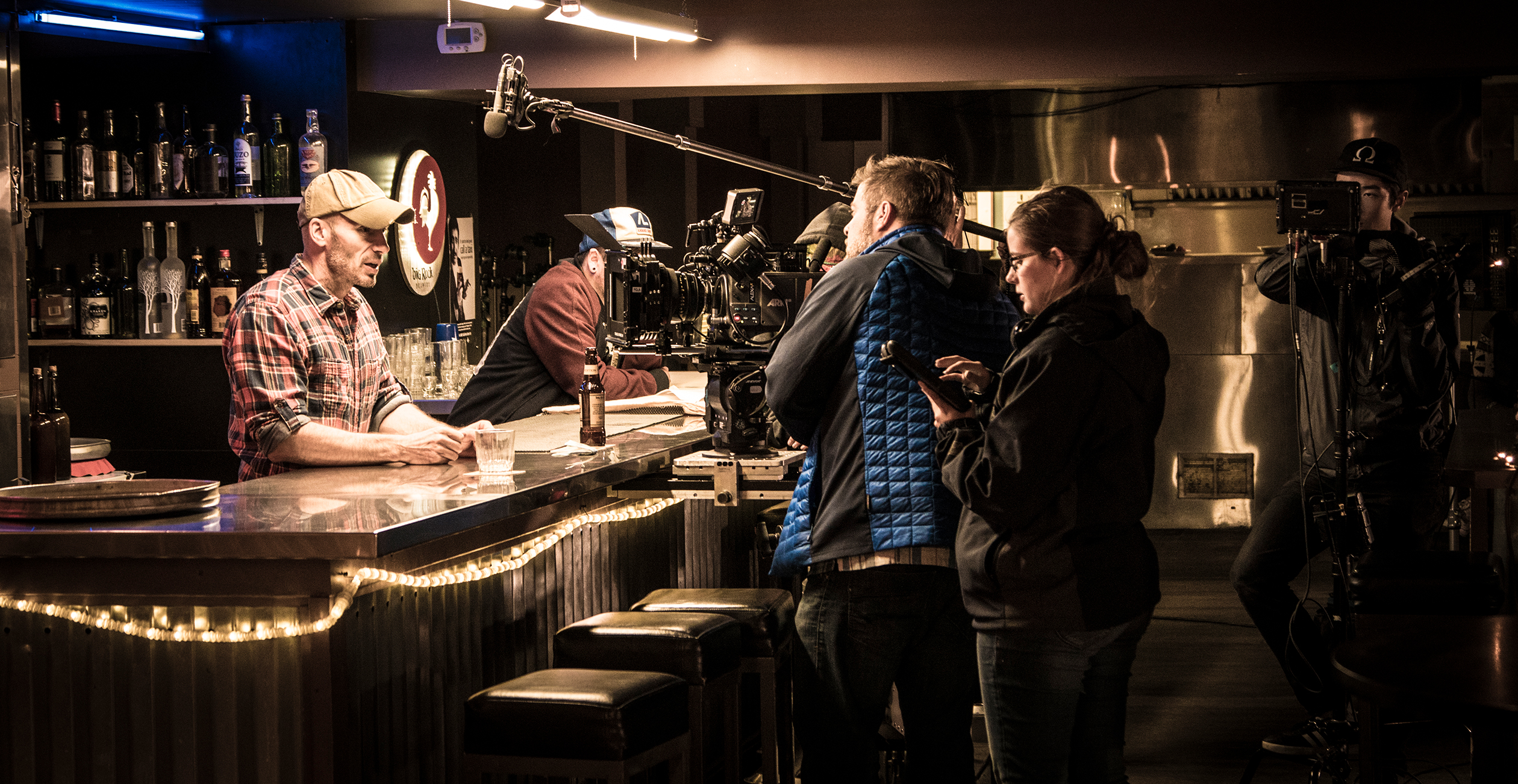 On the set for In Plainview, directed by Matt Watterworth, 2018. 
PHOTO Courtesy of Matt Watterworth.
But for filmmakers applying to the Talent to Watch program, there are a few deliverables you'll need to keep in mind including a rough cut of the film, an up-to-date budget of what was spent, a final cost report once the film was finished and the final copy of the film. Filmmakers also continue to report on how the film is doing and whether or not it's making any money every six months. The program isn't as rigorous on the deliverables process as others might be. But as Westby said, at the end of the day, Telefilm is "investing in the filmmakers" which means they're less "invested in seeing the (actual) film."
With their focus on talent development, Telefilm is a good funding option for emerging Canadian filmmakers. Applications are typically on an annual basis each spring.
Tae Haahr (TH): For filmmakers looking to apply what are your top tips for a successful application?  
Scott Westby (SW): My top tip is to remember that Telefilm is an organization run by human beings, not by robots. They have limited resources, they have limited capacity, they are not all knowing, and they are trying their absolute best. I think they get a lot of not flack, but they get a lot of hurt feelings, because they can't accept every project that applies to them… just like any organization you're dealing with, it's about the relationships that you build and maintain. And that is something to keep in mind before you apply for something and afterwards. You don't have to forge a relationship with them beforehand, but just imagine [them] sitting at their desk, and they get an application from a filmmaker they've never heard of before, and they get an equally good application from a filmmaker that they know. [One] that they've met before and that they have a good vibe about, who would you pick?
Kevin Doree (KD): It's a multi-level, multi-step type of situation too. So even if you don't get in the first time, like Scott says, if you build that relationship, they get to know who you are, you apply again. Then if you make that project, there are different budget levels. If you have that relationship already [and] it's a good relationship, I think that paves the way for future events to happen. We know people who have been through multiple streams with Telefilm at different budget levels. It's not a one-time thing, it's a path that continues to go forward in the future.
Matt Watterworth (MW): I would say it's true of any application that you apply to, that you should try your best to put your yourself in the shoes of the jury, and the shoes of the people who are putting the money out there, and ask yourself questions like, "Okay, well, what is the return on investment, that this particular grant or application portal is looking for?" I don't mean that financially, especially not in Telefilm's case, because their mandate is about furthering the careers [and] creating Canadian content. [But] tailor your application to the needs of the people who are evaluating it and think about the money that is in the pool—what's it designed to do? If your project doesn't fit that, then that's probably not a good fit.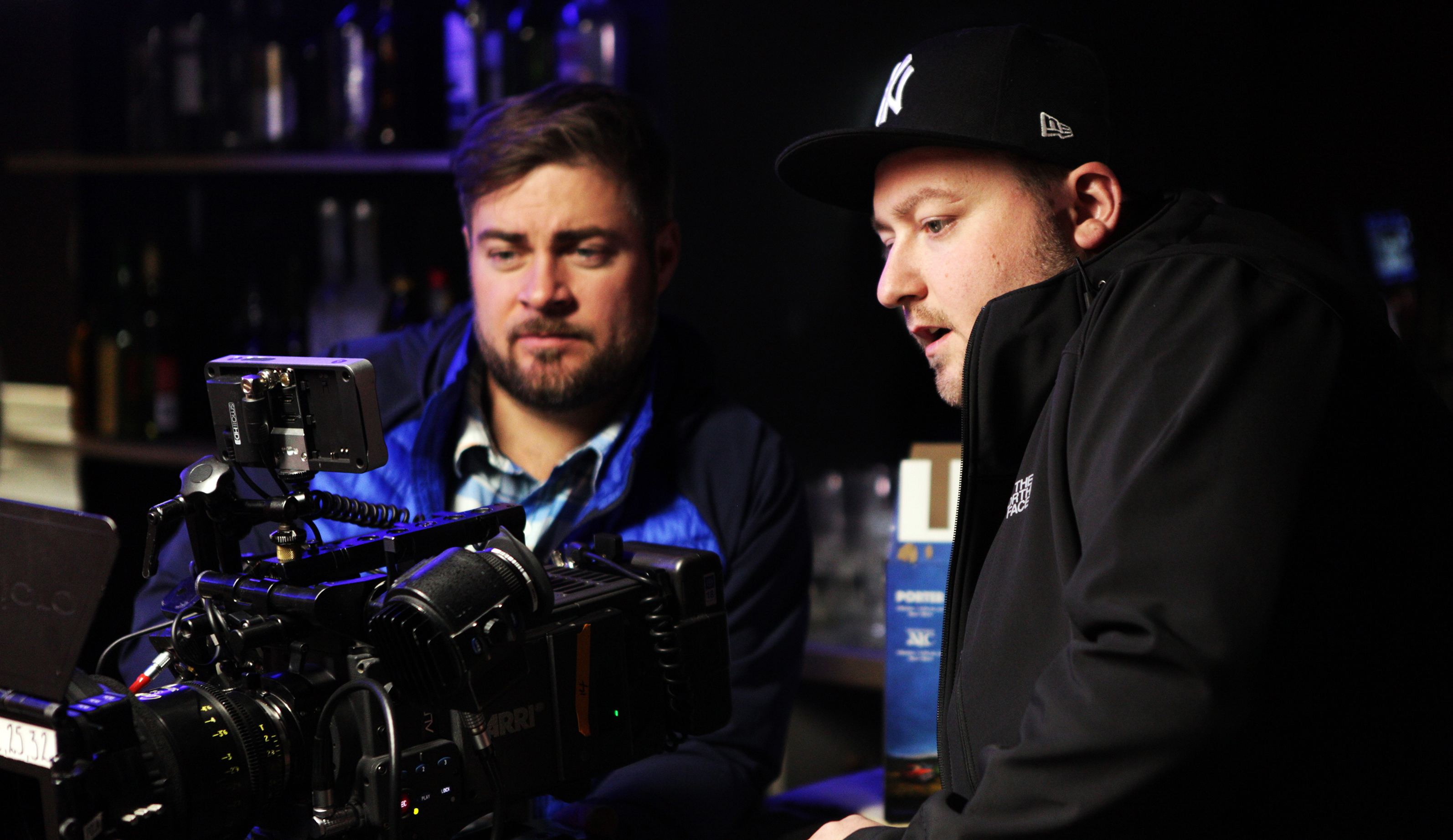 On the set for In Plainview, directed by Matt Watterworth, 2018. 
PHOTO Courtesy of Matt Watterworth.
TH: No one denies that having more money can help you make a better film. But having a smaller budget shouldn't limit you to making a lower-quality film. What areas did you refuse skimp on spending? Also, where did you skimp and regret it?
SW: To me, the cast was everything. I think that is where you instantly see the cracks in...a low budget indie film. I think half of that credit is due to Matt selecting exceptional actors. And then the other half would be to Jason Long, who was our casting director, bringing those actors in front of us. It's a testament to how great of a talent well we have in Alberta.
KD: From a writing perspective, if you're watching anything, whether it's a big budget movie, or an indie like ours, if you don't feel like you're in the world of the movie, in a very short period of time...they've lost you. A lot of [the] times [indie films] don't work on their scripts as much as they should...you can tell when things are under-written.
MW: Another big thing that Scott and I...as producers think about a lot, is making sure that we're not the smartest people in the room when it comes to areas that were not supposed to be. That means hiring people who were really great, really talented, and really effective at what they do.
SW: When you're producing a movie and you only have a quarter million dollars like we did, you have to skimp on everything. When we...got the green light, Matt and I did what we called at the time, "the tour of Alberta." We basically sat down with every filmmaker that we knew who had ever made a feature before—took them up for coffee and said, oh shit, what do we do? Everyone had advice on what not to skimp on, you know, don't skimp on the camera, don't skimp on the grip equipment, don't skimp on visual skip.
The only thing that we made the choice not to skimp on was food...we had to skimp on everything else. That meant asking for favors or you know, paying in other ways—however we could to get the best quality that we could. The thing that I skipped far too much on was sound [during] post, but I would say that is probably the most important thing to elevate your movie above that inequality. We got there on In Plainview because of the generosity of Frank and Patrick, and the folks at Propeller Studios, who did us a huge favor and really went above and beyond what we had the budget for.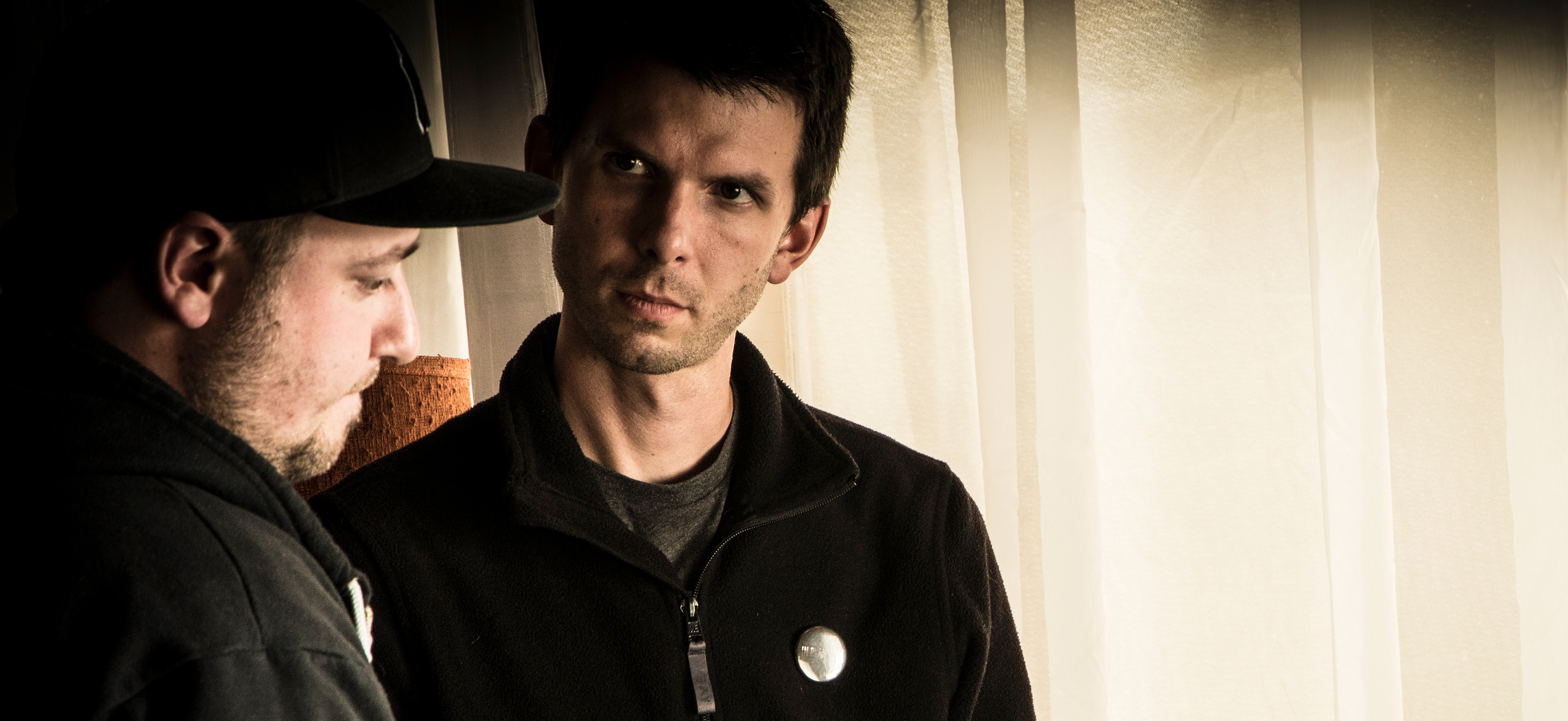 On the set for In Plainview, directed by Matt Watterworth, 2018. 
PHOTO Courtesy of Matt Watterworth.
TH: While you can easily access In Plainview anytime you want via Amazon's streaming service, the road to getting it on there wasn't nearly as quick as logging into your account and pressing play. What were the difficulties you encountered about the distribution process?
SW: I thought the distribution process would be one of the easier parts of the film making but it was by the hardest part of the process. We didn't have relationships in the distribution landscape. So, we were just walking into this bold new world with the stakes of a finished movie in our hands. We were fortunate to get a grant from AMPIA to go to Berlin to the European Film Market in 2017. [We] started making relationships there, and one of them was a company named Fabrication Films, and she loved the movie.
We ended up signing a distribution deal with her to release it internationally—that's anywhere outside of North America—and that relationship is ongoing. [But] we were still left with North America, which we kind of always knew was going to be our major market. That's the culture that we made it for. We had a few people interested in it...through that time in Berlin. And despite the weeks of mind numbing due diligence, we signed with the wrong person for the US. It was someone that we had met and we got a good vibe from, [it[ just didn't end up being a good relationship. That ended up stalling the release of the movie for two years, which sucked a lot.
"We basically sat down with every filmmaker that we knew who had ever made a feature before—took them up for coffee and said, 'oh shit, what do we do?'"
Eventually, we...partnered with a company called Bitmax. They are what's called an aggregator, and they will help you put the film on Amazon Prime and Apple TV, which is where the film is [now]. They've been a fantastic partner. And so that is something that is...accessible to filmmakers with the finished film. There is a bit of a quality vetting process, but not a lot. And it puts the onus on you to do the marketing and promotion of the film."
MW: It's the dream to even...just to be able to grab your phone and be like, "Oh, yeah, we can bring the movie up right here on a platform that you've heard of" is huge. But it's also great for our careers to be able to say "yeah, it''s in a place that is accessible, that you probably already watch content on."
SW: And makes it feel like a real movie.
MW: It's worth a lot to us. We're not making millions of dollars or anything on it. The big plus is…[just] being there.
KD: It's good for going forward with other projects, too. As a writer, I can now steer people to see something that I've done that's been produced, and it's on a platform that is readily available to anyone. Plus, it's already also brought a lot of people that [I] haven't seen for a long time going, sending me messages [that they] saw [my] movie on Amazon. I'm like, "yes, you did." It's a whole new Facebook for me.
TH: Whether you're on your first film or your last, filmmaking is a learning process. There's always something you wish you knew, something you could have done better.  What do you wish you could have done differently?
KD: I don't think there's one thing that I wish we had done differently. [But] I wish we had had a little more money so we could have shot one more thing. I went through a fellowship program with [the script] at a place in Vancouver called the Praxis Center for Screenwriting. I had a mentor there, Michael Minor, who is the writer of the original Robocop. We had lots of long, eight-hour days pouring through the script line by line. At the end of one day, he told me, "right here going from act one to act two, you need to write a new scene that turns the story on so that everyone knows we're getting serious [and] I want you to have it for me tomorrow." So, I went up to my hotel room, I didn't go for supper, I just spent the whole night writing, and I came up with this scene.
When we were in development...winnowing down the script. We kept dropping scenes...and I was like, "oh, man, just don't drop that scene. Just don't drop that scene." It was the last scene we had to drop. So now, I wish we had an extra $1,000 so we could have shot that one scene.
SW: I didn't, at that time, understand the value of mentorship—I still don't enough but I'm becoming less stubborn about being someone who can just figure it all out themselves. We had two excellent mentors through the production, Robert Cuffley, and Murray Ord, who are lovely people and saved our asses a lot. But then when we got into distribution, I forgot that.
---
The film has a stellar home-grown cast, and you can stream it for free on Amazon Prime Video if you're a member, otherwise it'll cost you $6.99 to rent it on Apple TV.