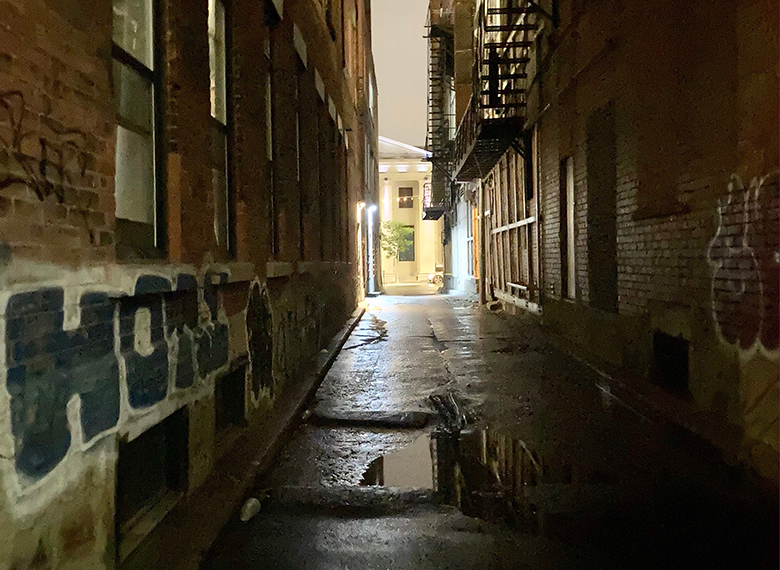 Kristen Hutchinson, After the Rain, 2021. 
PHOTO Courtesy of the artist
An object lost on the subway, a venue closed due to COVID, a melting glacier, the body in a virtual world, a burning forest, a man betrayed. The articles in this issue of Luma Quarterly address loss and survival through diverse approaches. How do we survive in the face of loss, be it small or large? Where do we find the resilience to keep going?

These questions seem particularly poignant as we enter our second Fall season of the pandemic. With almost 27,000 deaths in Canada from the disease and a fourth wave upon us, I certainly feel bereft and exhausted. I have experienced some very difficult personal losses of my own this year: the death of my father and my beloved dog, who was with me for 17 years, and a recent break up with a long-term partner. And yet, every day I get up and put one foot in front of the other. I try to focus on the aspects of my life that I am grateful for and find some joy in every day.  
We do have tools of resilience at our disposal. We make art that draws attention to issues that need to be addressed. We make films that soothe and entertain us, that make us cry and laugh and marvel at the beauty and pathos in our world. We allow ourselves to cry and mourn our losses. We wear masks and get vaccinated to protect ourselves and others. We honour and remember those we have lost. We fight for change. We create communities and spaces for healing. We listen and learn from the experiences of others. We challenge each other to become better people. Because what else can we do but keep on keeping on? We try to make the world a better place: one artwork, one action, one film, one conversation, one changed behaviour at a time.   
In relation to loss and survival, I keep thinking of an artwork by British artist Donald Rodney titled In the House of My Father (1996-1997). In the photograph, the artist holds a small, fragile house in his hand, and held together precariously with pins. He made the work while in a hospital bed being treated for sickle cell anaemia. The walls and roof of the house are made from the artist's own skin, removed during an operation for the disease.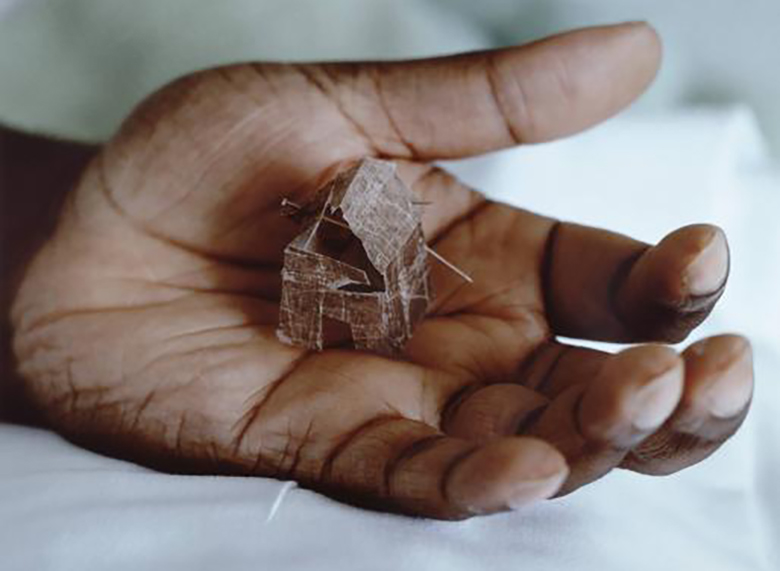 Donald Rodney, In the House of My Father, 1997. 
PHOTO Courtesy of Tate Museum.
As noted in the Tate Museum description of the work: "In the House of My Father  was made for the 1997 exhibition '9 Nights in Eldorado'at South London Gallery which Rodney dedicated to his father who had died in 1995. At the time of his father's death Rodney was also in hospital and unable to be at his father's bedside. He spoke about the personal anguish this caused him…The image was taken by the photographer  Andra  Nelki  while Rodney was in Kings College Hospital, London. At the time, Rodney was making work and preparing for the South London Gallery exhibition from his bed, turning his shared room into an impromptu studio."1

In the House of My Father tells a story of resilience and survival in the face of loss. Yes, the house may be delicate, but it is still standing. It is both beautiful and heart breaking. Rodney continued to make work from his hospital bed, determined to get that 1997 exhibition mounted to honour his father and speak to their experiences as part of the British, Afro-Caribbean diaspora. Following his example, we can keep on going too.