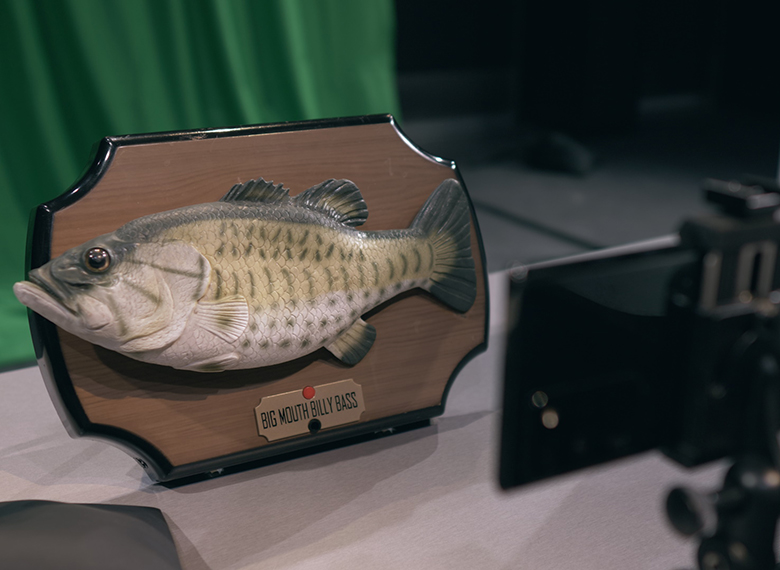 Savanna Harvey, Interaction Design for Digital and Hybrid Performance, 2021.
Photo Courtesy of Ryan Wilkes.
The pandemic. When venues closed their doors and the performing arts were kicked off-stage and stumbled online. Now, over a year later, the momentum of that stumble may have less wildly flapping arms, but we still haven't found our feet.
I am an interdisciplinary performing arts creator and producer working out of Treaty 6 Amiskwaciywâskahikan-Edmonton and Treaty 7 Mohkínstsis-Calgary. When the first wave of COVID-19 hit our cities in 2020, I was right in the middle of producing a festival, programming more than one hundred emerging artists. Unlike many of my peers, I was fortunate enough to have a background in digital literacy and makerspace with an, at the time unrelated, enthusiasm for digital communities, digital strategy, and intermedial performance.
Since that first turbulent festival reboot where we adapted most of our programming for digital presentation, I have been steadily working with a variety of artists and arts organizations as a digital producer: a translator and local guide, navigating physically based artists and curators through the artistic and logistic encoding process of going digital.
In January 2021, while taking part in the Interdisciplinary Dramaturgy Lab hosted by Playwrights Workshop Montreal, I started thinking about and articulating this creative consulting practice as digital dramaturgy. In theatre, dramaturgy is a varied spectrum. It usually involves some form of asking questions and offering observations during the creative process. Calling my newly found specialization digital dramaturgy helped me explain what I specifically had to offer as a digital producer and allowed that work to be "seen" by the teams with which I collaborated. It also gave me a lens through which to intentionally investigate what I had been intuitively applying since the start of the pandemic.
Digital dramaturgy was a new term for me and most others in the performing arts. I had never encountered it before the pandemic. As the performing arts reluctantly settled online for the next year and a half, however, it started to pop up from time to time. I was simultaneously surprised, and unsurprised, that it didn't pop up more frequently. I was unsurprised because I found that many artists and arts organizations were so far displaced by this new pixelated land that they didn't even know how to ask for a map – or realize how badly they needed one.
"I would love to see more exploration about what it means to be live in digital space, what it is to be in digital space."
Zoom emerged as the default digital performance platform. Many works chose to go asynchronous, pre-recording their presentations, and essentially turning themselves into film of varying degrees of quality. As captured by Albertan arts and events audience polls1, demand for digital content at the onset of the pandemic recorded an encouraging demand for digitally-adapted arts, muffled to a reluctant sigh 3-months later, and caught as a taciturn groan in the most recent data. While there is certainly a multiplicity of factors to account for this drop-off, I think a leading factor is probably the quality of most digital performing arts on offer and how quickly audiences tired of waiting for us to figure it out.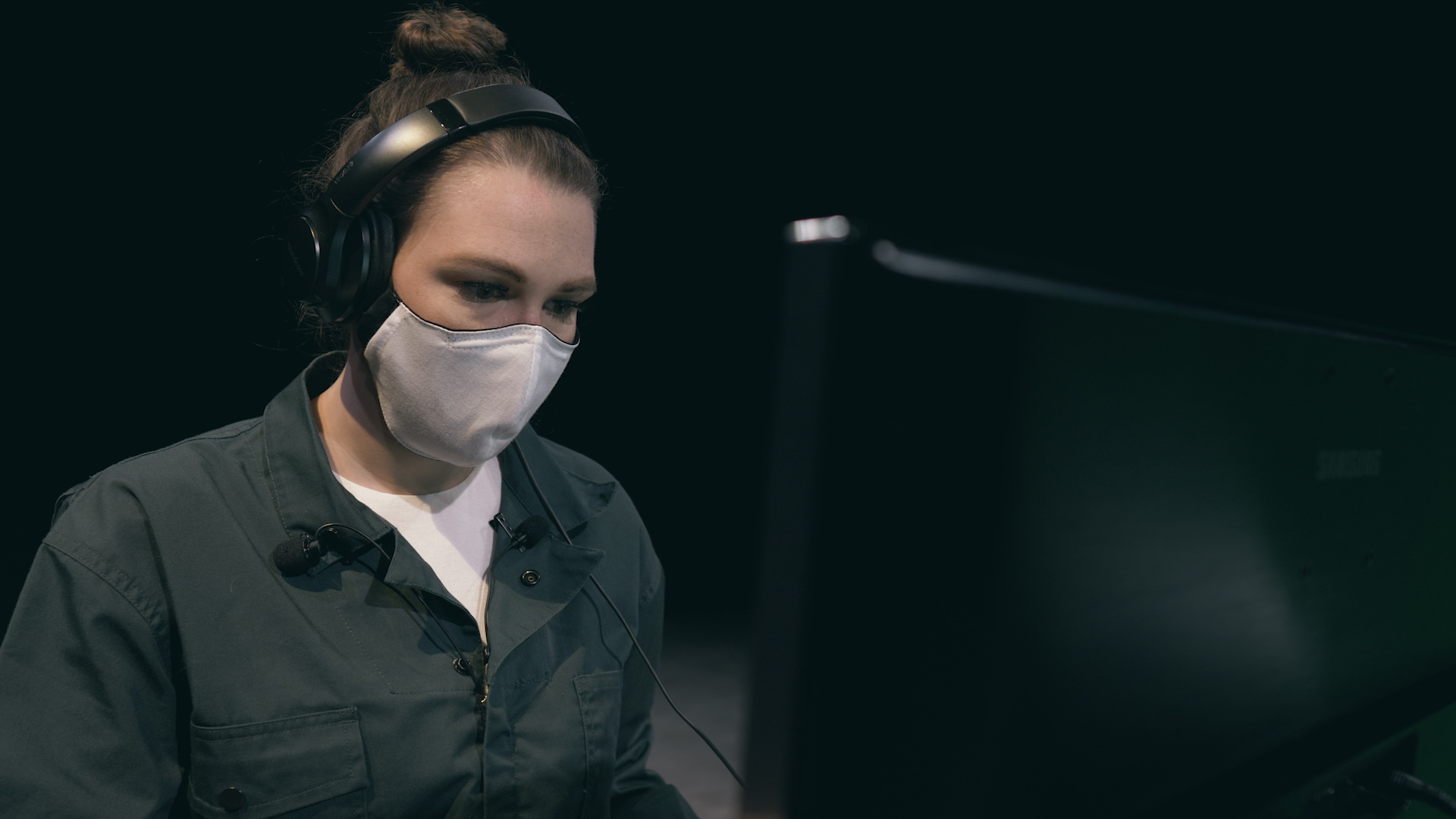 Savanna Harvey, Interaction Design for Digital and Hybrid Performance, 2021.
Photo Courtesy of Ryan Wilkes.
A year and a half into the pandemic, and while we may have gotten technically better (audio mixing/switching blunders are less common, for example), we still haven't entirely figured it out. Digital performing arts are still offered on out-of-the-box, default platforms (Zoom, Facebook Live, Youtube, Vimeo), chosen for their familiarity as opposed to their dramaturgical suitability. Formats continue to present in predictable and homogenous designs/structures, dictated entirely by the default interfaces of these default platforms – and again, not taking into consideration dramaturgical suitability. What these are not, is a true live, digital performing art event.
An enormous caveat before I go any further: Performing artists and arts organizations are not digital or new media artists. They are extremely talented in the mediums in which they received their training and hold their professional practices. There have also been a handful of shows and teams that excelled in their new mediums and put out interesting work, but they are the minority. While I speak critically of the majority of digital performing arts created at VR-gunpoint because of the pandemic, I am not critiquing the artists and arts organizations who made them. We must acknowledge, that in addition to a massive knowledge gap (digital illiteracy) there is a daunting economic and technological barrier to suddenly going digital including cameras, capture cards, GPU, CPU, microphones, lights, and software. What was required was the inventory and start-up capital of a small broadcast studio.
Nevertheless, I believe that honestly evaluating these early digital performing arts experiments is, for those us interested in continuing to create in this hybrid medium, vital if we are to reach a point where we start creating work that evolves beyond merely surviving in digital space and starts thriving in digital space. Our first priority should be using digital dramaturgy to recapture what makes the performing arts magical in the first place: liveness.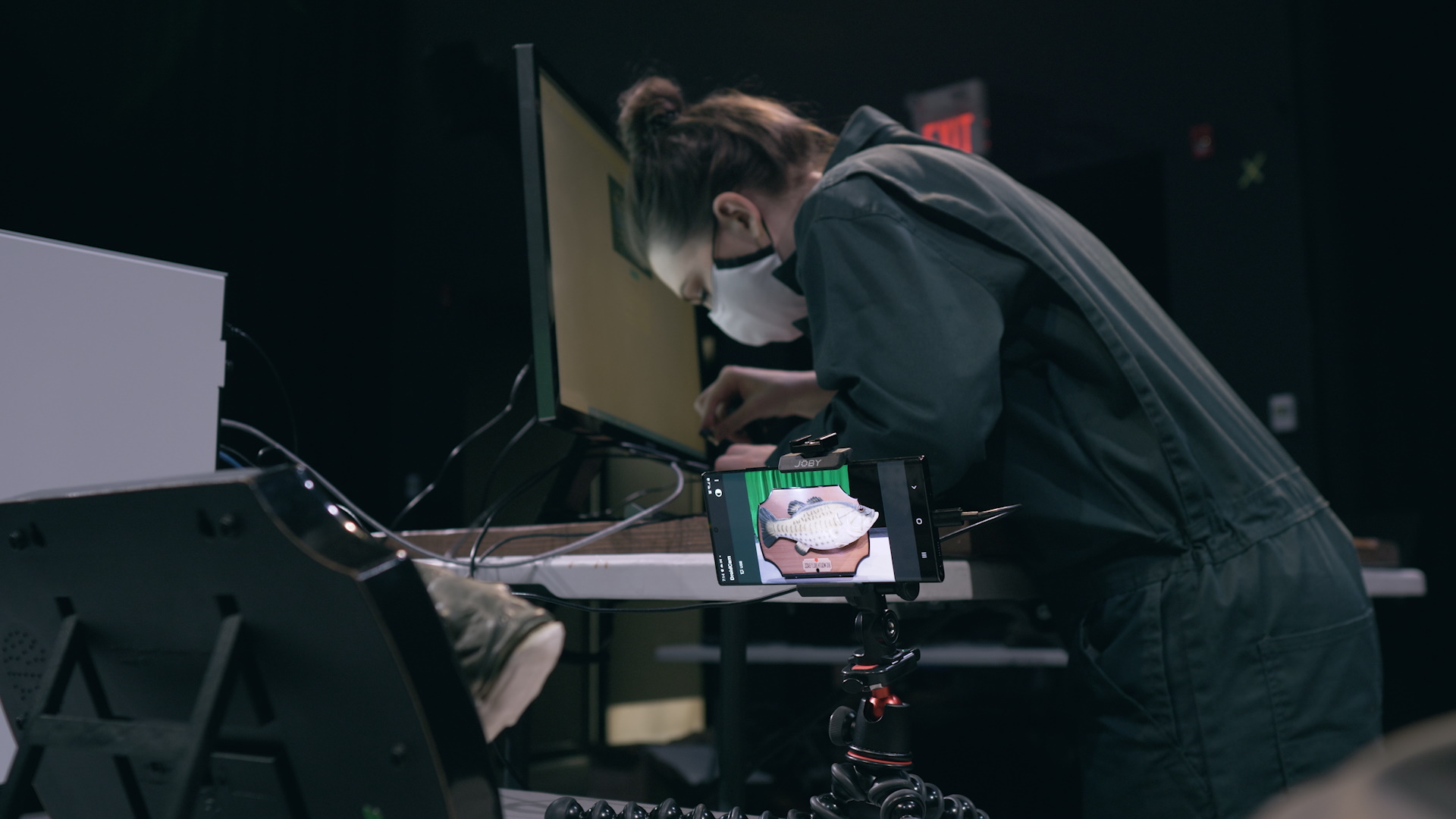 Savanna Harvey, Interaction Design for Digital and Hybrid Performance, 2021.
Photo Courtesy of Ryan Wilkes.
The performing arts are live. Dance-on-film has a rich history and animated objects are as often spotted on the screen (stop-motion, muppets, etc.) as on the stage, but I am talking about performing arts in their elemental form. Performers show up to their shows. Audiences gather at the venue. Performers perform their art to spectators in real time and space. This is the distinction between performing arts and media arts. There is no tangible art object created at the end of a performing art process, or that object is not the goal of the process. At the end of the performing art process, there is an art experience. At the end of a media art process, there is an art object (taking the specific shape of some sort of media). During a concert, a musician is a performing artist. Listening to their album, they are a recording artist (media: recorded album).
Of course, this all starts to get a little tricky in the digital realm, and I think this may be where performing arts got a little lost during the pandemic. Digitally, the art object produced is not technically physical but rather data contained in some sort of file container. Its lack of initial physicality is misleading and could be the reason it is not so easily perceived as an art object. NFT (non-fungible token) art has demonstrated, however, that collectors are starting to acquire digital art objects2 as well as physical ones – the barrier to NFT art is a lack of technical knowledge, not a lack of object mass. A digital art object is sold, purchased, traded, or gifted in NFT art markets in a way that very much confirms it is a thing. Further, the digital art object does actually possess physicality that is literal and not only metaphorical. Data must be stored and accessed somewhere (cloud server, memory stick, hard-drive, etc.) and with something (computer, tablet, smartphone, etc.)
"What does it mean when every single digitally adapted performance happens over Zoom? Absolutely nothing. That's a problem."
Asynchronous digital content is media art, not performance art. It is therefore inaccurate to record a performance and present that recording as a performing art, as many performing artists and arts organizations have resorted to doing.
We do a disservice to ourselves and to our audiences when we conflate the two. What makes an intriguing and satisfying art experience may not make an intriguing and satisfying art object. Anecdotally, from my conversations with artists and audiences, there was a lack of connection and engagement with digital performing arts content. Partly, this could be because setting the expectation that a recorded performance is a performing art establishes a false horizon of expectation.
As outlined in Hans Robert Jauss's contribution to reception theory, the audience's "[…] own 'horizon of expectations' and the confirmations, disappointments, refutations, and reformulations of these expectations when they are 'challenged'"3 is the lens through which an audience evaluates and understands a work. When an audience habituated to and expecting an art experience accesses instead an art object, there is a disappointment, refutation, and reformulation process that happens when their horizon of expectations is not met. But surely, say 3 months into the pandemic, and, regardless of a performing artist or art organization's marketing, an audience would learn what to expect? They would adjust their horizon of expectations accordingly? Presumably, they did - and they didn't want it, as the decline in demand for digital performing arts illustrates.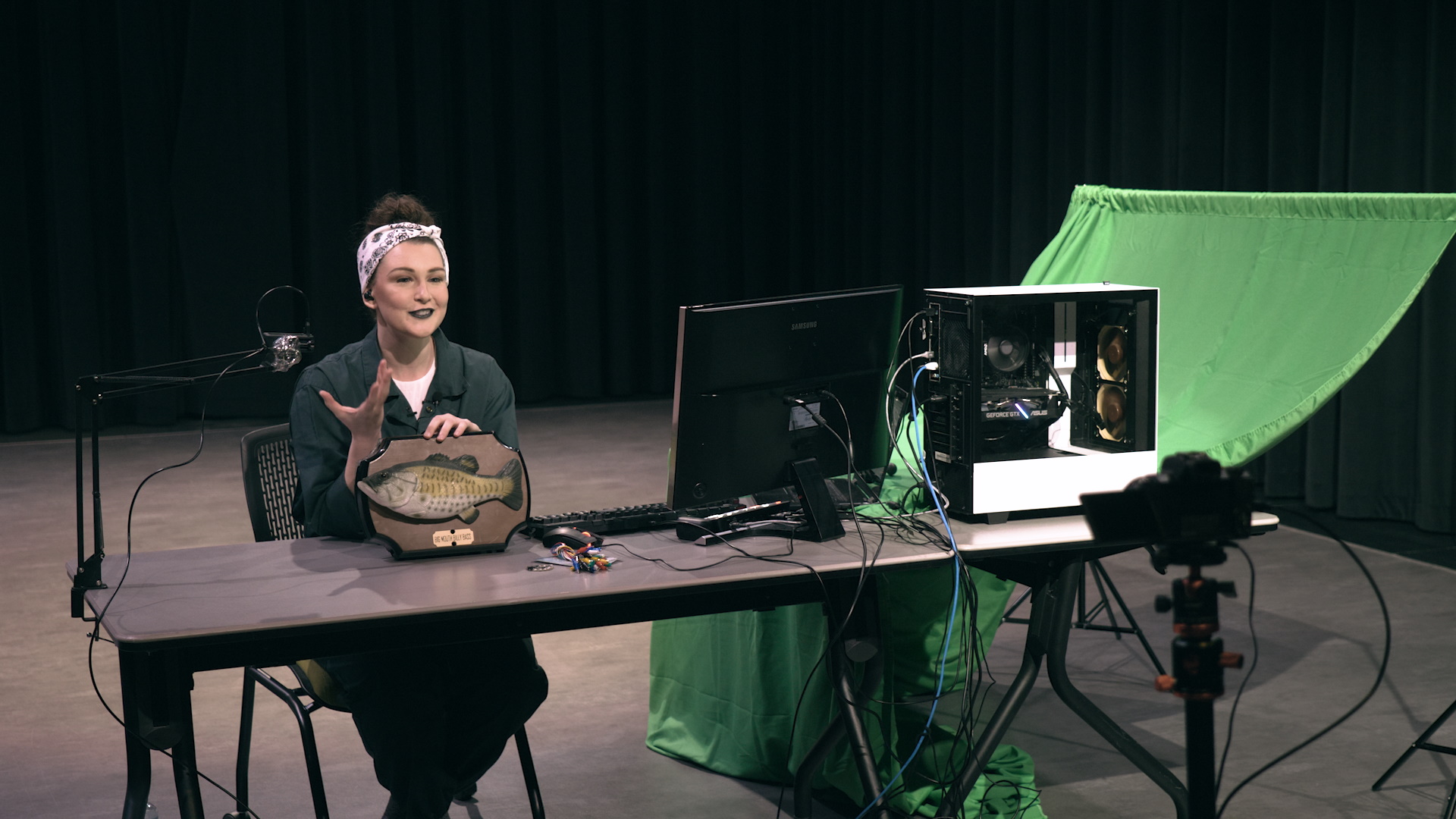 Savanna Harvey, Interaction Design for Digital and Hybrid Performance, 2021.
Photo Courtesy of Ryan Wilkes.
What these audiences, our audiences, want from performing arts are art experiences. They can get their art objects elsewhere, and frankly, they can get better art objects by better artists than us, unskilled as performing artists are in a discipline they do not practice and know nothing about. What we do know is liveness, and this is what our audiences want and expect from us.   
What we do know is liveness, and this is what our audiences want and expect from us.   
Media art can be performative, as can the media art object. Performativity is not solely reserved for the performing arts, counter to what our name suggests. Our asynchronous, pre-recorded performing art objects released during the pandemic are indeed performative. Marvin Carlson defines performance at the conclusion of his survey on performance: "[Performance] is a specific event with its liminoid nature foregrounded, almost invariably clearly separated from the rest of life, presented by performers and attended by audiences both of whom regard the experience as made up of material to be interpreted, to be reflected upon, to be engaged in — emotionally, mentally, and perhaps even physically".4

Specific event: check. Real but not real: check. Performers and audience: check. Performing arts do not lose their performativity by going asynchronous, what they lose is their liveness.
For example, Banksy's Girl with Balloon is an art object. It is a spray paint on canvas rendition of the eponymous girl and her balloon enclosed in a thick golden frame and famously sold at auction in 2018. As Girl with Balloon was sold at 1.4-million-dollar, right on cue, a secret shredder built into the frame cut the canvas to strips and spat them out the bottom.5

The looks on everyone's faces (you can watch the video online) as a 1.4-million-dollar art object is suddenly destroyed, right in front of them, is one of the greatest shows I've ever seen. And what I wouldn't give to have experienced it live. The art object: 1.4 million dollars. The art experience: priceless. Performing arts audiences don't want the canvas. They want to be in the room when it's shredded.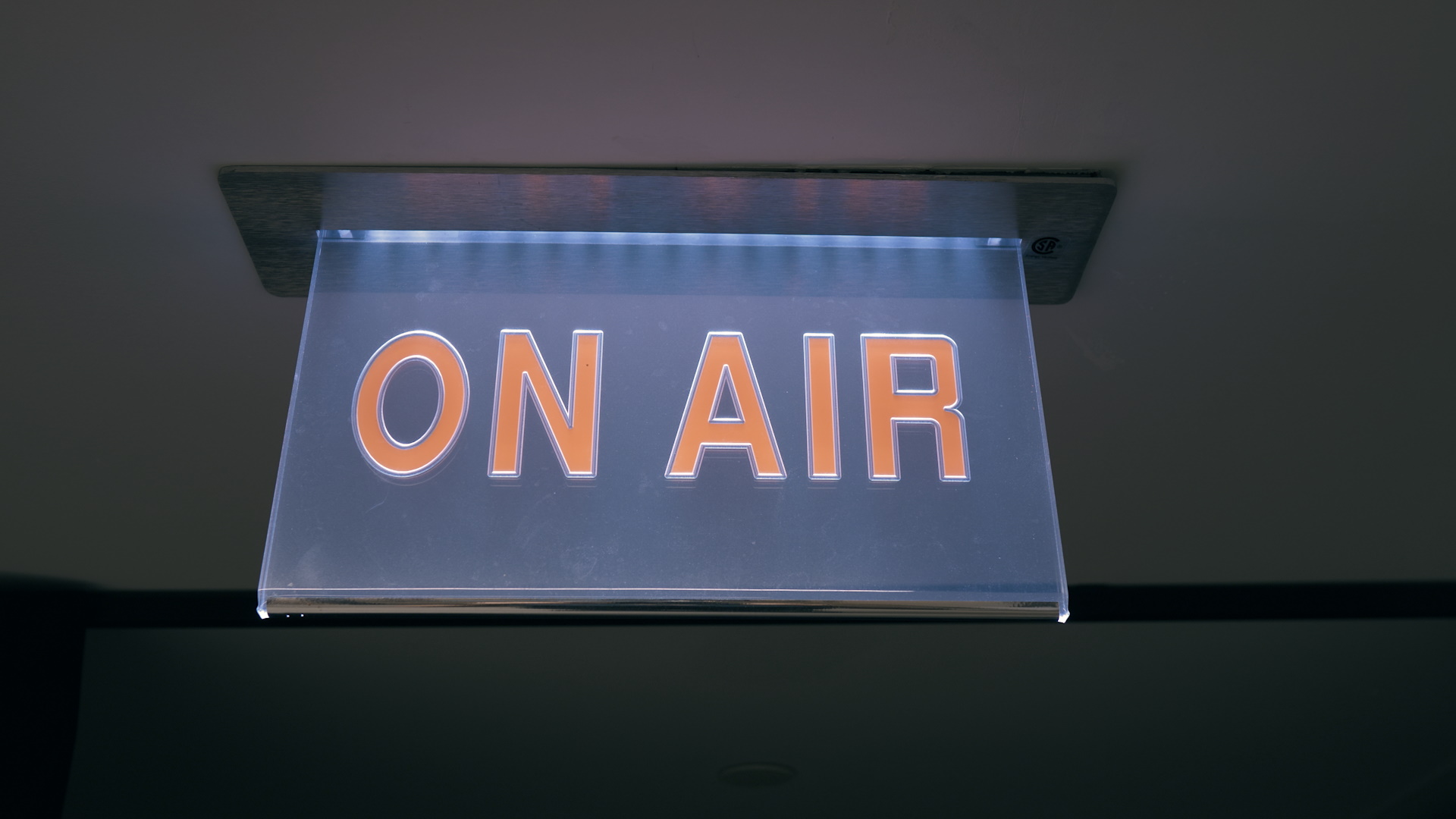 Savanna Harvey, Interaction Design for Digital and Hybrid Performance, 2021.
Photo Courtesy of Ryan Wilkes.
To achieve liveness, at some point, you must be live. You cannot replicate that moment of the shredded canvas, and pre-recorded content can be perfectly copied again and again and again, infinitely replicable. When we watch the YouTube recording of the canvas shredding, that is the archive of the experience, not the experience itself. It is the art object of the art experience.
Going live in digital performance during the pandemic has been interpreted in practice to mean replicating a physical performance during a livestream with at least one stationary camera. In the next wave of creation, I would love to see more exploration about what it means to be live in digital space, what it is to be in digital space. In physical performing arts, we take space and place very seriously. In the performing arts, we astound our physical senses with physical stimuli. Lights. Sound. Visuals in set and costume. Touch in the vibrations of the bass, the scratch of a velour theatre seat, spit flecks landing on our cheeks from an actor. We transport audiences out of and into highly designed space and place. There are highly specialized branches whose main focus is the performance site/s: immersive and site-specific performance.
This would explain why immersive and site-specific artists seemed to catch their footing a little easier in the great digital pivot. Digital space and place are different than the physical space and place we're used to, and the performing arts for the most part have demonstrated deadened senses in the digital realm. If we open those senses, however, we would notice the particular traits of our performance sites. Time might be bendier. The laws of physics won't necessarily apply. Digital performance sites are as unique and diverse as their physical counterparts. Or rather, they should be.
My call to action as a digital creator and dramaturg is to start designing and playing in live digital performance sites. Girl with Balloon worked because it specifically happened in the Sotheby's auction house, an institution of elites, the wealthy, and private art collectors hoarding lucrative art objects. Destroying a multi-million-dollar art object in that venue site and for that site's residents enabled some very specific messaging from an artist otherwise known for their street art. This performance would not have had the same impact in one of Banksy's usual back-alley haunts. The site of the performance matters. It is one of performance's intertexts. What does it mean when every single digitally adapted performance happens over Zoom? Absolutely nothing. That's a problem.
A lot of what my fellow performing arts digital immigrants know from their home practices can be translated over into their new digital performances. Most of the same questions and inquiries can still be pursued. What is living in the body like? Who has power? What is real? Who is watching? etc. We simply relocate these questions onto a digital performance site. What's harder, however, is figuring out the how. This is where an artist's digital literacy and technical competency can really impede their creative process. We don't know what we don't know.
"Performing arts audiences don't want the canvas. They want to be in the room when it's shredded."
When I was an artist-in-residence at cSPACE this past spring and investigating applications for interaction design in hybrid physical-digital performance, I became really excited about the possibility of working with Arduino, Raspberri Pi, and generally the Internet of Things6. I was building on the grade school STEAM programming I used to run for kids at the library. It didn't take long, however, for me to float a little too far out…into the pond. I was building my very first Arduino project, which was a hacked Billy Bass Fish that I wanted my remote, digital audience to be able to talk to me through. I was following a dated tutorial and substituting a lot of parts, which got me in trouble. Fortunately, Calgary's Protospace Makerspace is a friendly, helpful community with an online forum they kept active during the pandemic. They were generous with helping me troubleshoot. We got a decent prototype working in time for the livestream closing night event (archive available on YouTube).7
Digital artists, new media artists, and makerspace communities are fantastic resources and would make superb collaborators for performing artists wanting to go digital but needing to overcome a digital literacy or technological barrier. I'm shocked how little collaboration we've seen. Maybe because of the social distancing, but folx aren't reaching out to each other, and performing artists have either given up making art until restrictions lift – or they're trying to figure it out all on their own.
We may need media arts organizations and makerspaces to extend the first invitation. If the performing artists don't even know what's possible, it's fair to assume they aren't asking for help because they don't know help is available and/or they don't know who to ask.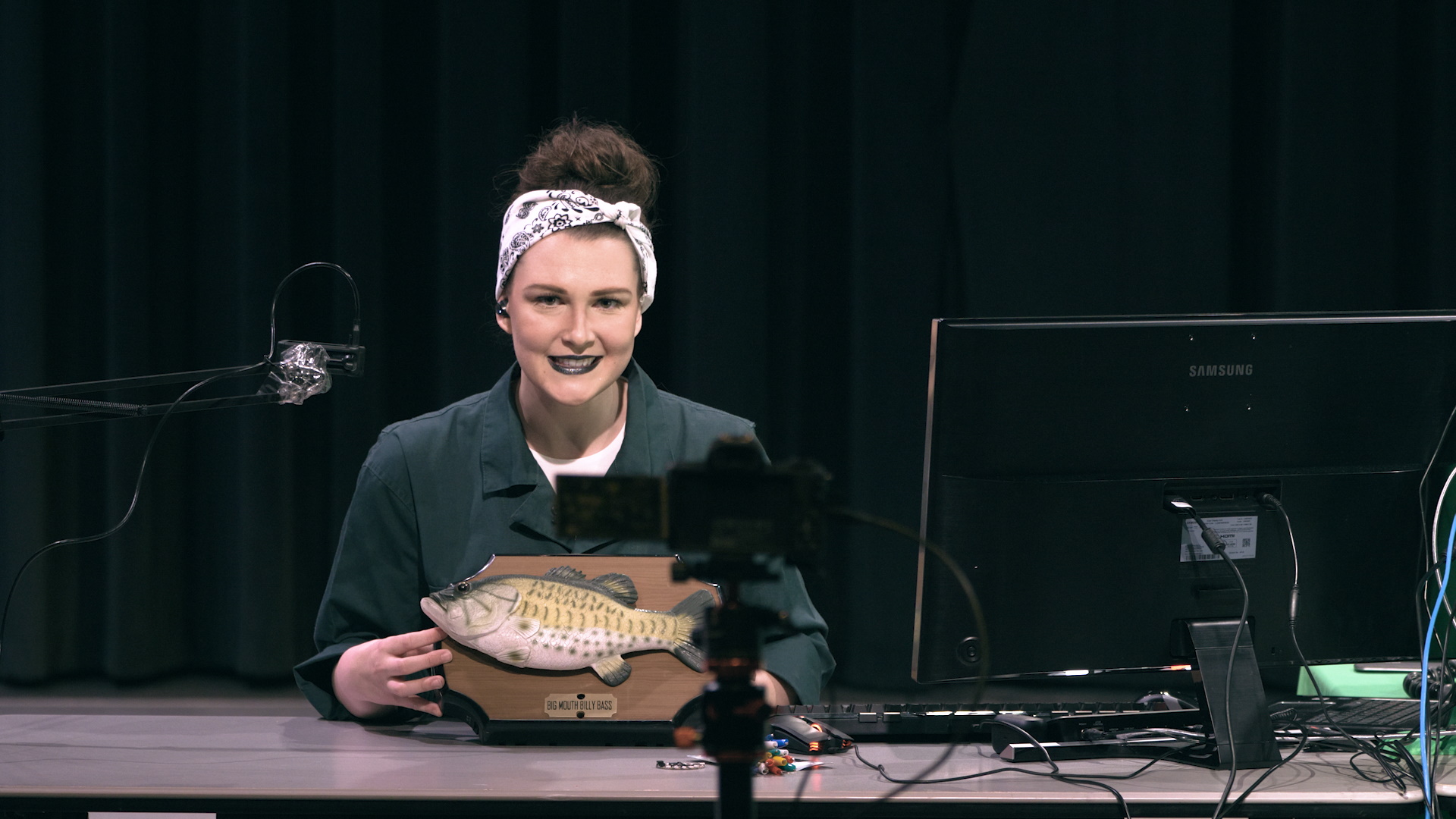 Savanna Harvey, Interaction Design for Digital and Hybrid Performance, 2021.
Photo Courtesy of Ryan Wilkes.
For people like me trying to turn robotic, audience-controlled fish into our scene partners – it's a good reminder that we don't have to go it alone all the time. Thankfully my copy of The Arduino Cookbook just arrived, a massive 600+ page tome on electronics and coding that I will be studying over time. That will help me build a solid foundation for future fish experiments, but I still can't for the life of me keep a soldering tip longer than a day. And I have gone down the YouTube soldering rabbit hole and back. Someone just really needs to sit down at a soldering station with me and tell me what I'm doing wrong.
To zoom out to the macro-level of this digital literacy and digital transformation problem for a second, the fact that your average artist has no idea how their devices work, how to find or navigate new software, or how to integrate basic technology into their practices (robot fish is admittedly a little extra) is indicative of the larger social issues around the right to repair, access to broadband, techno-elitism/techno-colonialization, and the ever widening disparities of who has wealth, knowledge, and access to the internet. Many artists are in low-income brackets, engaged in precarious contract-based work, and artists in equity-seeking groups face even greater economic and social disadvantages. The knowledge I have is entirely thanks to the public library system, where Arduinos, Raspberri Pis, Chromebooks, the Adobe Suite, 3D printers, and many more makerspace and digital learning tools are available as part of my free community membership. Now, more than ever, support and take advantage of your public library system. 
There is also a very serious conversation to be had around the electronic waste crisis, increased energy consumption, and human rights violations (cobalt and lithium mining) that go hand-in-hand as we trip foot over foot in the digital pivot.
I predict most performing arts organizations/artists will return completely to IRL once it is safe to do so. Through ill-fate, they were cast onto these rendered shores and will respawn back into more familiar terrains and difficulty levels as soon as they get the chance. But­­­­­ some of us, a strange few, will choose to stay. For those of us continuing the quest or those of us who will remain stuck on this level a while longer, we must consider digital performance sites and digital liveness if we are to create media art experiences and not merely media art objects. It would additionally behoove us to collaborate much, much more with digital/new media artists and community makerspaces to overcome our digital literacy barriers. Public libraries and their digital literacy advocacy, resources, and education are vital for a just physical and digital society. The environmental and human rights concerns around going digital are a concerning moral predicament.