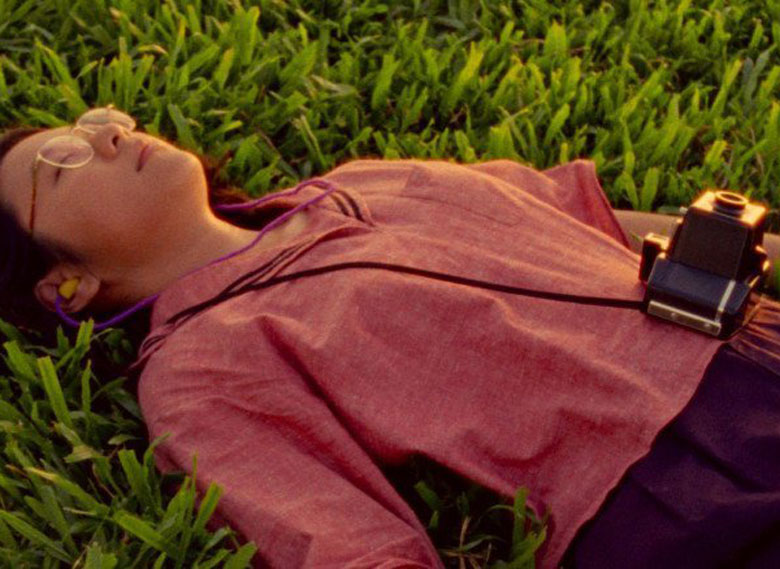 Sandi Tan, Shirkers, 2018. Still.
Still Courtesy of Netflix
The plot is deceptively simple: a female assassin wanders through 1992 Singapore, killing friends, acquaintances, and strangers. "Don't be so hysterical," the victims are told, "I'm only going to kill you."1Between kills, the assassin naps and takes pictures of the city with an old camera: pastel coloured, post-colonial architecture amid huge swaths of jungle. When the assassin raises her weapon, it is only her fingers shaped like a gun, and when she shoots her best friend, they both laugh and she forgets to die. But all these scenes are silent. You can't hear their laughter, their dialogue, or the racket on the street.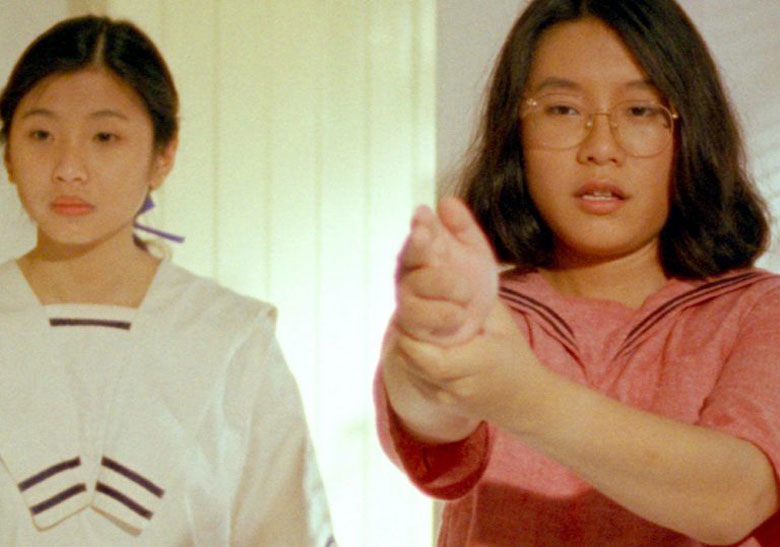 Sandi Tan, Shirkers, 2018. Still.
Still Courtesy of Netflix
These are snippets from Shirkers, the first feature made by Singaporean filmmaker Sandi Tan in the early 90s when she was nineteen. There is no sound in the film because soon after it was finished, it was stolen from her by the film's director and cinematographer, Georges Cardona. The film was missing for over twenty years until film canisters appeared on Tan's doorstep, relatively intact save for the sound recordings. What results from the footage is Shirkers (2018), a documentary by Tan about the creation, loss, and rediscovery of her first film. The film is a coming of age story masked in a free flowing plot about an assassin named "S," complete with bizarre characters where Art Deco meets the post-colonial backdrop of Singapore before it became rich and modern. Cardona, Tan's mentor who became her new best friend during the summer of 1992, haunts the feature film and the documentary. "He picked us, but he let us feel like we picked him," Tan notes of Cardona as she pieces together the story her younger self did not or could not see.2Shortly after the production wrapped, he would reveal himself to be a fraud and a thief, absconding with Tan's film, an act that would alter the course of her creative career and, in many ways, her life.
In the documentary, Tan chronicles her journey to uncover the identity of Cardona as she examines how the loss of cultural capital in the form of mentorship, access, and ownership affected her growth as an artist. In her teenage years, film was a way for her to find freedom inside her own head, where she could team up with her best friends and take on the world. When Shirkers was stolen by Cardona, film and everything it represented became a kind of hell.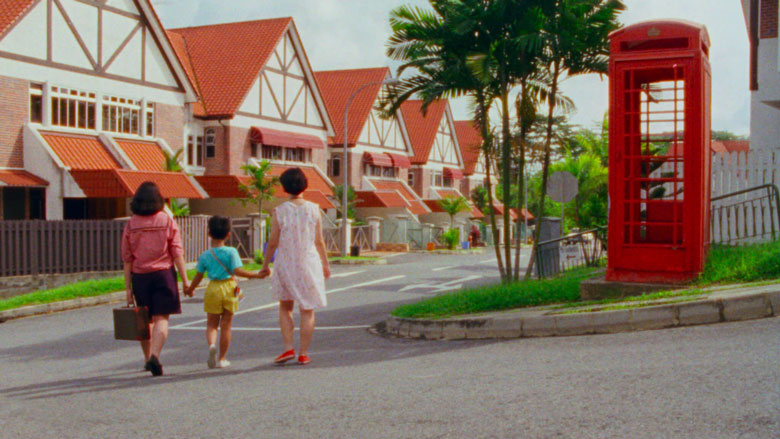 Sandi Tan, Shirkers, 2018. Still.
Still Courtesy of Netflix
The exploration of what happened that summer, when Tan and her friends decided to make a movie, is a messy dive twenty years into the past. The documentary begins with scenes from the original film Shirkers shown in reverse, a car moving backwards through a tunnel, and overexposed, a picturesque lake with swans turning a bright, frazzled pink.
For years after Cardona disappeared, Tan fielded offers to write a book about her early film making experiences, but she never felt ready to talk about the loss until the film was rediscovered, decades later. When Cardona died, his widow mailed her canisters of film, her film. What must it have felt like to watch the first five seconds of the movie you thought was lost forever, with scenes so distant you thought maybe you had dreamed them? This rediscovery triggered a need to trace the identity of Cardona, and by extension, the origin of the stolen film, with its art house darling tag line: "There are movers, there are shakers, and there are shirkers."3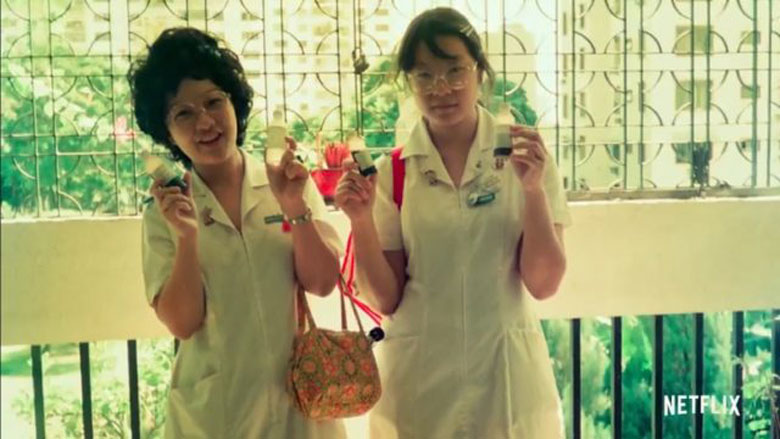 Sandi Tan, Shirkers, 2018. Still.
Still Courtesy of Netflix
Tan's concept for the original Shirkers film is rooted in her upbringing in Singapore, a sweaty little island with a government that stressed politeness and decorum, going so far as to outlaw chewing gum in public. Tan's family life was dysfunctional. With her parents heading for divorce, she gravitated to the free wheeling environment of her best friend Jasmine Ng's household, whose parents let them do pretty much anything. They built shrines to their literary idols in Ng's bedroom, went to school dressed up as nurses, and devoured The Big O, a pulpy local mag about film seemingly made for boys. Tan also set up a black market video tape scheme with a cousin who lived in New York, accessing American films not released in Singapore that would become touchstones for her script for Shirkers.
The outsider bond between Tan and Ng is portrayed as intimate and particular, in the ways being eighteen and isolated on an island can foster, where an us versus them mentality is a saving grace. Wanting to make movies, the duo joined a local filmmaker's society and soon after, they met Sophie Harvey, a fellow outsider with a self-possession that Tan and Ng admired. All three then meet Cardona. He presents himself as a mentor and seasoned filmmaker, with ice blue eyes and confusing origins, a foreigner who somehow ended up in Singapore. Soon, the group of four is taking late night drives through the city streets, filming stray dogs and nightscapes. Cardona happily stealing time away from his domestic life at home, spinning stories of his past with wild details that couldn't be true. His tales were wild and entertaining, from Jayne Mansfield's decapitated head rolling right up to his car in New Orleans, to witnessing his brother die in his mother's arms. "Whether his stories were actually true seemed beside the point," Tan reflects later in the documentary about these night drives.4There was a porousness to Cardona's history, a trait Tan saw not as a red flag, but a marker of someone unique, someone unafraid to indulge in a fantasy of their life. 
In her teenage years, film was a way for her to find freedom inside her own head, where she could team up with her best friends and take on the world. When Shirkers was stolen by Cardona, film and everything it represented became a kind of hell.
When the summer was over, the three teenaged friends separate to different schools overseas, and then, somehow Tan ends up on a road trip through America with Cardona alone. Though nothing grossly inappropriate happened beyond a few remarks from Cardona about how strange it is they're traveling together, and an invitation to touch his belly one night, the trip takes on an unsettling tone. "He gave me signals, strange signals, late night conversations where he told me people thought we were lovers," Tan narrates as images of roadside attractions and flat landscapes flash by.5
Still, by the end of the trip, Tan pushed her weird feelings aside and decided Cardona was her new best friend. He claimed to be a seasoned filmmaker with institutional clout, a charming, persuasive man who offers Tan guidance, attention, and a feeling of inclusion. When Tan writes a script set in Singapore about a teen assassin named "S" who roams the city in search of people she likes enough to kill, she sends it to Cardona, who declares her, "a fucking genius."6Cardona wasn't wrong about the particularity of Tan's script; prior to the 1990s, representation in independent Singaporean film had been limited and were often straight up racist, populated by pulpy, action films like They Called Her Cleopatra Wong (1978) and Medium Rare (1991), starring a white actor as a Singaporean serial killer. Tan wrote Shirkers as an alternative to the norm, an earnest send up to weirdos everywhere made by a group of outsiders, a vital addition to the Singaporean film canon.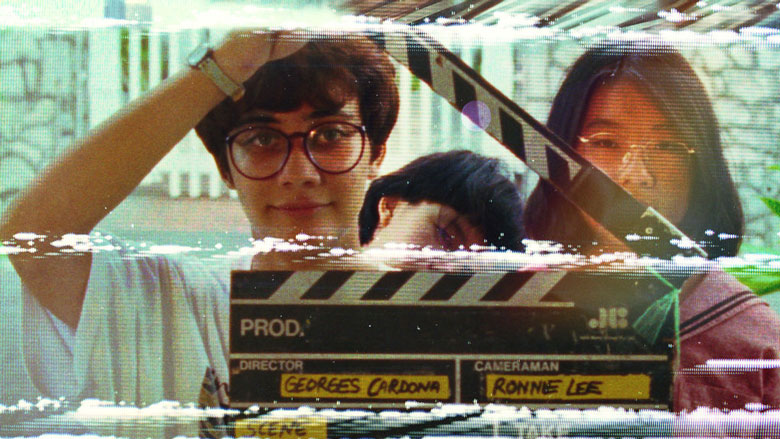 Sandi Tan, Shirkers, 2018. Still.
Still Courtesy of Netflix
Though I wish we could see the original film on its own, separate from the backstory of Cardona, his imprints are everywhere in the documentary Shirkers. The two and half month production in the middle of a sweaty Singapore summer of 92 was rife with tension, along with the typical first feature woes: lack of budget, an inexperienced crew, and no permits to shoot. Often, the scrappiness of Ng and Harvey carried the film forward (with Ng chewing gum on set in defiance of Singapore's strict laws), while Cardona directed from behind the camera.
 When Tan interviews her co-creators, her "co-conspirators", twenty years later about the production, they discussed the warning signs that emerged about Cardona and the power dynamic he wielded on set. Harvey reads notes about the film she wrote when she was nineteen that imply Cardona was manipulative and toxic. Midway through the production, he banned a close male friend of the group and tossed out the soundtrack he had written for the film. With money drying up, Cardona convinces Tan and Harvey to do a late night run to bank machines across the city, draining their remaining savings. Recounting the details in the present, Tan seems more aware of how damaging Cardona was to her relationships and to her creativity as an artist. However, at the time, she still saw him as a valuable mentor who provided knowledge and skill, giving her a sense of confidence that she couldn't access on her own.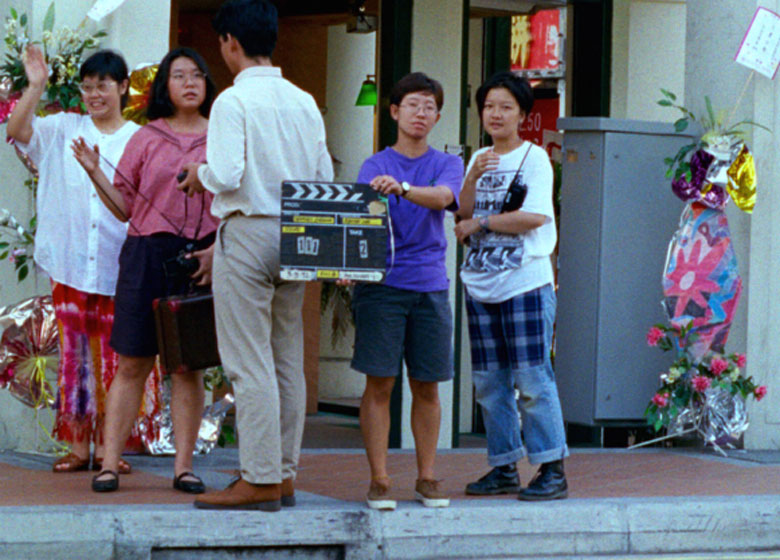 Sandi Tan, Shirkers, 2018. Still.
Still Courtesy of Netflix
Regardless of the dynamics between her friends and Cardona, she was determined to do whatever she needed to get her film made. Talking about the production, Tan equates the making of the film to the giant steam ship pushed up a mountain in Werner Herzog's 1982 film Fitcarraldo.  She recalls a day on set when Cardona forgets to put film in the camera and tells them they should film anyway. He seems more interested in pretending, in performing his role as director and cinematographer for their benefit, than actually shooting the scene. Tan wonders if Cardona was sending her subliminal messages about the character "S" and her old camera with no film, taking pictures inside her head: "Was he roleplaying as a director? Did he just view this entire filmmaking venture as a psychological exercise?"7Harvey wonders in the documentary to Tan. Was Cardona really telling them, these kids trying desperately to create, that he was fake all along? 
As the years wear on and no processed film turns up from Cardona, Tan and her friends attempts to move past the trauma of Shirkers. Though all three friends experience a loss that bonds them together, something shifts in their creative dynamic and they do not collaborate again, until Tan interviews them for her documentary. Singapore develops into a rich, modern country, and the film canon doesn't recognize a film that never seemed to have existed.
But the events of that summer continue to haunt Tan and she finds herself telling the same story on an endless loop, writing a novel about a young, idealistic woman who is blinded by a charismatic man. She also experiences what she calls "pings," moments in contemporary films like Wes Anderson's Rushmore (1998) and Terry Zwigoff's Ghost World (2001), that reflect the spirit and style of Shirkers, where it seems as though the film is calling out to her from the void.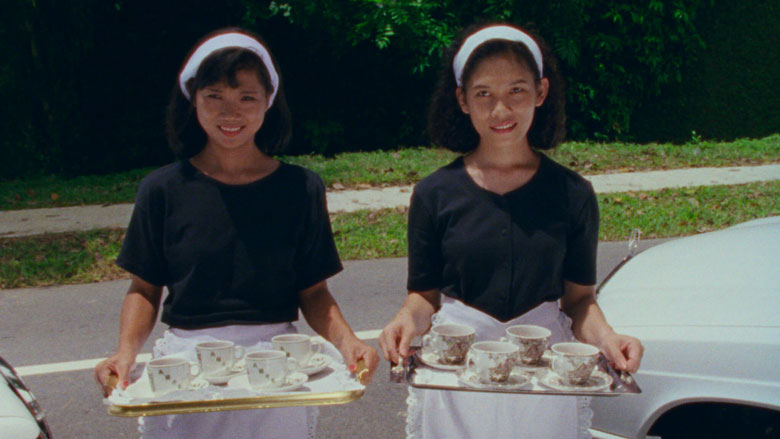 Sandi Tan, Shirkers, 2018. Still.
Still Courtesy of Netflix
As the documentary unfolds, duplicity and doubling emerge: duplicity enacted by Cardona and doubling by Tan. When the film canisters finally do appear decades after their loss, Tan is not able to accept that Cardona's actions had no meaning, and refuses to let him escape accountability through death. Like "S," Tan goes on a trip of discovery, killing who she thought Cardona was, and replacing her old perception of him with something closer to the truth. Like Cardona, Tan tries on different personas to tell the story in her documentary, from the French New Wave to a gritty straight documentary style, weaving in and out of the fantasy of what she remembers and really happened. She seeks out individuals who knew Cardona: a female friend and pen pal, the writer Grace Dane Mazur, a male former student in filmmaking, and his widow, who opts to be unidentified in the documentary. All appear to be both repulsed and fascinated by whoever Cardona claimed to be, aware they have been used and wrapped up in his ability to sway their sense of reality.
Like many con men, Cardona is a self-made cipher, a person with a relatively boring backstory who overwhelmed everyone around him and took whatever he wanted. He wasn't just seeking sex or desire from women, he was also interested in the work of women, using them for his benefit and enjoyment. He seemed to be motivated by jealousy, hoarding the personal and intimate work of others, an artistic violation. What emerges in Shirkers (2018) is a man who falls into a lineage of male creators who are only interested in their own part in the production, choosing their fantasy over reality and laying claim to stories that are not theirs.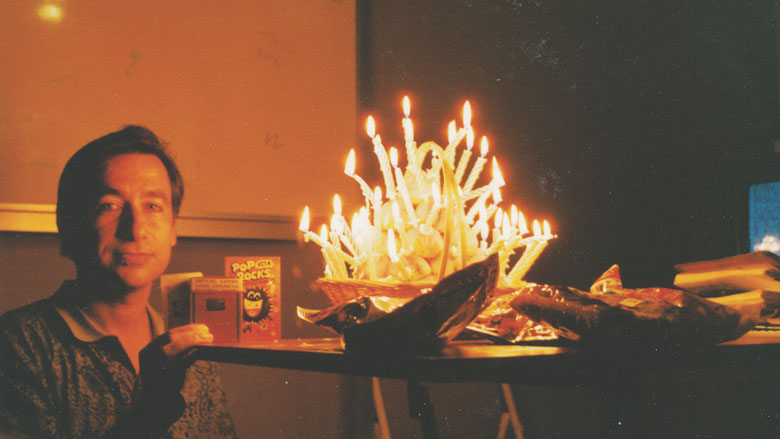 Sandi Tan, Shirkers, 2018. Still.
Still Courtesy of Netflix
Though what remains of the original Shirkers film is soundless, it is still very much alive. Watching the footage Tan salvaged from the recovered film canisters, there is a looseness to the style of the images, a playfulness. The film shows a Singapore that no longer exists, on the brink of old and modern, with storefronts, shops, and landscapes that have disappeared. It also depicts an off kilter story of existential angst, with a freedom and sophistication to its storytelling that predates the rise of this type of filmmaking. More than anything, it carries the marker of a great achievement and a great loss, without editing or sound or post production to shape it into the final vision Tan had in her head.
For over twenty years, Tan could only play the film in her head, and still, even once she investigates the how and the why of what happened, she is left with the shell of the original. By the end of the documentary, she offers no pat resolution, just an acceptance that something was taken from her and she can never truly get it back. As she surveys the people who were with her during the making of her first film, adults now with reflections that don't always match her memory, Tan seems to realize that Shirkers will always exist in another place, an after life that she can finally claim. She includes the sound of laughter and the car moves forward, and the image develops, no longer distorted.
---
You can watch Sandi Tan's Shirkers on the streaming service, Netflix. For more information on the documentary, go to: https://www.shirkersfilm.com/