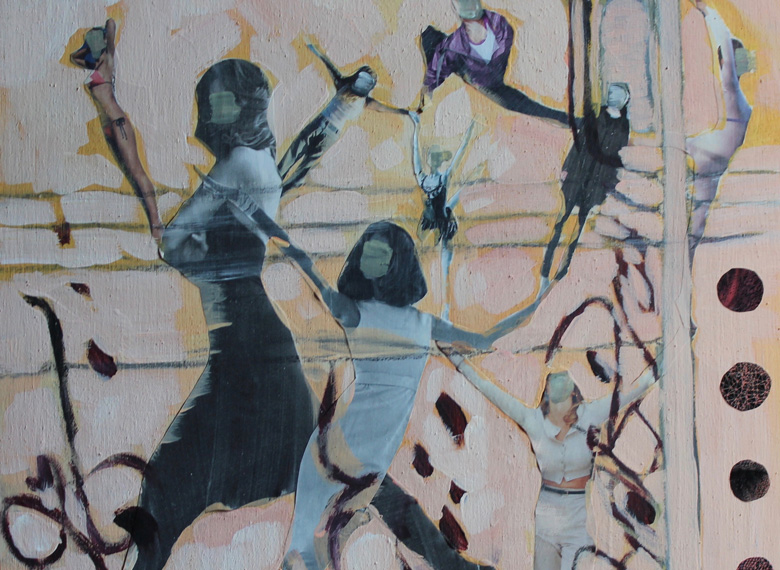 Jennifer Rae Forsyth & Kristen Hutchinson, Untitled (Get Out of My Way collaborative series), 2016-2018. Detail.
Photo Courtesy of the artists.
Who Gets to Tell The Story?
I have been thinking a lot lately about whose stories are being told, and even more importantly who gets to do the telling. Is it important who the authors are for the stories we consume in contemporary art, television, and film? How do we achieve real inclusivity and diversity in cultural production? I certainly don't claim to know the answers to these difficult questions but I believe that they are worth asking all the same.
In a university course that I am currently teaching about themes in contemporary art, we were discussing the controversy surrounding white artist Dana Schutz's 2016 Open Casket. Schutz's painting is of Emmett Till, a black teenager who was brutally beaten and killed by two white men in Mississippi in 1955. Both men were acquitted of the kidnapping and murder. Mamie Till Bradley, Till's mother, insisted upon a public funeral with an open casket to draw attention to the brutality of the crime. In the painting, the fourteen year old is depicted in his funeral casket, his face a mess of blurred paint, similar to the horrific state of his face at the actual funeral. The artwork received a great deal of criticism for being a cultural appropriation by a white woman of black suffering. African American artist Parker Bright silently protested the painting when it was included in the 2017 Whitney Biennial. He stood in front of the work wearing a t-shirt that said "Black Death Spectacle." My students' responses to the work ran the gamut from "An artist should be able to create whatever they want" to "The work is exploitative and offensive and Schutz shouldn't have painted it."
We also began to question what the artist could have done differently. One student suggested the artist should have contacted Till's mother, if possible, to discuss making the work and include her words and experiences in relation to the work. Another thought Schutz should have entered into a dialogue with African American artists prior to presenting the work. Yet another thought the artist should have given any money garnered from this prestigious opportunity to African American organizations. I suggested that perhaps Schutz could have invited a number of African American artists to also paint their own interpretations of the event, to create a collaborative installation in which a number of voices could be heard.
Shortly after this class discussion, I binge watched Netflix's Black Earth Rising. Over the course of eight episodes, the 2019 TV series examines the complexities and aftermath of the 1994 Rwandan genocide, where an estimated 500,000 to 1 million Rwandans were killed over a 100 day period. In many ways I found the series to be an excellent consideration of the nuances and difficulties of telling this story. I found the use of black and white animation to represent the violent scenes of the genocide was especially well done. Nonetheless, there were a number of elements that made me bristle. The main character is Kate Ashby (played by Michaela Coel), a childhood survivor of the genocide who was adopted by Eve Ashby, a British human rights lawyer. Eve was life-long friends and colleagues with another lawyer, Michael Ennis (played by John Goodman).  
After Eve is murdered, Kate is having a discussion with Michael and comes on to him. This brief sexual pass arrives out of nowhere and makes no sense in relation to her personality, character development, or the fact that Michael is a father figure to her. This unnecessary plot point made me wonder "Who wrote this?" Hugo Blick, a white British man, wrote, directed, and produced the series. While Blick certainly did an excellent job researching for the series, I couldn't help but wonder if this scene would have existed or been different if it had been written by a white woman, a black woman, or a Rwandan black woman. Would this change in authorship have eliminated this plot point? I couldn't find anything online that questioned why one white man was the only person telling the story for this series. This authorship has remained unquestioned and I think it should be.
Another contemporary example that should really make us think long and hard about who gets to tell whose stories is the 2018 film Bohemian Rhapsody. Despite the criticisms about the film, I forced myself to watch it. I completely agree that this movie often frames queerness in a negative light. In his weekly column Queeries, Peter Knegt writes about the erasure of Freddie Mercury's bisexuality in the film: "This erasure is not only a betrayal of Mercury himself but also plays into this very conservative notion that sexuality is a spectrum-less dichotomy of straight and gay. Worse still, as Bohemian Rhapsody forges on in an effort to appeal to as wide an audience as possible, it makes clear which side of that dichotomy it feels is superior."1Even Rami Malek, who played Mercury in the film, was dissatisfied with how the singer's sexuality was portrayed. When Malek brought this issue up producer Graham King said he didn't want to make an "edgy and 'gritty behind-the-scenes' drama. He wanted to make a crowd-pleasing tribute to Queen's music."2
Why is queerness necessarily edgy and gritty? And when queerness actually is gritty and edgy, why is that a bad thing? Why can't stories about bisexuality be crowd pleasing? Here was an incredible opportunity to tell a complex and nuanced story about a bisexual man of colour: a narrative we so rarely get to hear and see in popular culture. As a bisexual/pansexual/queer woman, who has experienced much bi erasure throughout my life, I found this film especially infuriating. And don't even get me started about how this film was nominated as Best Picture for the Oscars despite these issues and director Bryan Singer's alleged long term record of sexual assault and harassment.
Nonetheless, there are some glimmers of hope. The British Academy of Film and Television Arts suspended Singer's nomination due to the allegations of sexual misconduct against him. During its four-month closure this summer, the Museum of Modern Art in New York will not only be expanding but has also committed to re-organizing its collection to include more artworks by women and people of colour. MOMA director Glenn Lowry commented upon this change: "A new generation of curators is discovering the richness of what is in our collection, and there is great work being made around the world that we need to pay attention to. It means that the usual gets supplanted now by the unexpected."3 
We need to keep talking about how crucially important it is that other voices, more voices, all voices, are heard and not just in the narratives of film, television, and visual art but in all areas of cultural production. We need to keep questioning and demanding better! As a cisgendered, white woman, I also need to listen carefully to a diversity of opinions about cultural appropriation and take those views on board.
One thing I am very sure of is that whoever gets to the tell the story will necessarily affect how that story is being told. As showrunner and storyteller Shonda Rhimes says, "The goal is that everyone should get to turn on the TV and see someone who looks like them and loves like them. And just as important, everyone should turn on the TV and see someone who doesn't look like them and love like them. Because perhaps then they will learn from them. Perhaps then they will not isolate them. Marginalize them. Erase them. Perhaps they will even come to recognize themselves in them. Perhaps they will even learn to love them."4
---
A special thanks to editorial assistant Kalyna Somchynsky for all her help on this issue.
Issue #015 Header Image: Parallel, directed by Isaac Ezban (2018). Still. Courtesy of BRON Studios.