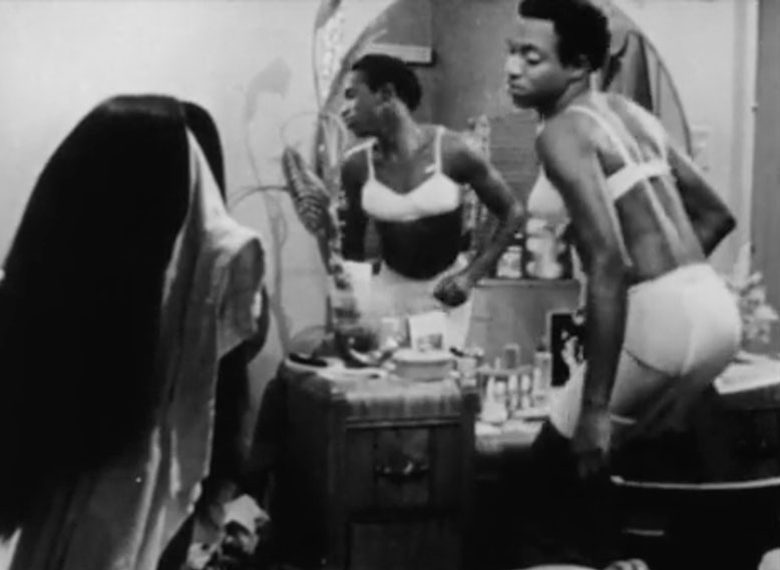 Behind Every Good Man, directed by Nikolai Ursin (1967). Behind Every Good Man is a striking short film of an African American Transgender Woman in Los Angeles in the 1960s.  The UCLA Film and Television Archive explains that the film stands in "strong contrast to the stereotypically negative and hostile depictions of transgender persons as seen through the lens of Hollywood at the time, the subject of Ursin's independent film is rendered as stable, hopeful and well-adjusted." This rare film also received a grant from the National Film Preservation Foundation (NFPF) in the U.S. for its preservation.
The study of amateur film came to the fore in the late '80s and '90s. Largely focused on the domestic home-movie mode of production, amateur film is a term primarily used by archivists and historians to refer to movies created outside of commercial filmmaking on small gauge stocks such as 16 mm, 8 mm and Super 8.1These formats—along with their accompanying cameras, projectors, and accessories—were introduced by companies like Kodak, Bell & Howell, and Bolex to expand their business to hobbyists, enthusiasts, and the middle-class consumer. Small gauge film formats were marketed as more inexpensive and compact compared to their professional counterparts, and more readily available by those outside of the film industry.2
With the growth of the amateur film market came the rise of an international amateur cinema culture embodied in magazines, amateur movie contests, and organizations or clubs.4The first international association for non-professional filmmakers, The Amateur Cinema League (ACL),  began publishing Movie Makers in 1926, a magazine that ran for 27 years. The ACL and its publication gave technical and expert advice on filming, organized movie contests, as well as supported and publicized local amateur movie clubs. Their annual contest, the ACL Ten Best, ran from 1930 to 1954 and the award-winning selections became the standards of excellence against which later amateur films were compared. On a smaller scale, Amateur film groups, like the Toronto Amateur Movie Club or Ottawa Cine Club, offered support locally in developing skills through organized club productions, newsletters, screenings, and networking. Some clubs also arranged their own contests, awarding recognition to outstanding member films.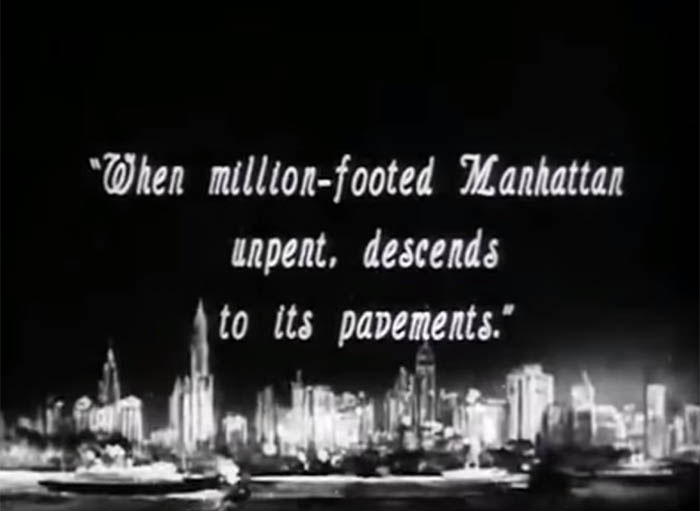 Manhatta, directed by Charles Sheeler & James Strand (1921). American modernist friends Charles Sheeler and Paul Strand created what is now considered to be the first American avant-garde film; Manhatta. As you can guess, the film features carefully composed shots of Manhattan, filmed rhythmically with striking perspectives. Thanks to an independent curator Bruce Posner, the film was digitally restored in 2006 with the support of a number of institutions such as: the Museum of Modern Art, New York's Anthology Film Archives, the British Film Institute, Library of Congress, National Gallery of Art in Washington and the Nederlands Filmmuseum in Amsterdam.
Amateur films encompass many different types of genres and stylistic forms from spontaneous domestic family movies, to carefully edited travelogues and fiction films. Despite the genre's multiformity, research in amateur films has largely focused on the domestic production and culture, leaving much to be explored.4In the absence of significant scholarly attention on other facets of amateur cinema, film historian Dr. Charles Tepperman has focused much of his research on more polished amateur moviemaking. Raised in Ontario, Tepperman completed his MA in Film Studies at Carleton University where he wrote on the arrival of cinema in 1896 to Ottawa. His preoccupation with unexplored moments in film history gave rise to a nuanced and in depth study of amateur film subculture. Published in 2015, Amateur Cinema: The Rise of North American Moviemaking, 1923-1960, explores the contexts, practices, history, style, and aesthetics of amateur moviemaking. The book emerged from Tepperman's 2007 PhD dissertation on the Amateur Cinema League which he completed at the University of Chicago. Now a professor in the University of Calgary's Department of Communication, Media & Film since 2007, Tepperman's research has expanded into an international amateur platform.
The Amateur Movie Database (AMDB) was started in the fall of 2015 and is an online project supported by the Canadian federal funding body, the Social Science and Humanities Research Council (SSHRC). Designed with a film metadata expert, the content is searchable and broken down into three datasets: films, people, and clubs. This information has been gathered in one place for the first time on an easily navigable website: amateurcinema.org. The website became live in March 2017 where it was launched at the Society for Cinema and Media Studies annual conference in Chicago. The AMDB is not an archive, but instead holds information and refers users to where they can find films. Through the AMDB, researchers, archivists, and enthusiasts can identify and contextualize works, as well as learn more about amateur movie culture more generally.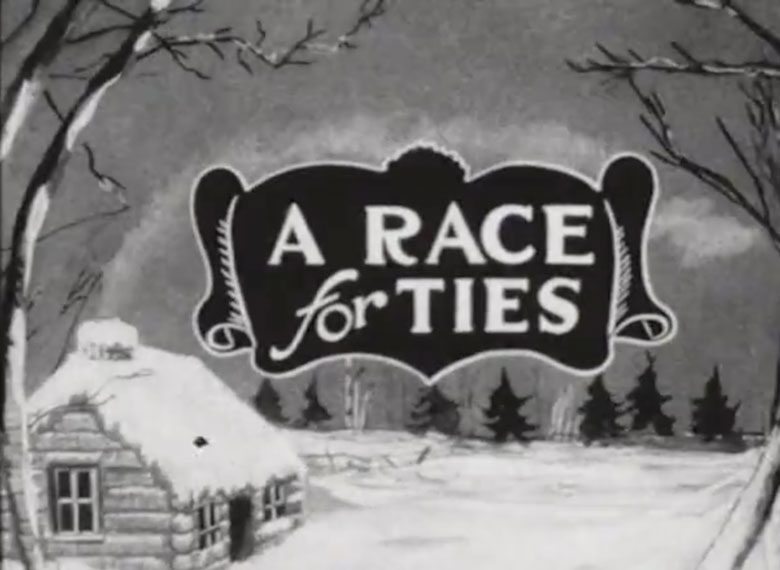 A Race for Ties, Dorothea Mitchell (1929). In a pre-war era when amateur film enthusiasts were dominated by those who were male, white and middle class, Dorothea Mitchell's A Race for Ties is particularly noteworthy. It was Canada's first amateur feature-length film and premiered in May of 1929. Set against the backdrop of Thunder Bay, Ontario, the film tells the story of a sawmill owner who races against a large timber company to sign an exclusive contract for railway ties.
The project scope focuses on North America (mainly Canada and the U.S.) and spans from the 1920s—with the introduction of the first widespread consumer amateur film format (16 mm) in 1923—until the 1970s and the rise of videotape. Films that have been included are those that have received recognition by magazines or clubs, or have been identified as significant by historians or archivists. Collaborators on the project include archivists and historians, as well institutions with moving image holdings of amateur films in North America such as Northeast Historic Film in Maine, Chicago Film Archives, and the Texas Archive of the Moving Image. Above all, Tepperman is interested in the advanced amateur who has "polished filming and editing techniques and feature elements of narrative or thematic continuity."5According to this definition, amateur cinema is, for our purposes, parallel yet distinct from commercial filmmaking or rough, unedited home movies.6

That distinction between professional and non-professionals is an important one. While there may not be a black and white dichotomy between the two, many amateurs sought to distinguish themselves from those who created work purely for economic reasons—and still do. The amateur is not limited by the constraints of commercial influences, yet is serious about filmmaking, possessing both skill and a love of their craft. This positive concept of the amateur was championed by influential film experimenters such as Maya Deren and Stan Brakhage,7who saw the possibilities of the amateur as one of creativity and expression, free from the pretentiousness of careerism. Indeed many amateurs were pioneers and tinkerers who experimented in the medium, especially in the animation and explicit avante-garde genres.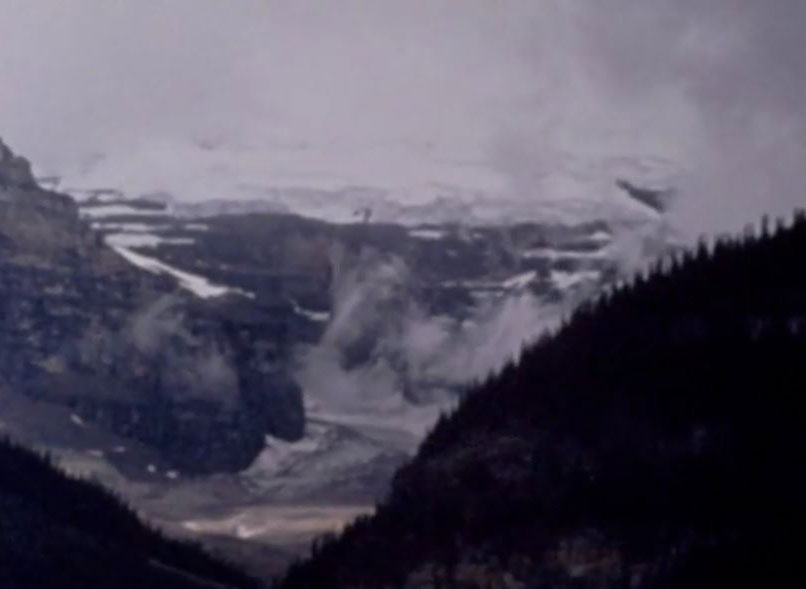 Lake-Louise: Cloud-Land, directed by William H. Harlow (1964). This 1964 film is a romantic look at Lake Louise  and the surrounding area by accomplished nature photographer and award winning filmmaker William M. Harlow. Carefully composed framing and shots utilizing time-lapse photography lend a new appreciation for the "unspoiled mountain wilderness of green forests and soaring peaks intermittently bathed in sunshine or half hidden by swirling clouds."
AMDB's research team also works with librarians, data specialists, and archivists to continuously enhance records in addition to expaning the database. Records are enhanced by adding archival film holdings (when they are known to be extant), bibliographic references, notes on viewing and more. Currently, the AMDB has over 1700 films, 1000 people, and 150 clubs online. An "articles" and a "watch" page have also been created to allow those with little knowledge on the subject to make the AMDB content more accessible, with immediate effect. Reseachers at Walter J. Brown Media Archives at the University of Georgia encountered a film by movie maker Walter Bergmann, and were able to find more biographical information about him and his films on the AMDB. This eventually led them to tracking down the filmmaker's family and discovering more of his films, which are now held at the University of Georgia.
The challenges and considerations of a digital-born project limited in funding includes streamlining data and preserving content in such a way that it can be useful for researchers in the future. With funding ending likely sometime in the fall, the data will likely be submitted to a digital repository. However, there is hope that the website can have a life beyond that timeline, and an expansion of scope to include more films from around the world. Interest from researchers in Spain and Mexico has led to possible opportunities for international collaboration and future enhancement of the AMDB. The research team at AMDB is optimistic that the database will continue to be a useful tool to encourage and foster critical analysis, scholarship, and interest in amateur cinema history in North America and beyond.
---
For more information on the films in this article, or to contribute to the project, please visit our website amateurcinema.org or contact us at amdb@ucalgary.ca