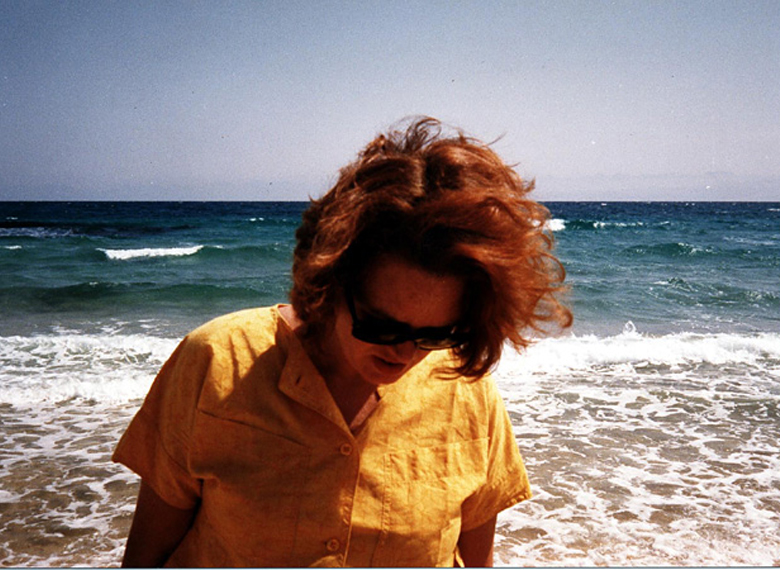 Philip Hoffman (co-maker Wayne Salazar), Destroying Angel, 16mm, 1998. 
Still Courtesy of the artist.
Known as a film artist of memory and association, Philip Hoffman (b. 1955, Waterloo) has long been recognized as Canada's pre-eminent diary filmmaker.1
In 1985, Hoffman was apprenticed to film director, screenwriter, and artist, Peter Greenaway, in Europe, where he filmed ?O,Zoo! (The Making of a Fiction Film)––nominated for Best Short Documentary at the Canadian Genie Awards. In 1994, he became the artistic director of the Independent Imaging Retreat (Film Farm), a one-week workshop in artisanal filmmaking in Mount Forest, Ontario. He has been honoured with more than a dozen retrospectives, his body of work the centrepiece of Images Festival for Independent Film and Video in Toronto in 2001, a series presented in tandem with a publication of 25 essays by academics and artists titled Landscape with Shipwreck: First Person Cinema and the Films of Philip Hoffman. In 2002, he received the Golden Gate Award from the San Francisco International Film Festival, and the Gus Van Sant Award from the Ann Arbor Film Festival for his diaristic meditation on loss and grief, What These Ashes Wanted. In 2009, he premiered the feature-length experimental documentary, All Fall Down—a reflection on childhood, property, ecology, and love—at the Berlin International Film Festival. Hoffman received the Governor General's Award in Visual and Media Arts in 2016, and will be welcomed as the Visiting Artist for the Calgary Society of Independent Filmmaker's (CSIF) 25th Anniversary $100 Film Festival.
JEM NOBLE: The celebrated lifetime of CSIF's $100 Film Festival spans a considerable portion of your esteemed career, during which time celluloid film has undergone radical changes as a medium of both artistic investigation and circulation. What does it mean to you to be selected as the anniversary Visiting Artist?
PHILIP HOFFMAN: I was very moved to receive the invitation to be the Visiting Artist at this year's $100 Film Festival, in particular because it's the 25th Anniversary! The mandate of the festival speaks to me in profound ways, as low budget DIY filmmaking on celluloid has been very near to my heart through my life, in both my filmmaking and teaching. Returning to Calgary is also a treat, as I remember fondly a 1989 visit to the CSIF, where I was received warmly by a dedicated group of filmmakers and artists—I recall Marcella Bienvenue, Jane Evans, Doug Berquist and many others. I think at the time they were screening films and holding workshops for the community… I suppose this activity was the precursor to the $100 Film Festival. I think the festival is a gem in the roughage. It's invaluable to have filmmakers like Lindsay McIntyre, Robert Todd, and Stephen Broomer—to name a few—discussing their works and giving valuable workshops on filmmaking techniques and aesthetics, as you have in the past. So I am very excited to be part of it!
I like to reveal the so-called imperfections in both celluloid and digital—the scratch, the glitch for example—the qualities of the medium that let us know we are looking at a construction.
JN: How has working with moving-image media shaped your understanding of the materialities and ephemeralities of human experience?
PH: Even as a young boy, I shot, processed, and shared 35mm black and white photos as a way to include myself in the conversation. And that process continued with filmmaking. I was always excited by the moment in the darkroom when the image would first appear. It's a moment of transformation, a time when something is being born, and I think that's the magic of celluloid.
My work has always been process-based—seeking rather than settling on something; the finished project has always been less important than the moments of epiphany that happen while I am collecting, processing, and digesting the materials. With the hand-processing of movie film, which I have embraced since the founding of the Film Farm in 1994, I basically return to those origins, that place I am most comfortable in my work. In recent works like Aged (2014), By the Time We Got to Expo (made in collaboration with Eva Kolcze in 2015), digital images are shot onto film, then hand-processed, tinted, and toned, to create a digital-celluloid hybrid. I like to reveal the so-called imperfections in both celluloid and digital—the scratch, the glitch for example—the qualities of the medium that let us know we are looking at a construction. In Aged, I used outdated film stock, working and reworking this material through various modes of digital and filmic manipulation. So one thing the movie does is compare the aging and decay of celluloid with that of the human body—my father in this case.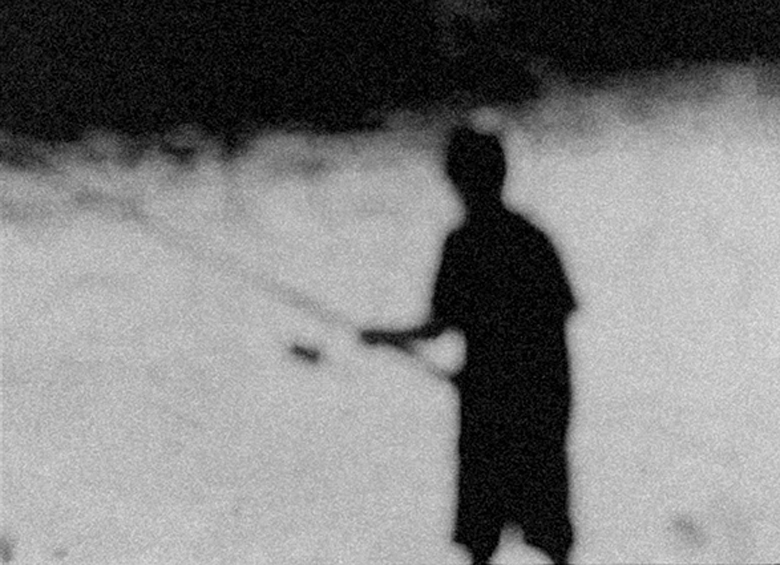 Philip Hoffman, AGED, HDV/Orig on 16mm, 2014.
Still Courtesy of the artist.
JN: In your 1994 film Technilogic Ordering, prolific images of the Persian Gulf War, refracted through the format of TV news, are manipulated using the mosaic function on a VCR, and then recorded to 16mm film. How does this project read to you now? Do you feel this kind of cross-format interrogation of technical media and their roles in the way images perform has parallels in the way you have worked with images since the advent of digital and networked media?
PH: The project was a response to a moment in time when the United States and some allies invaded the Middle East. We were feeling perplexed, watching all of this USA propaganda roll out in preparation for war—we of course saw through the neatly prepared logos, etc. It was quite surreal seeing this on TV, and we were feeling paralyzed, needed to do something rather than just sit on our couches and watch. (Strangely, that kind of moment seems to be upon us again, though now—or at least for the moment—the media isn't playing from exactly the same deck as the Trump administration.) Anyway, we started collecting television imagery in keeping with my usual processes of collecting (over long periods of time). I had purchased a kind of pro-summer VHS deck which had a nifty digital mosaic function and thought we could use it to make a DIY formal intervention—interrupt the usual flow of broadcasts, by `mashing' (I don't think that term was invented yet in 1991) them all together, to see what came out of the juxtapositions. I think what this `mashing' created was a kind of absurd collage that heightened the various intersections displayed through capitalist media, and showed—for instance—how war is promoted and sold, just like cars.
Technilogic Ordering is a found footage film, but I think the digital mosaic display, with its programmable patterns, highlighted the control factor of the media and the rationalization of war—the repetitions, the garish graphics, the practiced scripts. So, I think in this case, the film is less personal. All through my filmmaking I have made short films that are more formal, to help me understand the tools I am using. For example, Chimera (1996) uses the single-frame zoom as a way to abstract the image, bringing together spaces and places in many different cultures to show similarities and differences. In a way, my work follows these two threads: experimental documentary narratives—often about things that affect me in my life, the autobiographical aspect; and formal experiments that help me understand the tools I am using. In Technilogic Ordering, I transferred video imagery back to film, putting electric imagery into another medium: 16mm film. When you take one medium and pass it through another (as we also did with By the Time We Got To Expo) you see the seams of the original medium: the material aspects, the scan lines, the glitches, the angular repetitions. As Paul Klee suggests,  "Art is making the strange familiar and the familiar strange." Of course, this is also a Brechtian technique used to provoke a social-critical audience. I think now it is more important than ever for artists to intervene in current (monotonous) modes of communication and representation—the internet, facebook, twitter—to question aspects of our everyday life in order to sharpen perception.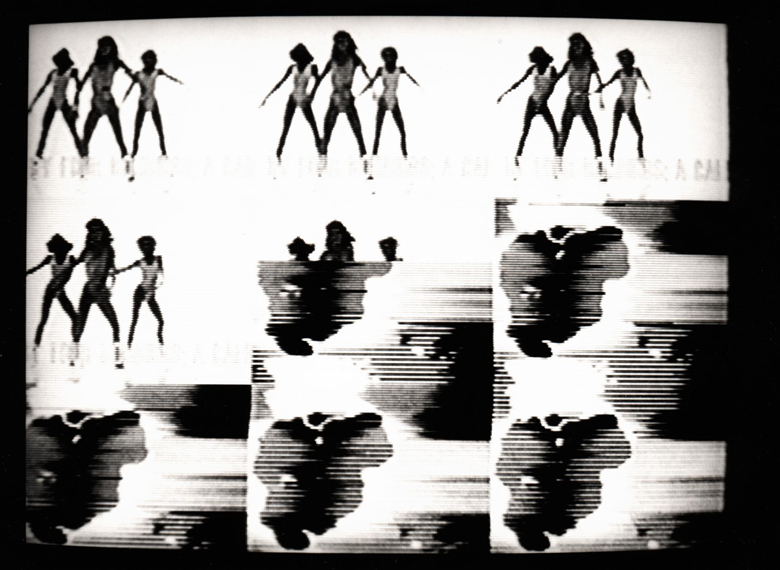 Philip Hoffman, Technilogic Ordering, 16mm, 1994.
Still Courtesy of the artist.
JN: Since its origins, documentary film has challenged the claim to pure objectivity that goes hand-in-hand with the development of Western rational-technical culture. Experimental or hybrid documentary forms take this challenge as a first principle, making use of the contextual and partial nature of human experience to enrich the ways we can relate and account for that experience and its effects. Has your understanding of the powers and capacities of experimental documentary forms changed across the span of your celebrated career as a filmmaker?
I made experimental documentaries that were still personal but took into account—more fully—for other lives and various perspectives. 
PH: In On the Pond (1978), my first film, I taped my family while they watched a slide show of our life. I gathered insights from the sound I had collected, and shaped a film around it. So I used the cinematic apparatus to discover something about my boyhood and family dynamics, as well wider issues about masculinity. Again, the process of making informs the outcome. On the Pond was more simply an autobiographical film. I was given this task in film school on the premise that before you can make a film about the world, you need to make a film that somehow looks at your 'self,' so you understand your place in your own making—where you come from, and how you've been conditioned. After that, you are better equipped to make a film about others. Later, I made experimental documentaries that were still personal but took into account—more fully—for other lives and various perspectives. In a work like passing through/torn formations (1988), fragmented picture-sound juxtapositions render my mother's family more fluid, less static for the viewer. Family members appear blended, more in keeping with the idea that 'we are one another.' Robert Everett-Green called it "a polyphonic recitation" and "a ramble through a labyrinth of memory," while Stan Brakhage summed up the formal, perceptual aspects of the making, saying the film "accomplishes a multi-faceted experience for the viewer—it is a poetic document of Family, for instance—but Philip Hoffman's editing throughout is true to thought process, tracks visual theme as the mind tracks shape, makes melody of noise and words as the mind recalls sound."
The other longer experimental-documentaries that are important for me to mention are What these ashes wanted (2001), and All Fall Down (2009); though still 'personal,' they all take into account, more fully, other lives and various perspectives. Ashes, though a diary film about my own grieving, and the life of my partner, Marian McMahon, seeks to find rituals for getting through the sudden death of a loved one. All Fall Down, an essay film about the area I live in southern Ontario, weaves together an array of materials in its memory work: archival documents, diaries, landscape photography, family photo albums, heritage films, poems, cartography, and asks the question, 'What has been here before?' The film situates my new family as part of the narrative, but the focus is on 'the land,' and two figures separated in time and space: first, the nineteenth-century Ojibwa land rights activist Nahneebahweequa; and second, the biological father of my step-daughter—a twentieth-century British poet and ex-pat drifter. This experimental documentary approach was developed incrementally, step by step, throughout my filmmaking practice. My own findings have always been influenced by family, and people I have met along the road.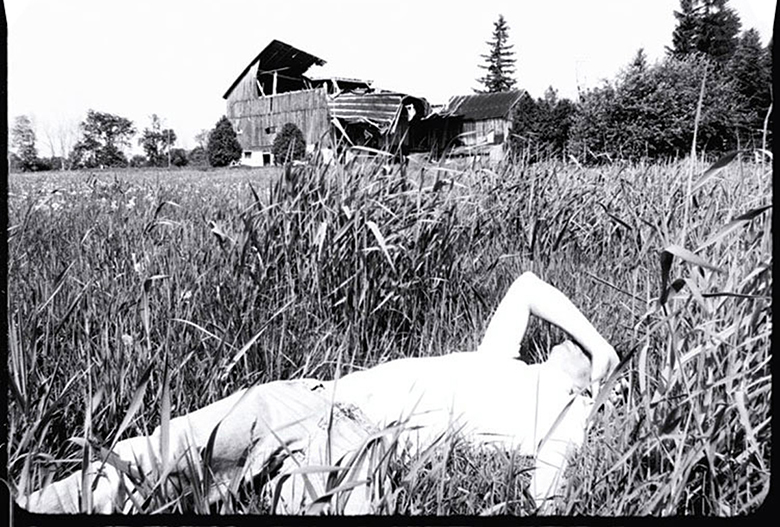 Philip Hoffman, All Fall Down, HDCAM, 2009.
Still Courtesy of the artist.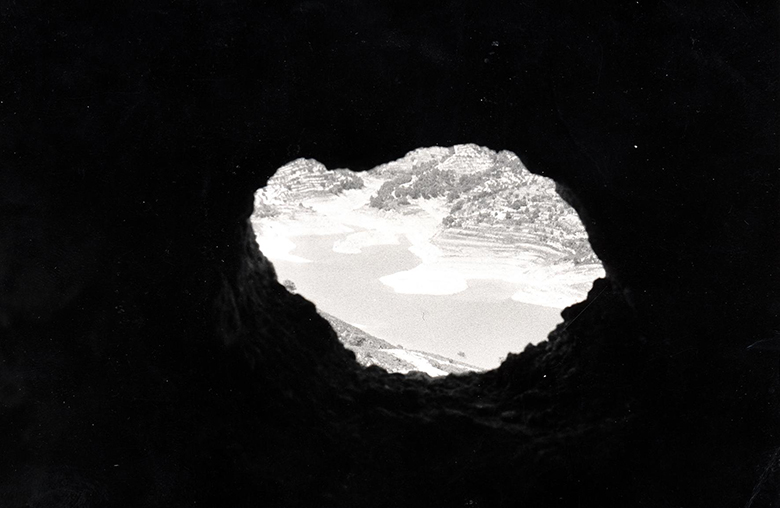 Philip Hoffman, What these ashes wanted, 16mm, 2001.
Still Courtesy of the artist.
JN: Printed text and recorded speech play important roles in your work as positioning devices. What are the powers each brings that determine when you might use one instead of the other?
PH: I think I am devoted to aspects of 'the real' that can tell me something about the world, so I often record long dialogue passages spontaneously, and later retrieve aspects of the content that might fit into my projects. Like collage, I use the selected audio passages with images often recorded at a different time and place. This gives the audio aspect autonomy. It isn't only chained to the visual as sync-sound recording insists. Sound is used as a contrapuntal devise to create new meaning for the imagery. Likewise I use text to create its own narrative thread. The best example is in Somewhere Between Jalostotitlan and Encarnacion (1984), where visual text on the screen, derived from my written diaries, creates an autonomous narrative thread that both compliments and questions [the visual narrative]. I think written text is often used to represent a subjective personal monologue (as in Somewhere Between), but sometimes I use it as an intertextual device, to bring in other viewpoints. In All Fall Down (2009), Nahneebahweequa's diaries float through the film, telling something about her story, the loss of her land, and her time in the mid-1800's. This is a common device used for essay films… Jean-luc Godard developed this technique in the 1950's. All these techniques and methods are begged, borrowed and stolen from cinema's history, but also from literature, theatre and music… Lets say they've been passed down to me!
Put a group of creative people onto 50 acres for a week and something transformative happens.
JN: How does your role as an educator—both within the university system and through your independently established Film Farm project—inform your practice as a filmmaker?
The Film Farm has influenced my work quite directly. Hand-processed film did not appear in my work until the late '90s and the Film Farm was established before that in 1994, so there was a direct influence on my work. The Film Farm was started to fulfill a need in the film community, something I couldn't fulfill at the University; it established a retreat where people could gather for an extended period of time. The idea came about after I took part in the Grierson Documentary Seminar in Niagara on the Lake in the late '70s, early '80s. What impressed me about the experience was the way the conference was structured in a small town, where there was really not much else to do but watch and talk film with the other participants. Great friendships evolved and I felt the effect of that one week resonate over the next year for me, if not longer. That level of intensity can not be reached in the same way in a University film program where students have to take several courses at the same time and their concentration is fragmented. Put a group of creative people onto 50 acres for a week and something transformative happens.
I think in terms of my work at York University (and Sheridan College before that), [The Film Farm] became a kind of base for me, working with exceptional colleagues to try to create a general film education for moviemakers that covers the continuum of what moving images can be. The industry has quite successfully isolated experimental and alternative moviemaking, compared to the way it was integrated into the mainstream activities in the '70s and '80s. For example, at Grierson Film Seminar, the participants ranged from television directors to political documentary makers, to experimental filmmakers. The conversation was about our shared film culture. Now it's more about commerce. Film festivals used to blend experimental works with more conventional works in programs and sections of the festivals, something I think is a healthier approach in terms of film or Media Arts culture, because more people get to see great works in all genres. So I think the work I do at the University is to try to keep this range of media arts production integrated, allowing for cross pollination, and innovative development in works produced. I suppose my own work benefits from this approach of integration and keeps me from being a 'purist' or 'nostalgic.'
JN: You're known as a prolific chronicler, your camera and sound kit ever-ready to make recordings that may not make their way into resolved works for some time. Can you tell us about some interesting pieces of footage you've had for a while that haven't yet found a place in resolved works?
PH: I have carried forward into films images that have been shot and kept, spanning sometimes the length of my filmmaking [career] and before. For example, when I was in my early '20s in 1979, and my grandfather passed away, I was asked by my uncle to photograph him in his coffin. It was an indelible experience for me—so traumatic, in fact, that I put the film in the family basement freezer, and could only develop it years later, after completing my film ?O,Zoo! (The Making of a Fiction Film) (1986). In this film, the story is told by the narrator, though in a masked, fictionalized manner, without the photographic trace. I wasn't able to show the actual photographs of my grandfather in the casket, until What these ashes wanted (2001).
I have my own archive—under my house, in around 30 or 40 plastic tubs—in a pretty well protected environment designed a few years back. I have a desire to go through all the materials and create a massive diary film that spans my filmmaking. In the '80s and '90s, I used Super 8 as a collecting medium, which periodically found its way into my 16mm work through optical printing and digital transfer, but really there are hundreds of hours of unused material that I hope to dig into. I would probably re-purpose excerpts from my finished films in such a project and also blend digital captures. There are an array of materials—cow births in the '90s at the farm, strange mountain top rituals at Kata Juta in Australia, my Polish-Czech great aunt a few days before she passed—but I think I am also interested in the mundane quotidian moments, lyrical passages in fields and forests, forgotten objects, a friend's unique gesture, places, and abstract spaces that say a lot about human experience and perception.
---
The $100 Film Festival is Calgary's only celluloid-based film festival. When the $100 Film Festival was born in 1992, it showcased eight short films on Super 8. The name sprung from the challenge to shoot a short film on four rolls of Super 8 – which tallied to the cost of $100. In following years, the festival dropped the budgetary limit and allowed 16 mm film, which shifted the focus from low budget to quality small-format films. The festival is now an international celebration of creative story telling on celluloid. This year, the $100 FF—its 25th Anniversary edition—will take place March 22-25, 2017. Get your tickets here.