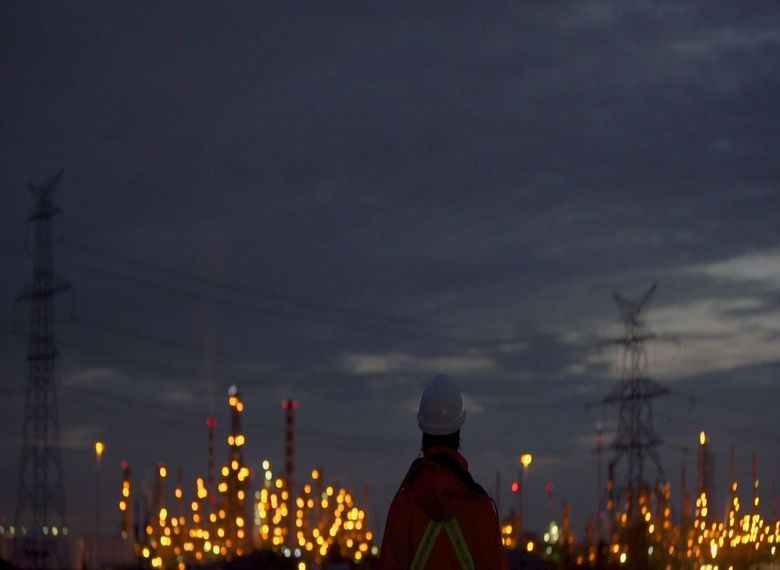 Digging in the Dirt, directed by Dylan Rhys Howard and Omar Mouallem (2019).
Still Courtesy of Dylan Rhys Howard and Omar Mouallem.
In September of 2006, Dallen Head took his own life. He was 26 years old. "Deep down, I knew he wasn't going to make it to thirty," says his mother Aly Floen, as she carefully turns the pages of an old photo album, looking at photographs of a young blond boy with a wide smile.1 She gently rubs her fingers down his face as though she could touch her son one more time. As a viewer, it's hard to sit in that space with her, to witness a grief that will never fade.
The 2019 documentary Digging in the Dirt, co-directed by Dylan Rhys Howard and Omar Mouallem, is an exploration of the mental health crisis in the lives of Albertan oil and gas workers, their families and communities. Shots are dim tones overlaid with barely perceptible music—it's the voices and faces and lives that are the focus. It's the squeak of boots in the frigid snow, the silence, the echoing sound of a hidden struggle.
Howard's soft voiceover is set against images of the Albertan industry, draped in pale blue snow. Early morning light filters through the stacks of smoke: "Oil permeates Albertan culture. It paints our productivity. It decides what it means to be a man."2The men who work in Albertan oil and gas are bred to be providers, to "follow in their fathers' footsteps."3But what happens when that role becomes too much? What happens when isolation, loneliness, and confusion appear and where do those men turn for help?
Seeking to set itself apart from the polarizing discourse around the oil and gas industry, Digging in the Dirt exposes the hyper-masculine culture pervasive in a trade that operates with fly-in-fly-out workers, 21 day work shifts, isolation in remote regions, and a mentality of "fee, foe, fit in, or fuck off."4As the documentary points out, very rarely is the mental health of these men acknowledged or addressed.
The colours of the film are raw. The earthy tones, blues and night shots, the same feel that permeates Howard's previous short films5, giving the viewer a sense of Prairie blue-collar life. But in this film, there's a feeling that these men are already gone, a feeling of deep abandonment and loss and grief. The same grief that affects Aly Floen. It's a grief that will never fade, that goes unspoken, and unnoticed.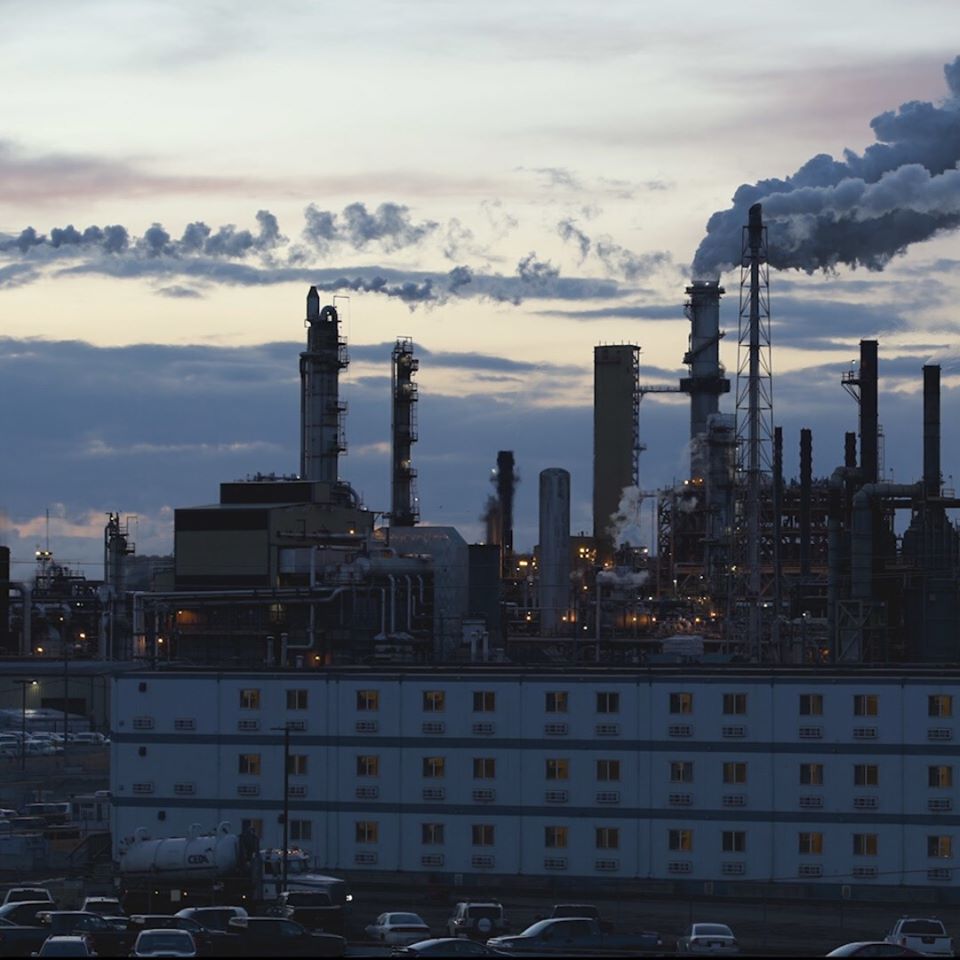 Digging in the Dirt, directed by Dylan Rhys Howard and Omar Mouallem (2019).
Still Courtesy of Dylan Rhys Howard and Omar Mouallem.
Digging in the Dirt is Howard's first feature-length film: "I went to film school because I wanted more than anything … to make movies that reach people and communicate with people like this."6He was contacted by co-director Omar Mouallem, whose previous work has covered the mental health crisis among oil and gas workers in publications like The Guardian and Buzzfeed. Their mutual interests motivated the directors to create a platform where these men could be heard.
Freelance writer and co-director Mouallem, came across this issue in 2015 when he was assigned an article on the mental health crisis among male Albertan oil workers. To Mouallem at the time, this issue was a matter of statistics, facts, and economics. There wasn't yet a face to this. But he realized that the real story was the ongoing mental health pressures, not just during economic downturns, but also when the money was flowing. He discovered that these jobs demanded long hours, camp-culture isolation, and that there was a deep-rooted emphasis on toxic masculinity. "It's work hard, play harder," Mouallem says, a small smile on his face as he explains how difficult these conditions are.7
The stories told in the documentary are ubiquitous and gives the viewer insight into how similar they are to each other. Dallen Head started working in the oil industry in his early twenties. Typical of small-town Albertans, he was drawn to the opportunity of big money, security, and doing what had been done by men for generations. For many workers, the money and inescapable tradition meant providing for their families and a prosperous future in an unpredictable economy. It is a sense of assurance.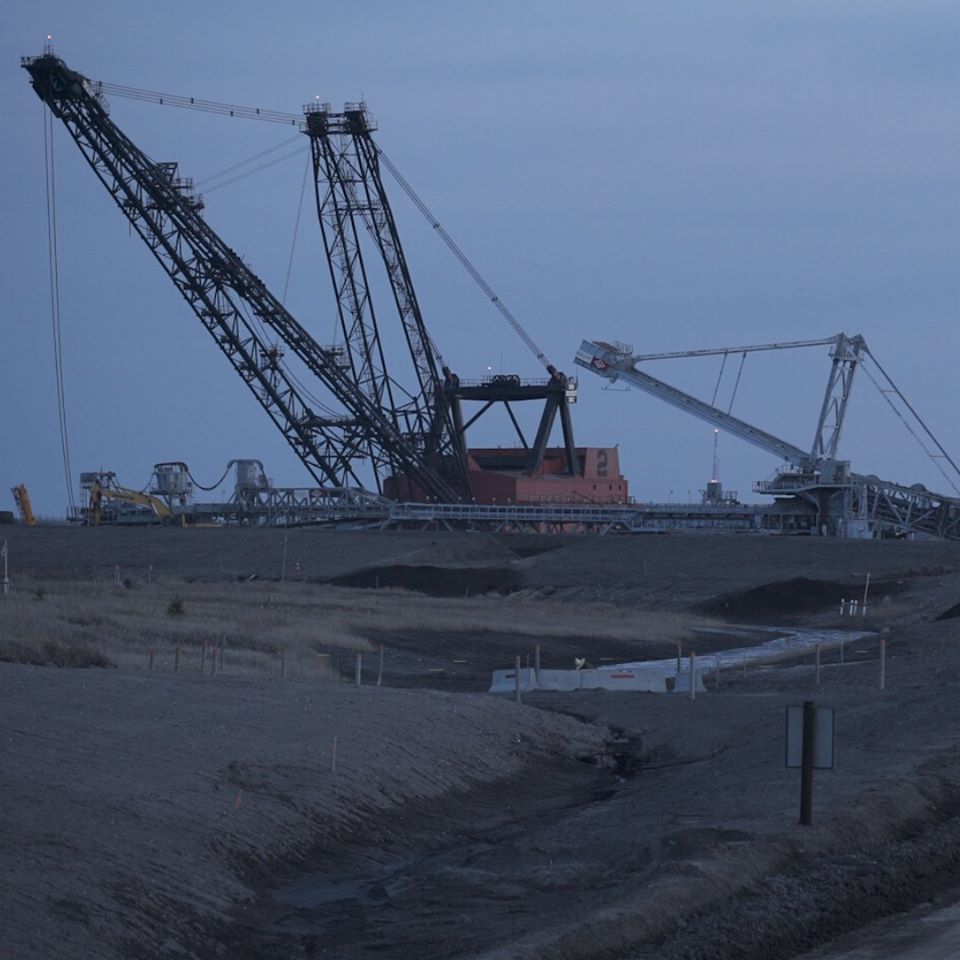 Digging in the Dirt, directed by Dylan Rhys Howard and Omar Mouallem (2019).
Still Courtesy of Dylan Rhys Howard and Omar Mouallem.
Mouallem emphasizes that it would have been easy to tell this story through a political lens, or an economic or social justice angle. In many ways, the lives of these men do belong among political conversations. The political is relevant to where they work, how they work, and why they work. For many men living in small Albertan towns, there really is no other employment option. This work is part of their families and their identity. As Howard explains, telling the story from a humanizing angle was the perspective that he and Mouallem took towards with the film. 
"We know we're men," Howard says. "We like being men. But how do we perform masculinity in a way that isn't a violence?"8This question is one that needs to be addressed in industries that are predominantly male, where hyper-masculinity is par for the course. As Mouallem asks, how do we shed light on a pervasive and toxic culture that is silently taking the lives of men while not creating another politicization of the sector?
Growing up in this environment, Howard admits his own struggles with mental health: "The response to this hyper-masculine culture is fear. And when we're afraid of something, we try to chastise it and cut it down. But as I've gotten older, I've wanted to ask more questions about this."9This sentiment is reflected in Digging in the Dirt, which gives these men a platform to speak, stripping away the blue-hued snowy veneer of the remote industry to reveal how people are struggling. This was the primary goal of the film and Mouallem and Howard have succeeded.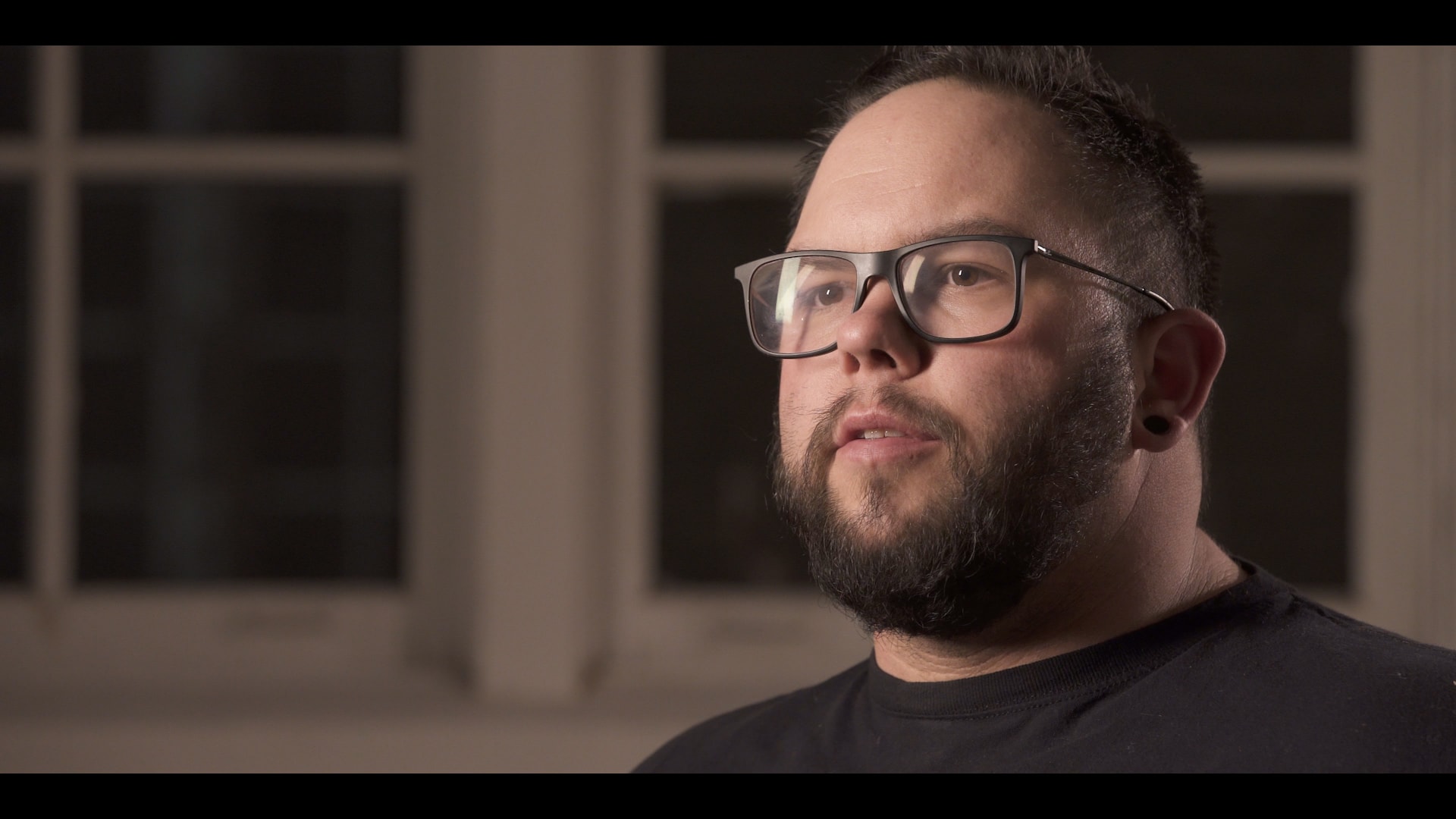 Chris Johnson in Digging in the Dirt, directed by Dylan Rhys Howard and Omar Mouallem (2019).
Still Courtesy of Dylan Rhys Howard and Omar Mouallem.
Chris Johnson's story follows Dallen's. When Johnson started working in the trades at 19, it was perfect for a young kid. It gave him something to focus his energy upon and a chance to make some good money. By the time he was 24, he was making over six figures a year. Against a backdrop of a barely-there dawn, Johnson explains the first encounters of working in oil and gas as akin to schoolyard bullying: "[I]t was to see if I had the mental toughness to go on in the industry."10Johnson was drawn to the possibility of a good job and better pay. Oil and gas companies rely on fly-in-fly-out workers who can work three weeks straight, then do anything and everything they pleased on their time off. For a young man like Johnson, that was just what he did. 
In order to survive, workers have to adopt a tough attitude, and in a camp culture where alcohol and drugs are prevalent, this attitude of toughness was fortified. 
In the documentary Valerie O'Leary, a clinical incident responder in Fort McMurray, explains the camp culture of the industry's fly-in fly-out nature as one "born of strain, exhaustion, loneliness and boredom."11Hyper-masculine culture pervasively silences men, reinforcing the suppression of difficult emotions. Weakness isn't tolerated, and as the industry relies on this type of work schedule and isolation, men are separated from their families, friends, and entire communities for weeks at a time. These workers are sent to very remote regions, undertaking gruelling, long hours in often dangerous conditions. "Workers [feel] restricted in their freedoms, in their ability to be mobile, and to access community," adds Angela Angel, Natural Resource Sociologist. Dr. Sara Dorow, Professor, University of Alberta, Chair, Department of Sociology states that "workers talk about it being like a prison."12

Johnson echoes that feeling of isolation in the dark months and cold temperatures. "[You're] in the middle of nowhere [and] living in a twelve by twelve room with a bed and a TV, and a sink, sharing a bathroom with twenty other people down the hall."13This work camp culture leads to a work hard, play hard mentality that took him down a path of substance use. Already suffering with symptoms that would later be diagnosed as bipolar disorder, stigma kept Johnson silent. This, for many oil workers, is the reality. 
Johnson's mental health, which was already a struggle, worsened. "I was surrounded by a negative energy and pushing away things before that were positive." Angel describes this as a "stripping down of one's identity [as] a fly-in fly-out worker."14A spatially and psychologically isolating experience, fueled by a culture of toxic masculinity and silence, this is the challenge that Mouallem and Howard seek to expose.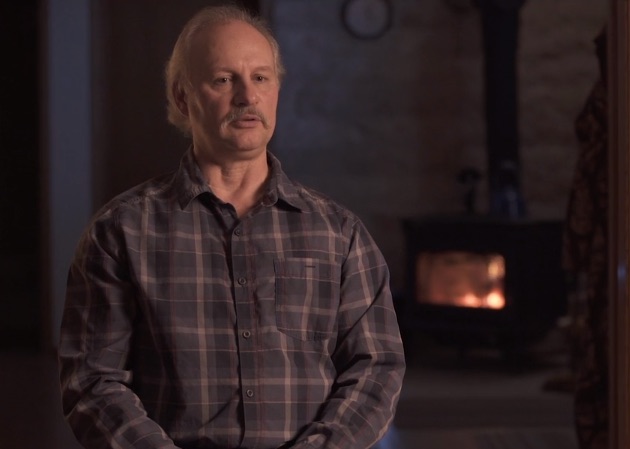 Glenn Bielech in Digging in the Dirt, directed by Dylan Rhys Howard and Omar Mouallem (2019).
Still Courtesy of Dylan Rhys Howard and Omar Mouallem.
Glenn Bielech was another one of those fly-in fly-out workers. He was in the oil fields for over 35 years, living in remote regions of Alberta. Over the course of his work, Bielech struggled to maintain normalcy in an abnormal situation. 
In order to survive, workers have to adopt a tough attitude, and in a camp culture where alcohol and drugs are prevalent, this attitude of toughness was fortified. Bielech describes feelings of anger, frustration, loss, and confusion. Those feelings eventually turned inward, and suicidal thoughts began to percolate. When he reached out to his family, he was told that if he saw a psychiatrist, he would bring harm to the family name.15For many men, acknowledging mental health issues is a difficult thing to do.16Speaking out and seeking help is even more challenging. 
In the film, psychologist Dan Bilsker explains, "When you look at men who are in traditionally male kinds of occupations, you'll often see men exhibiting precisely those socially approved and those socially mandated behaviours."17Men become isolated, they withdraw, and don't talk about their psychological distress. They deny the loneliness that Johnson and Bielech admit feeling. They deny missing their families and friends. Men aren't allowed to be sad, Bilsker continues. Men have to remain stoic, even under the harshest conditions. This leads to anger and aggression and substance use. And in some cases, like Dallen, this leads to suicide. 
Howard's own experience growing up in Edmonton was similar to many rural communities at that time. He describes it as "cowboy culture, hockey culture."18It's a culture of playful bullying, but still bullying, that underscores the deep-rooted construct of toxic masculinity, the same construct that perforates daily lives of trade workers.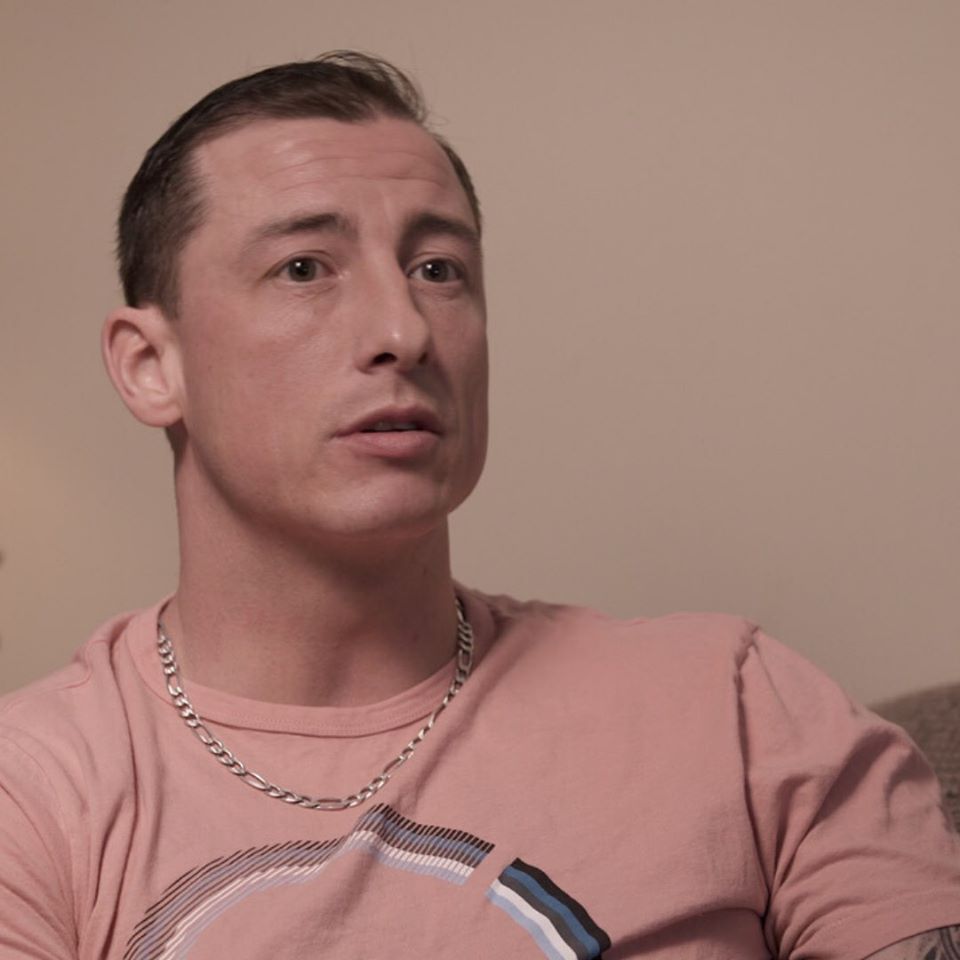 Dennis Shinski in Digging in the Dirt, directed by Dylan Rhys Howard and Omar Mouallem (2019).
Still Courtesy of Dylan Rhys Howard and Omar Mouallem.
Dennis Shinksi's story mirrors many others. Shinski and Dallen were childhood friends and when he got the news of Dallen's death, his first reaction was anger. That's when things started to go downhill for Shinski. He started working in the oil fields young, drawn by the lure of the income, a steady job, and the definition of what it meant to be a man. He began using drugs to work longer hours and maintain the tough-guy facade that is seen as essential to survive in the oil industry where drugs and alcohol are ubiquitous. For Shinksi, as for many men, using was fueled by feelings of anger--the dogmatically socially acceptable emotion for men. Anything to push the loneliness to the deepest recesses of what it means to be human, hyper-masculinity a shroud over everything--health, hope, happiness. The drugs were an anger tactic, Shinski explains. Using was a way to avoid the truth—that this lifestyle and his mental unwellness weren't sustainable. And by the time he was 23, Shinski was addicted to crack cocaine. In the film, Shinksi reflects on the impact his drug use had on his family, his world, and his sense of self.
Viewers are gently drawn back to Aly Floen as she brushes her finger down a photograph of her son. She nods once, twice, and is unable to speak anymore. Howard recounts his experience with her, holding the space she dared step into, the recollection of the events leading up to her son's passing. As Howard recalls this, he pauses. When he speaks again, his voice breaks. "I imagined if I'd gone through a botched suicide attempt when I was younger … this would be my mom."19
The film draws attention to a culture where men aren't permitted sadness, grief, or loneliness. They are only allowed to express anger, and tough-guy behaviour. For men like Head, Shinksi, Johnson, and Bielech, these environments caused them to be extremely isolated and placed them under extreme stress in dangerous situations. "Fueled by adrenaline and a boom and bust cycle," this took an incredible toll on their mental health.20For many men like Dallen, this leads to loss of life and a grieving mother. This hasn't stopped, Bielech says months later. Men are still losing their lives.
[The film] reveals the toxic masculine culture of the Albertan oil and gas trade and digs deep into the lives these men have led and the repercussions of ongoing silence.
But the message of Digging in the Dirt is starting to ripple outwards.  Johnson still works part-time in the trades while conducting speaking engagements, advocating and helping with mental health strategies, and has become a friend of the Bell Let's Talk campaign. He's currently working with two organizations on developing wide-spread mental health policies for employers to work in partnership with their employees towards a better future for men working in the oil and gas industries. "It's a lot of responsibility," Johnson admits. "But it will probably be one of my greatest accomplishments in life when it finally comes to fruition."21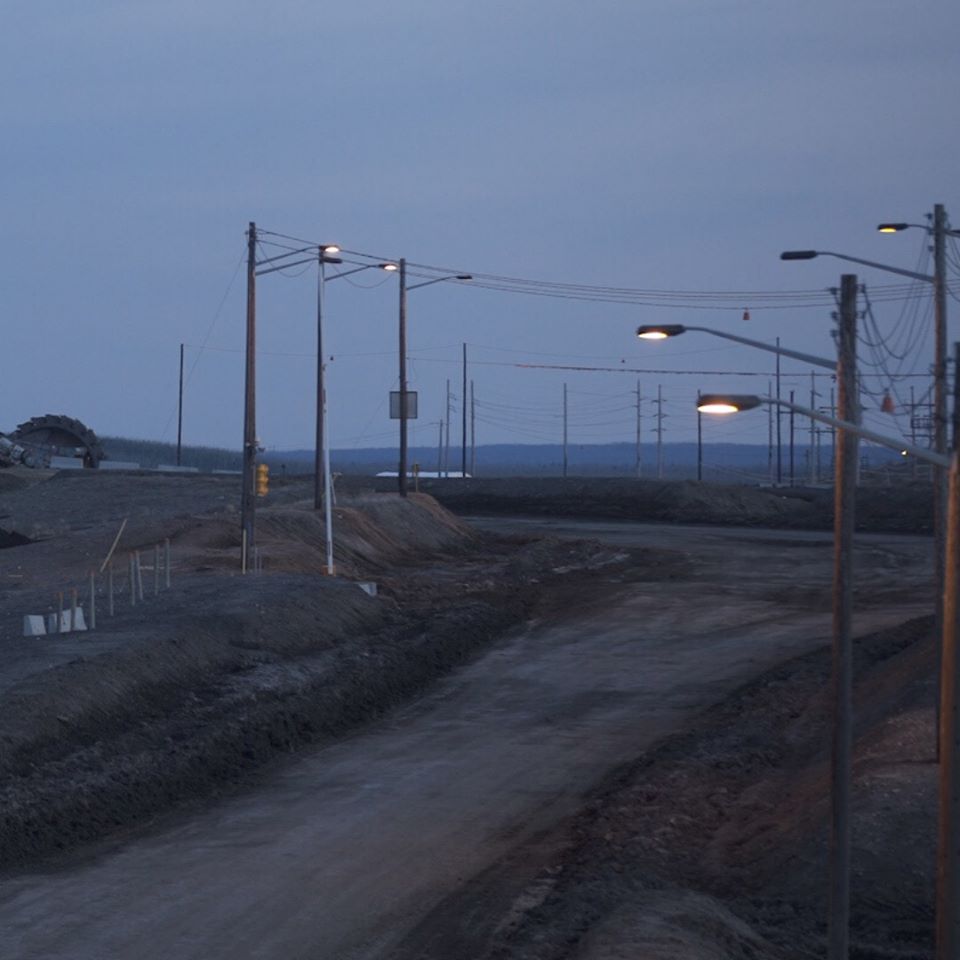 Digging in the Dirt, directed by Dylan Rhys Howard and Omar Mouallem (2019).
Still Courtesy of Dylan Rhys Howard and Omar Mouallem.
Bielech mirrors that sentiment. Now working as a superintendent at Husky Energy, he strives diligently to "control [his] situation," emphasizing a sense of empowerment through his ongoing advocacy work and providing a voice for silenced men.22When those men reach out with their own stories, sometimes anonymously, this underscores the ongoing suffering but also creates a sense of hopefulness in the knowledge that they're not alone. They don't have to subscribe to, what Shinski iterates, is an image about what a man is supposed to be. 
Both Mouallem and Howard acknowledge the importance of not only the making of the film and releasing these stories to a wider audience, but the impact it has had on their own lives. Howard now attends therapy while Mouallem has purposefully slowed down his work in order to spend more time with his family.
The tone of the film is honest, unscripted and unadulterated by political agendas. It reveals the toxic masculine culture of the Albertan oil and gas trade and digs deep into the lives these men have led and the repercussions of ongoing silence. Each story is unfolded with care as Digging in the Dirt gently reveals lives previously hidden away in the camp culture of oil and gas trade in twelve by twelve rooms. By exploring that culture, Howard and Mouallem turn their lens on these remote regions and the communities who have been affected. By delivering these stories through film, they utilize a medium with which the viewer can digest this stark information. They've succeeded in creating a film that is important as the issues it seeks to uncover.
"At the end of the day," Johnson says. "If somebody doesn't speak up and put a face to it, it's just going to keep happening."23Howard concludes, "I feel like I've really achieved what I set out to do. Made something that I think might have an impact … and if it hits somebody at the right time, it might actually save somebody's life."24This film may just do that.
You can watch Digging in the Dirt on CBC Gem: https://gem.cbc.ca/media/absolutely-canadian/season-19/episode-23/38e815a-011a7b71c5b
To listen to Matthew Cardinal's soundtrack for the film, visit: https://buff.ly/35AGEsE