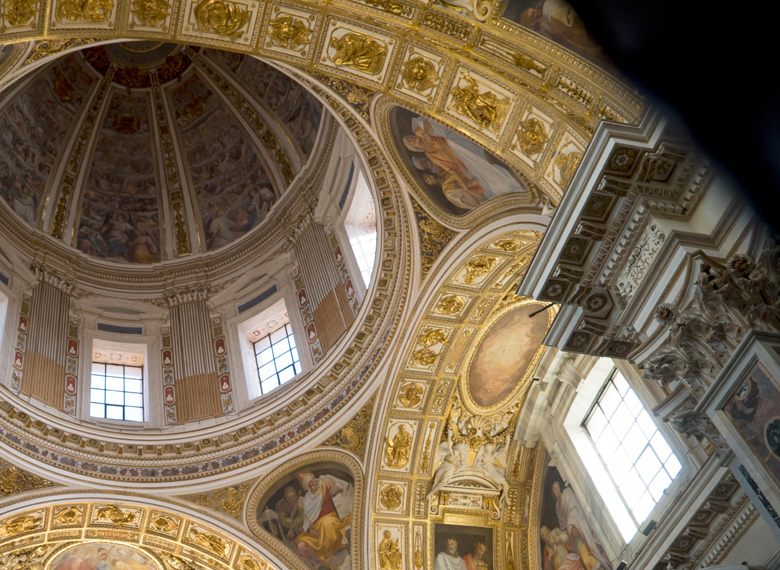 Michelangelo: Love and Death, directed by David Bickerstaff (2017). Interior view of the Basilica di St Maria Maggiore.
STILL More2Screen, Courtesy of Cineplex.
Paintings and sculptures on the big screen are often addendum, set design, bits of scenery—what art critic Anne Billson in The Guardian calls an opportunity for "those of us who study art history to feel smug, if not vindicated."1 Fine art is rarely the key part of a movie's architecture, only appearing as plot points in clunky blockbusters like The Da Vinci Code, or windy dramatic fare in Girl with a Pearl Earring. Cineplex's ongoing special event series, In the Gallery, however offers a way to experience artworks as narrative itself, delivered in the clarity of 4K—at a width of a whopping 4000 pixels. Guiding viewers unaccompanied through the works of Michelangelo and Katsushika Hokusai at $14.95 a pop, In the Gallery lets you gorge yourself on greasy popcorn, Root Beer, and high art simultaneously. As I sit in the plush seats of a cool movie theatre—sans superheroes and screaming children—I wonder if putting art onscreen isn't where it belongs.
Michelangelo: Love and Death, a brisk 90-minute film by Exhibition on Screen promising to be "sensual and provocative," features slow pans across the ceiling of The Sistine Chapel and Michelangelo's famous David. Offering the same views that countless tourists get each day, but in near infinitesimal detail, clichés are reshuffled and repackaged for a more contemporary consumption. However, the film teases more than it delivers in letting viewers stare and get lost in the works. Much of the documentary is given rather to a few talking heads and lugubrious sequences of modern artisans chipping away at marble—presumably in the same sort of way Michelangelo did centuries ago.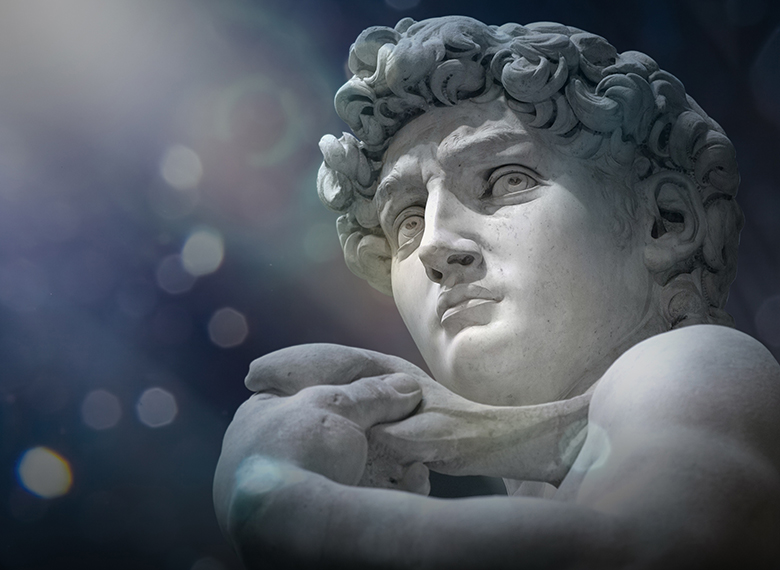 Michelangelo: Love and Death, directed by David Bickerstaff (2017). View of Michelangelo's David.
STILL More2Screen, Courtesy of Cineplex.
Katsushika Hokusai fares much better in the documentary Old Man Crazy to Paint (an epithet the Japanese painter and printmaker gave himself in his later years), produced in conjunction with an exhibition at the British Museum in London. Along with biographical information, there's a greater attention to the history and techniques of creating Japanese woodcuts, concluded with a too-brief tour of the exhibition. Art historian and Hokusai mega-fan Roger Keyes does most of the talking during the film, at times so stunned by the images offered by the 4K cameras that he crumples down and weeps. Painter David Hockney is also brought onscreen for a few segments to offer a few cryptic bits of art-speak ("On a flat surface, everything is abstraction"), presumably because he lives in proximity to the museum.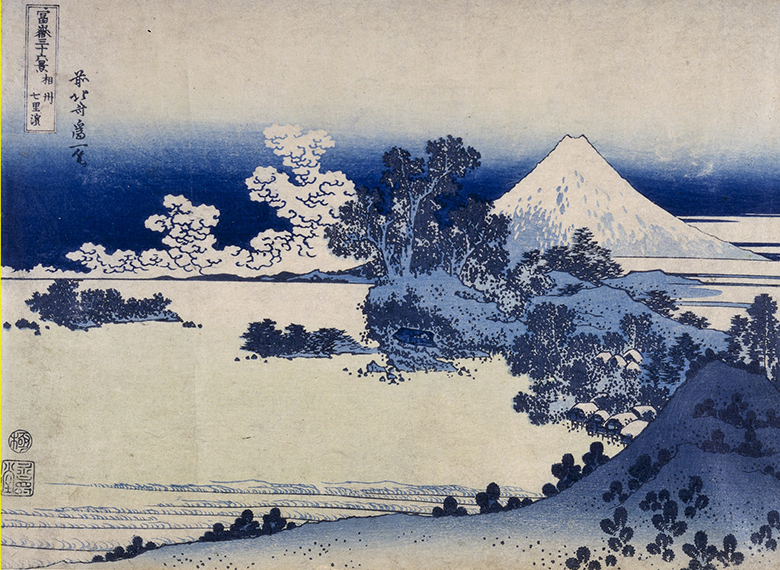 British Museum presents: Hokusai, directed by Patricia Wheatley (2017). Still. Katsuhika Hokusai, Shichirigahama in Sagami Province, from the series Thirty-six Views of Mount Fuji. Colour woodblock, 1831.
PHOTO More2Screen, Courtesy of Cineplex.
A couple of works, such as The Great Wave (an image so iconic, it's an Apple emoji), are explored in detail. There are a few unbelievably beautiful close-ups of this work in particular, rendered in with such hi-res clarity that you can see the fine detail of the grain on the wood minutely pressed into the print. Much like the Michelangelo film, however, the filmmakers don't seem to trust the audience's intentions in seeing the art; their quick glances at the work feel rushed and bothered, mirroring modern attention spans. Move on, move on; there's more to see.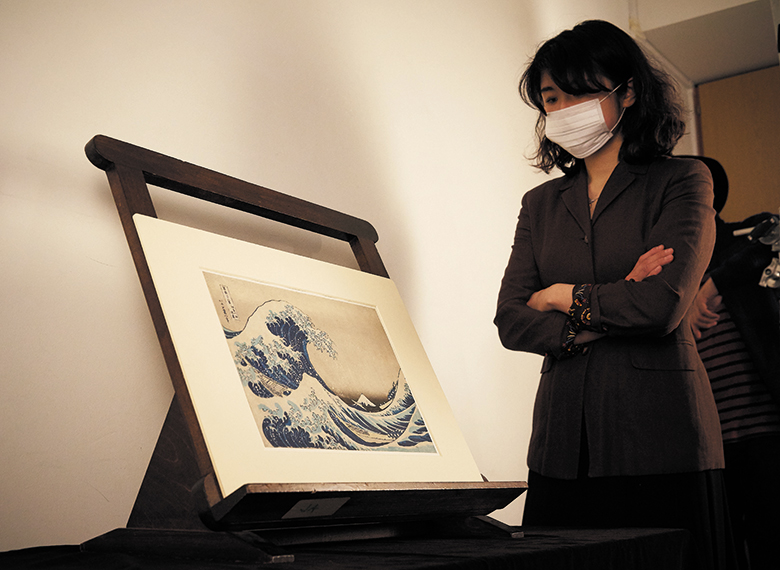 British Museum presents: Hokusai, directed by Patricia Wheatley (2017). Still. Viewing Katsushika Hokusai's The Great Wave.
Photo More2Screen, Courtesy of Cineplex.
In the midst of all this engorgement—popcorn butter having created a sheen on my hands and face—I am left with the feeling of not being satiated. This feeling highlights a paradox for me; while seeing an artwork in person is more authentic, holistic, and educationally 'good for you,' the costs of travel, lodging, and museum tickets are expensive, wildly expensive, and thus only open to a few. It makes sense that anyone with a passing interest in seeing such works would opt for a more controlled, cheaper experience, as close to going to Italy as a person teetering on the poverty line can get (many, if not most artists).
In an interview with Werner Herzog in 1977, he said, "You should look straight at a film; that's the only way to see one. Film is not the art of scholars but of illiterates."2 Though Herzog was attacking the often-stuffy archeology of art criticism, in the main, I think he's right. Film, whatever narrative or theoretical conceits it might have, always comes to reside in the image. Even if neither of the In the Gallery documentaries are wholly successful as either history, art criticism, or—most importantly—a simple long and detailed look at the artists' works, they point to a possibility of viewing art on the big screen as something compelling, something that points to the primacy of the image. It's a natural extension of famous works' marketability, forgoing the pricy art tome for crystal clear documentary. After all, when you look at a painting, you want to see it as close up and as detailed as possible, and that's what documentaries like these offer. It has the opportunity to be better than the real thing.
In the Gallery is an ongoing series of cinematic exhibition tours by Cineplex, bringing you "up close and personal to the greatest art exhibitions and galleries across the globe."