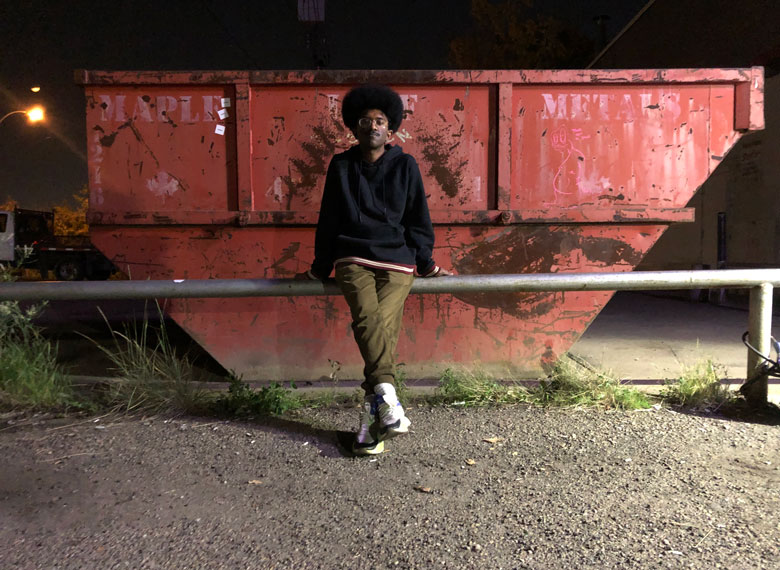 Mustafa Rafiq outside the Sewing Machine Factory, 2019.
Photo Suzette Chan
The DIY spirit that led to the wave of experimental music radio shows and happenings1in 1980s Edmonton is alive and well. The Edmonton sound art scene has expanded to include musicians and artists working in a multitude of genres and media; from new generations and cultures; and who are brand-new to the city.
After speaking with the Edmonton sound artists at the Alberta Media Arts Alliance Society (AMAAS) conference in early June,2I met more sound artists who are making things happen in Edmonton now: Ian Rowley, who co-founded cassette-recording label Pseudo Laboratories with Parker Thiessen, who co-founded Ramshackle Day Parade, a monthly experimental show and web label that attracted musicians and artists like Caitlin Sian Richards and Jenna Turner, who met and formed the duo The Olm; Mustafa Rafiq organizes experimental, drone, and indie music shows as Sweaty Palms and makes music as Family Injera; and Kelly Ruth, who has established a prominent presence just two years after she moving to the welcoming environment of the Edmonton sound scene.
Kelly Ruth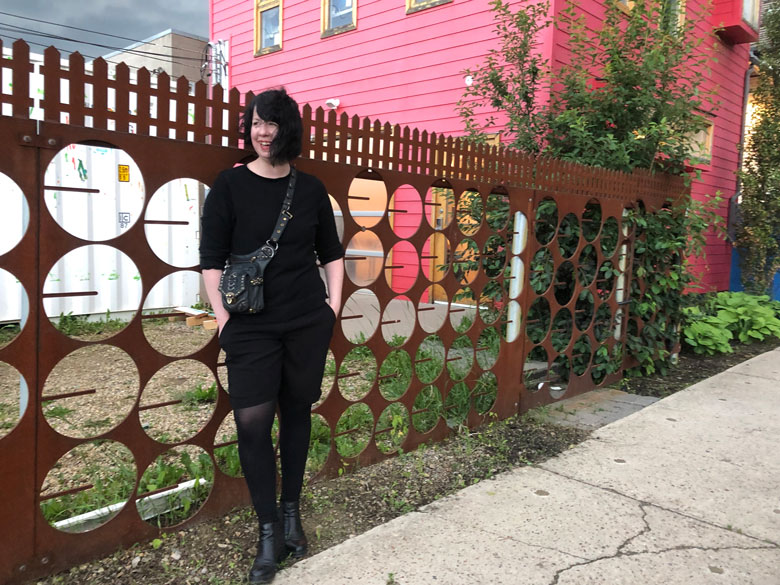 Kelly Ruth at The Works Art & Design Festival headquarters, 2019.
Photo Suzette Chan
Since Kelly Ruth moved to Edmonton from Winnipeg,3she has played several solo gigs, participated in multi-artist bills, carried out an artistic residency in Iceland, and, this summer, became the general manager of Mile Zero Dance.
Her artistic journey has spanned not just distances, but artistic practices. "I first had a career in film [in costuming] and I was a dyer for the Royal Winnipeg Ballet for about 10 years," says Ruth. "The designs would have intricate patterns that you would never be able to buy, and there were layers of fabric in each costume."4After RWB, she freelanced for a decade, working with the National Ballet of Canada and other companies across the nation.
She also designed and sold her own clothing line, and maintained an art practice as a painter. Through all of it, Ruth kept playing music, as she had done from an early age. As the economic climate changed, and so did her artistic projects. "Around age 30, I realized that there was less funding for the arts, specifically for ballet companies, so I contracted myself out and pursued my artwork full time," Ruth says. "Because I was working as a fabric artist in my trade, I became a fabric artist. I started weaving in 2014 and realized the capacity for weaving with sound, so I started to put sound and textiles together. A couple of years after that, I wanted to build a machine to do this."5
Using Winnipeg's Video Pool Media Arts Centre facilities, Ruth combined Arduinos6and sensors with her fabric art to make videos, sound art, and educational programming for artists. Ruth's experience in film, costuming and clothing design, fabric art, painting, and music began to come together in her sound art pursuits. "It all just turned on for me," she says of the time. "It all made sense."7
The weaving loom became Ruth's musical instrument. "The instrument is essentially contact microphones and guitar pedals," Ruth says. "I use the mechanics and surfaces of the loom to generate source sounds collected through the contact mics and manipulated by the effects pedals."8
Ruth's experience in film, costuming and clothing design, fabric art, painting, and music began to come together in her sound art pursuits. "It all just turned on for me," she says of the time. "It all made sense."
Ruth teamed up with cellist Natanielle Felicitas and bassoonist Alex Eastley to form an experimental music trio called Civvie. Through Civvie Ruth first encountered the Edmonton sound art scene during a tour. 
Since moving to Edmonton, she started playing solo shows, and was approached by Parker Thiessen to issue a recording for Pseudo Laboratories. The resulting cassette, Forms, has sold out (it's still available as a digital download). Conceptually, the album was inspired by philosopher Plato's ideas about forms. Sonically, she had wanted the album to sound like her shows, so it is largely improvised over a composed structure.
Plato is also a major part of Ruth's current work in progress, an installation that will debut in the spring of 2020 as part of a group exhibit about the politics of sound, curated by Tyler Stewart for the Borealis Gallery at the Alberta Legislative Assembly Visitor Centre.9Ruth explains: "I'm building five felted sound machines representing the Platonic Solids, what Plato believed to be the building blocks of the universe. I will program the machines to perform a composition using light activated sensors. I will also perform with the forms in the role of the archetypal 'weaver/spinner' building the future, fate, destiny etc. In my own words, conjuring alternative futures."10
As her sound practice has advanced, so has her fabric art practice. This spring, she took up an  artist residency at a sheep farm in Iceland to explore natural wool-dying methods. "Working with these two mediums [sound and fabric art] simultaneously is important," says Ruth. "You're speaking to the new media. It's new, but it's not new. You're essentially crafting something."11
Ruth returns to Winnipeg often and maintains artistic collaborations and projects in both cities. Ruth says, "I was supported in Winnipeg as well, but Edmonton has given me a lot of opportunities. I never imagined doing this in my 20s. There's not as much ageism here. I'm in my early 40s, and a woman, and everyone here is, 'Hey, let's do this.'"12
The Olm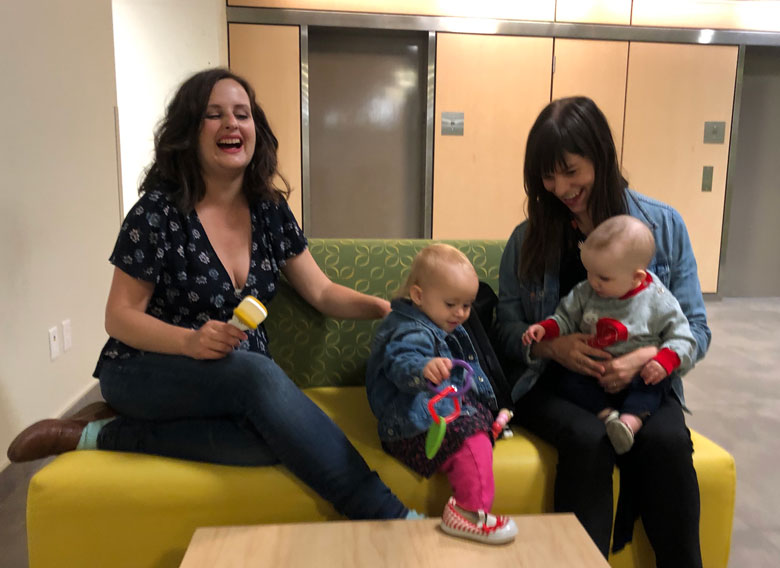 The Olm's Caitlin Sian Richards and Jenna Turner with young collaborators Annalisa and Gwendolyne, 2019.
Photo Suzette Chan
As children, Caitlin Sian Richards and Jenna Turner both played classical music. In their 20s, they turned to different modes of artistic expression—Richards to visual art, Turner to punk rock. They met in Edmonton's noise music scene and have been playing in both new music and experimental music circles ever since. "There's the new music, classical, academic stream, and there's a big punk and industrial music scene," Richards says. "We've got a foot in each."13

The Olm made its live debut at a 2014 gig at Bohemia, an Edmonton venue known for hosting experimental music and art gigs. Like Ruth, both Richards and Turner wanted to be artists from an early age. 
Richards played classical viola until after high school, when she began focusing on visual art. After moving to Arts Hab, an Edmonton co-operative housing building for artists, she  found there was no separation between living space and studio space, and didn't want to paint in her living area. She returned to music, investing in a guitar and an amp, and took lessons from Dave Wall, an improvisational jazz guitarist and experimental musician.  Richards recalls: "He told me, 'I don't think you want to play chords and write songs. I think you want to extend what you were as a visual artist and use sound to make colour."14He encouraged her to post music on Bandcamp, which led to an invitation to play Bohemia. "They said they loved my music and wanted to bill me on an extreme noise night."15The self-admittedly shy Richards told Wall, who agreed to play with her, saying that he wanted to try some new experimental music. "So that's how I started to play live and get over my stage fright," says Richards.  
Turner had also stopped playing classical music by her 20s, but was inspired to make music again by the Edmonton noise scene. For one gig, she and other partners of the members of Zebra Pulse got together to play as Shebra Pulse.16After that, Turner was in the punk band Look Away. Finding the punk scene to be a bit elitist, Turner gravitated to the more welcoming atmosphere of noise gigs. "I started playing with Caitlin because I started going to noise shows and hanging out with people doing experimental music," says Turner.17
With Richards's art background, The Olm take a visual approach to their stage shows. They've incorporated sets, props, projections, costumes, a game show once, and stop-motion scanner animations.18Their short film The Orb was featured at the Found Festival.19
"He told me, 'I don't think you want to play chords and write songs. I think you want to extend what you were as a visual artist and use sound to make colour."
They developed their sound over time. Richards notes, "We started a recording to find out what we sounded like."20They issued a split tape with the band Oka, before issuing two recordings as The Olm. Pseudo Laboratories' mandate of issuing music on cassette is particularly suited to The Olm, who often use cassettes in their set up and as instruments, recording backing tracks onto cassette for live playback on stage.
The art and classical side of the sound scene came calling in the form of New Music Edmonton,21which made several attempts to program The Olm in their regular season and their annual festival. "The first time, Caitlin was about to get married," Turner recalls. "The second time, Caitlin was about to have a baby. The third time, I was about to have a baby. Finally, they asked us for March [at NME's 2019 Now Hear This Festival],22and we said, 'Okay, we gotta do this!'"23
Turner and Richards also developed a show that featured their children. "Given that we had brand new babies, that was all we could think about," Turner says.24They each made a backing track of baby sounds and used those sounds as the foundation for compositions named after their respective daughters. Turner's "The Gwendolyn Suite" incorporates the sound of Turner's breast pump, and "The Annalisa Suite" includes the sound of Richards singing to her daughter in utero. Later, they combined the tracks with original music and video of their babies to create a film called "The Gwendolyn Suite/The Annalisa Suite." The film debuted at the BEAMS event during the 2019 Works Art and Design Festival.25Richards attended with 14-month-old Annalisa, who talked back whenever she heard her own recorded voice and that of her young friend, Gwendolyn.
Richards and Turner are currrently are working on different projects. Richards played a solo gig presented by New Music Edmonton in early November, and is back in the visual art world as a participant in the Edmonton Arts Council's transitory public art initiative, #yegcanvas.26Turner and Thiessen's project Soft Ions will play a bill co-produced by New Music Edmonton and Mile Zero Dance in May 2020.27Soft Ions also has a new album, issued by their favourite label, Pseudo Laboratories.
Pseudo Laboratories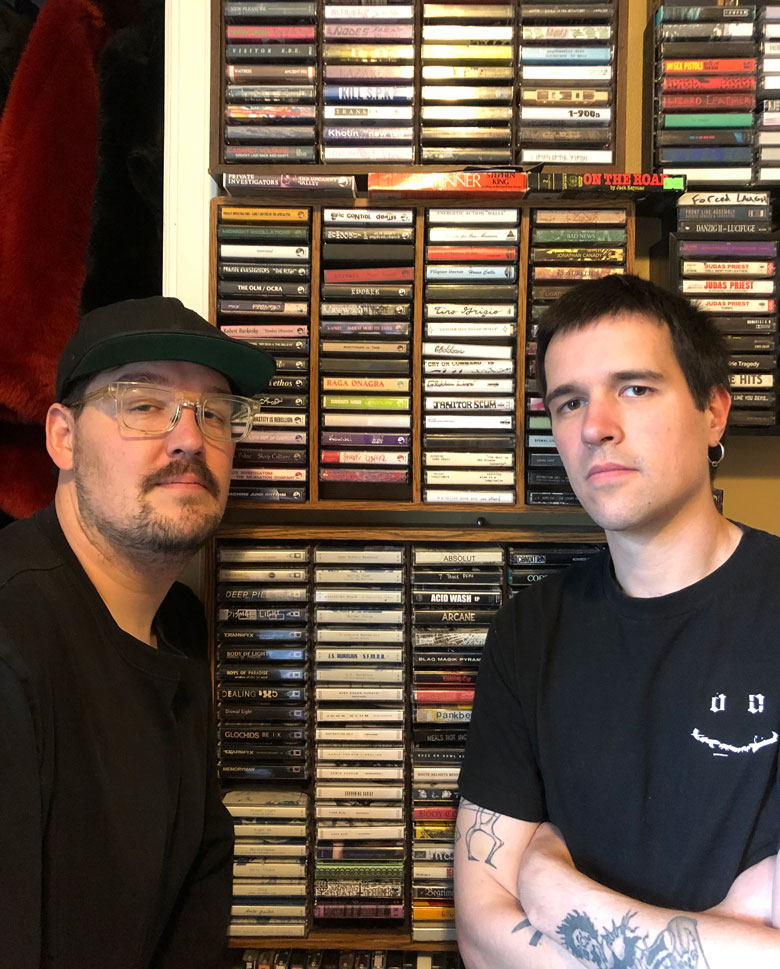 Parker Thiessen and Ian Rowley of Pseudo Laboratories, 2019.
Photo Suzette Chan
"We release things on tape."28That's Parker Thiessen's pithy description of Pseudo Laboratories. Thiessen co-founded the label with Ian Rowley, his collaborator in the ambient music project Private Investigators. Since their first cassette in 2014, Pseudo Laboratories has released over 40 recordings of about 30 different acts. They've issued audio cassettes, digital downloads, and two VHS tapes. 
"All the bands we've been in have always released cassettes, just because it's cheaper, faster, easier," Thiessen says.29Early on, he had bought a cassette duplicator that can produce three cassettes simultaneously in one minute. In contrast, burning one CD takes five minutes. Rowley adds: "A lot of experimental music comes up on cassette because you can take a chance without sinking a bunch of money into putting out a vinyl record, which could cost you thousands of dollars."30 
While they both appreciate high quality recordings, releasing music quickly takes precedence over audio fidelity. Thiessen explains, "We don't do a lot of mastering. We do simple, quick mixing for people who are more about making the music than polishing it to sound a certain way. It's more about the making of the music more than how the final product sounds."31
The quick turnaround allows Pseudo Laboratories to keep up with the multiple solo and collaborative projects that Edmonton experimental musicians all seem to have on the go. "It's the nature of experimental music that it's fun to collaborate with other people," says Rowley. "Every person is going to bring a different style or different approach to music-making or composing, and types of instruments they use."32
"What Ian and Parker are doing is important because they're archiving this music. This is the future history of experimental music in Edmonton. There are people in Europe and the States talking about our music like we talk about their music."
Rowley is in a punk band called Rhythm of Cruelty, and has a couple of solo projects, Machine Junk Rhythm (in which Rowley plays old, obsolete gear) and Booth Man. Thiessen is in Soft Ions with his wife, Jenna Turner of The Olm, and Zebra Pulse, which he started 11 years ago with Owen Strasky after seeing another friend play in a noise show.  "Through that, we started Ramshackle Day Parade, a monthly experimental show and web label," Thiessen says. "Any band could release music as long as it was in the experimental realm. It was not curated at all. Anyone was welcome."33
Over the past 10 years as musicians, and the past five as label owners, Rowley and Thiessen have seen a lot of changes in the sound art scene in Edmonton. "Noise in the Park [a mid-2000s festival] was the first time I'd seen a noise show with an actual audience," Thiessen recalls. "It was an outdoor event with 50 to 100 people. Going to other shows, there were, like, 10 people, so there was clearly an audience for this, but there was nothing interconnecting it…Ramshackle Day Parade started to get people to know each other. Since then, fast-forward 10 years later, there's been people like Mustafa [Rafiq], putting on shows where it's a singer-songwriter with a drone artist or something like that. It's not just the experimental scene anymore: it's part of the broader Edmonton music scene."34
Rafiq returns the compliment. "What Ian and Parker are doing is important because they're archiving this music. This is the future history of experimental music in Edmonton. There are people in Europe and the States talking about our music like we talk about their music."35
Mustafa Rafiq
After spending his teens as a fan and practitioner of indie rock, Mustafa Rafiq discovered experimental music about five years ago. A year later, he founded Sweaty Palms to bring to Edmonton the kind of diversity of musicians and music he wanted to see and hear. In just under four years, Sweaty Palms has presented over 200 gigs. "It's incredible to bring in artists to my city, which I once thought to be a cultural wasteland," says Rafiq. "In some regards, I still think it is, but I'm trying to change that."36
Born and raised in Edmonton, Rafiq did not grow up in a particularly musical home. From grades one to nine, he attended a private Muslim academy, where academics were emphasized over the arts. When it was time to enter the public school system, he went to Ross Sheppard, which has a strong performing arts program. There, he embraced theatre and formed his first band, a noise/garage outfit, with a couple of high school friends. 
Seeking safe spaces and all-ages venues, Rafiq and his friends frequented the now defunct Cha Island in Old Strathcona and the Creative Club, an unglamourous space above a bottle depot downtown. Rafiq got rides there with his friends and their dubious but supportive parents. Later, he hung out at Chess House, home to a group of artists who used it as a collaborative space. The house was near MacEwan University, where Rafiq was enrolled as an Open Studies student. Rafiq often skipped classes to make music there, telling his mother that he was studying. "It was five blocks from where I was supposed to be, so it was a great front for me."37
As Rafiq and his friends gradually took over Chess House, they turned it into more of a public venue. "That house created some of the most impactful musical groups of this generation of Edmonton," he says. "It was a small crew, but it was almost exclusively queer or people of colour. Having other people of colour in my life making art was foreign to me. It was so important."38
Two concerts by POC musicians in 2014 were pivotal to Rafiq's interest in making avant-garde music and bringing more of it to Edmonton. In March, the Chinese post-rock band Carsick Cars came to town. "There was a line-up outside of Wunderbar, which I'd never seen," Rafiq says. "I looked inside, and it was all Chinese exchange students from the university. That never happens in this city! It's usually 90 percent white dudes, five percent white women, and then the rest. To see a roomful of people of colour celebrating music like that, people who don't usually come to this venue, absolutely losing their minds for this band, was huge."39
"That house created some of the most impactful musical groups of this generation of Edmonton," he says. "It was a small crew, but it was almost exclusively queer or people of colour. Having other people of colour in my life making art was foreign to me. It was so important."
Two months later, he first encountered the Japanese instrumental post-rock band Mono at Austin Psyche Fest.40"I just walked into this tent and my jaw was on the floor," he remembers. "I never thought music could sound like this. I'd heard orchestral music before, but this was loud, fuzzy guitars, and heavy bass. That performance changed absolutely everything for me."41
Back in Canada, he got together with his oldest friend, Josh Takarski, to explore new musical directions. Their first album as Pyramid Indigo42was recorded with an iPhone set against an amp into which they had plugged two guitars. Rafiq states, "We sent that to Parker [at Pseudo Laboratories], and he said, 'This sounds great; let's work together!'"43
In 2015, Chess House was presenting poetry events, theme nights featuring local musicians, and house gigs by touring bands. One of those bands, Calgary's Beach Season, later asked Rafiq if he could help find them a venue gig. Rafiq booked them onto an electronic music bill at Wunderbar, his first gig as a promoter, and Sweaty Palms was born.44
Rafiq remembers that he paid the acts well and made $80 that night. From that modest start, he experimented with the types of music he presented, from local indie rockers, to punk bands from Paris, to experimental music legend Tim Hecker, a Canadian who had never played Edmonton. "I never thought I could do this," Rafiq says, "coming from no music experience, from pop-punk, Green Day and Blink-182, to curating world-renowned avant-garde music."45
Rafiq is taking a break from Sweaty Palms.46Earlier this year, he joined Holy Drone Travellers, a quintet of free jazz,  hindustani classic, and minimalistic composition.47He's also making time for his new solo project, Family Injera.48Named after a brand of commercially sold Ethiopian flatbread, Family Injera incorporates African and Arabic musical styles, found sound, and ambient music. "I chose that name because I recently discovered African lineage in my history that I didn't know about, and that my parents didn't know about," says Rafiq, whose parents are from Fiji. "My mom is more rooted in her East Indian, Muslim heritage. Discovering and accepting my blackness is a really important thing. That is really exciting to be able to make music that feels black, that also feels brown and Muslim to me."49
Rafiq doesn't know what's ahead, but that is part of the appeal. "It's exciting because Edmonton has proved to me that you can do that, and proved that you can be a young Muslim artist in the city and be constantly be proven wrong about what this city can hold in terms of support for artists. It's exciting to be proven wrong."
Rafiq, Pseudo Laboratories, The Olm, and Kelly Ruth are part of a tradition of organizers and artists who have made things happen in the city. Representing multiple generations practicing many different forms of art in formal and found venues, experimental musicians and artists are expanding the Edmonton soundscape.