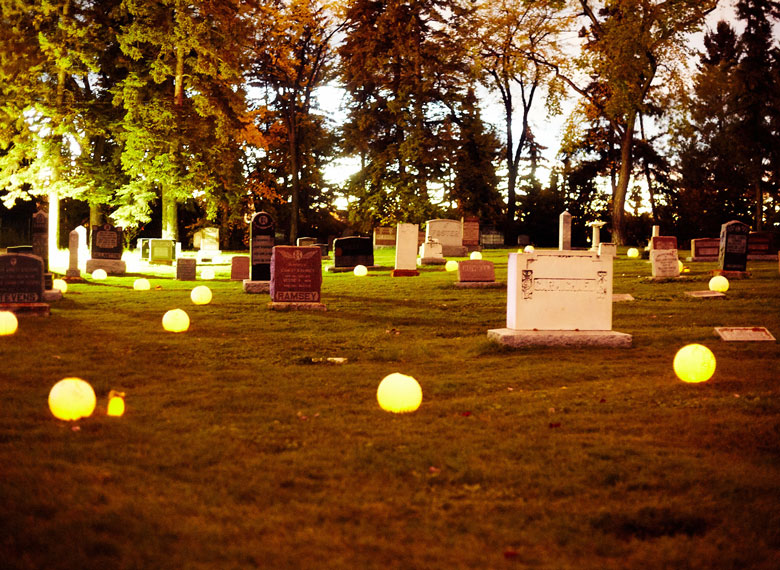 Aran Wilkinson-Blanc, Equinox Vigil, 2018. Photo.
Photo Courtesy of the artist.
Forward by Sharon Stevens
Equinox Vigil was a free, family-friendly and non-religious evening to remember the dead in an artist-led, participatory way that over 500 people a year experienced as moving and magical.
The Equinox Vigil provided a remembrance for loss as a public ritual where grieving was a shared experience. Over the years, Calgarians experienced this process through the lens of dozens of local and national artists. Each year artists were paid an honorarium to provide visual and experiential ways to express loss for deceased loved ones, pets, or even experiences. In the 2018 Equinox Vigil commemorative booklet, Bogdan Cheta writes, "Is there a relationship between loss and beauty and how can the emotional links that follow these experiences serve as points of re-orientation. A re-orientation that may lead to other ways of interpreting and 'seeing' the world, through the experience of loss."1
We created a space for those who care deeply and have contributed to the cultural landscape of the cemetery and the event. And in turn that space, that art intervention in the public realm, provided a sanctuary for expressions of loss for three hours in a site specific public park, also known as a graveyard.
Equinox Artist Eveline Kolijn remembers, "Sharon Stevens curated a high caliber selection of visual art, performance, music, theatre, poetry and writing that created a safe cocoon for very private feelings. In a day and age, when everyone is busy, when less and less people have access to a traditional and/or religious framework that acknowledges and deals with this transition of life into death, with grieving by those who are left behind, this event is priceless."2Artistic director Gaye Dimmick says, "I was never able to make it to the Equinox Vigil but was so inspired by it that the Vigil helped push me on to become the facilitator of a Death Cafe here in Charlotte, North Carolina."3
"Is there a relationship between loss and beauty and how can the emotional links that follow these experiences serve as points of re-orientation. A re-orientation that may lead to other ways of interpreting and 'seeing' the world, through the experience of loss."
Unique (to Calgary) initiatives like Equinox Vigil need to be sustained by more than dedication and ingenuity of a small group of artists. As media artists we know all too well the lifespan of redundant formats like BETA, Hi8, MII, VHS, reel to reel, cassette tapes, CDs, DVDs to name a few. We are a DIY and optimistic bunch and I believe that Equinox Vigil will be re-ignited, repurposed or reinvented at another future. Just look at the revival of analog film or the resurgence of the Herland feminist film workshop for inspiration.
But for now Equinox Vigil is experiencing its own death and ending. Equinox Vigil as it has existed for seven years will no longer be staged in September every year.
During the creation of Equinox Vigil, and through support from EMMEDIA, I designed a Digital Shrine with online platform development by Shiori Saito.4The Digital Shrine was and is my contribution to how deaths can be immortalized in a public participatory setting through the use of computer, software, projector, and a screen. 
So, as in life, there are cycles that involve endings. As the initiator, curator, and producer of Equinox Vigil, I feel privileged and honoured to have built an event that held so many precious and inspired memories and experiences. I am proud that we initiated an award winning and extraordinary event to remember the dead and bring hundreds of people together to experience their loss and grief in the calm beauty of Calgary's Historic Union Cemetery led by artists, poets, dancers, musicians and choirs. Equinox Vigil became a civic cultural touchstone and perhaps deserves a headstone of its own. 
Thank you to Aran Wilkinson-Blanc who was a constant and steady photographer and videographer of the Equinox Vigil. I am grateful for his ability to capture the beauty, logistics, and spirit of the event year after year, including participating as a contributing artist the year he experienced a death close to him.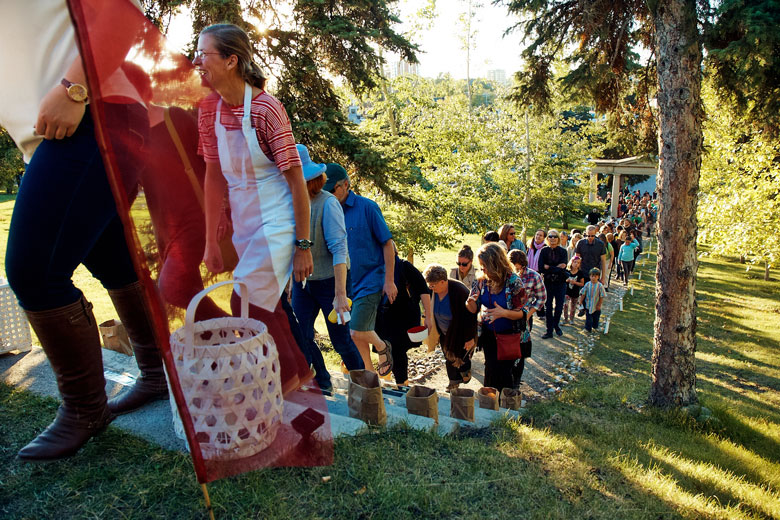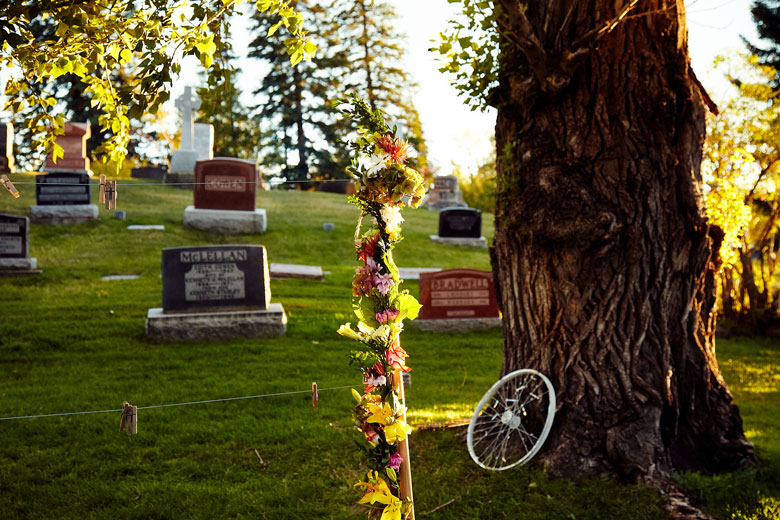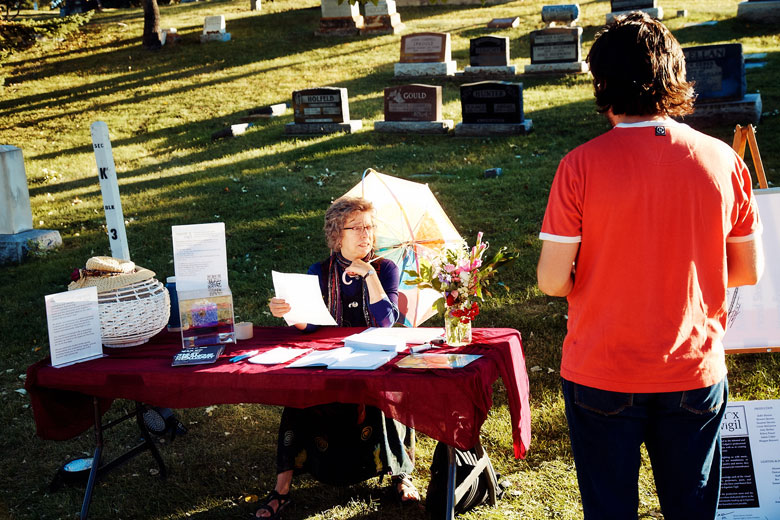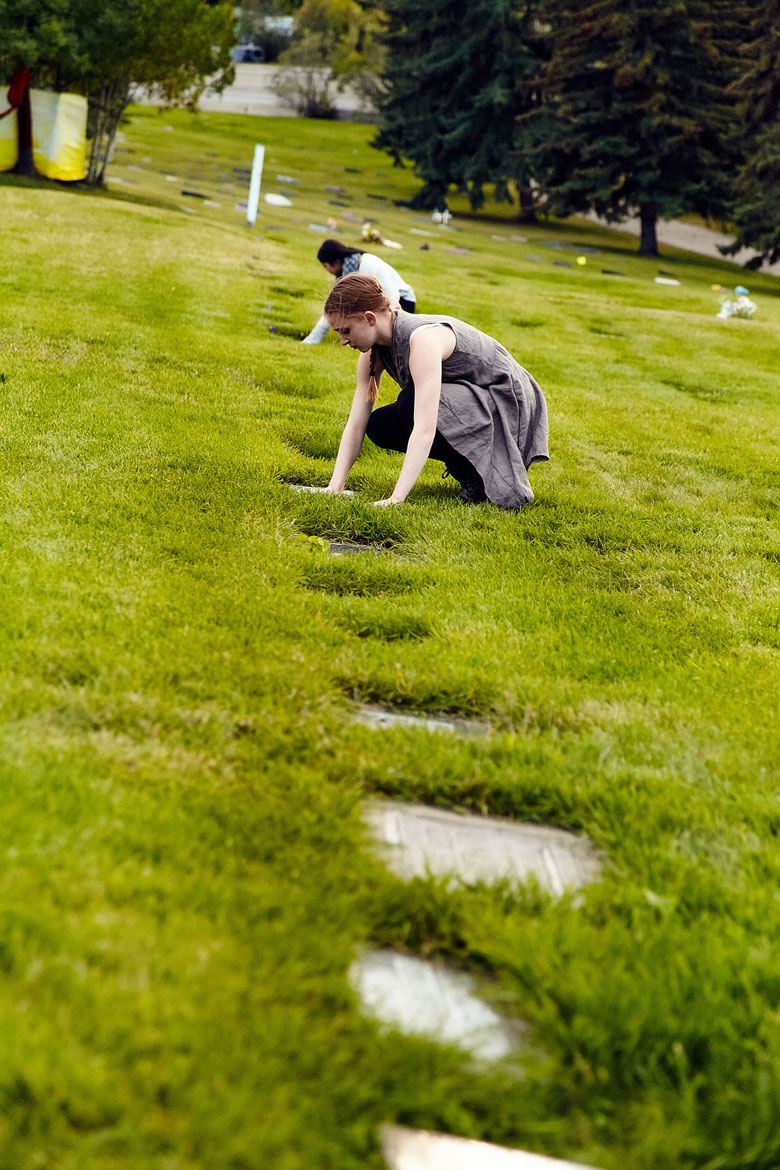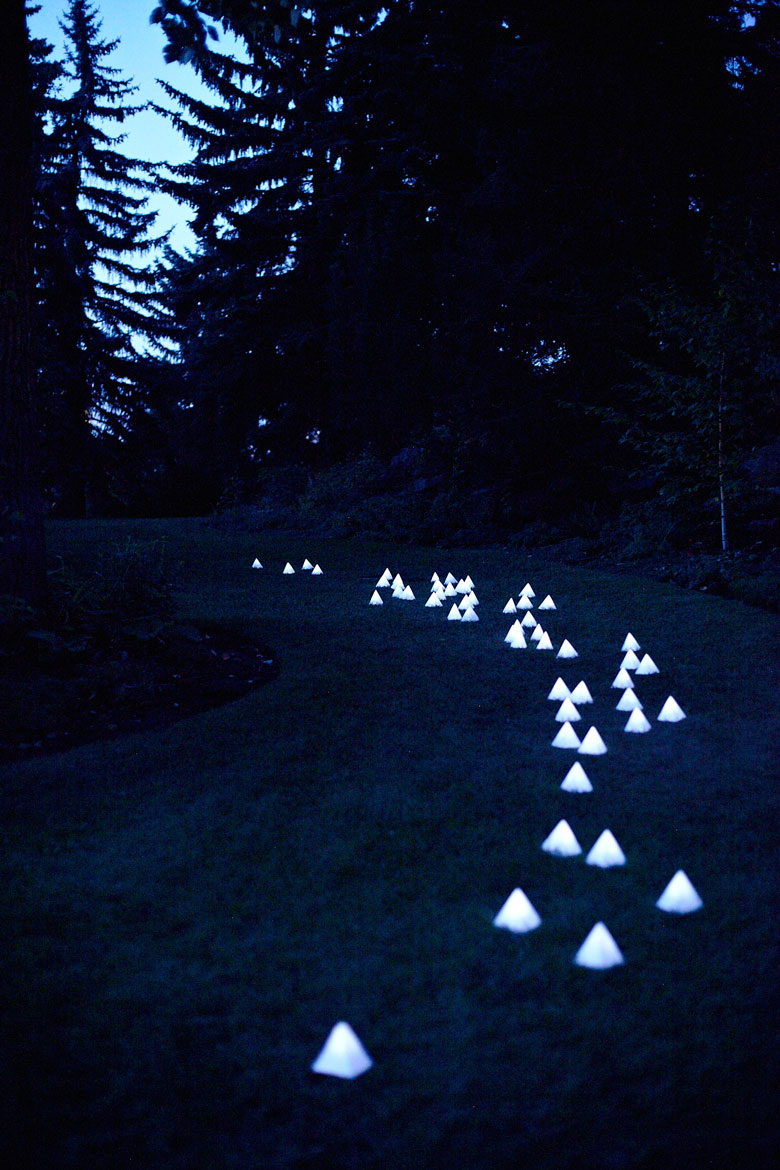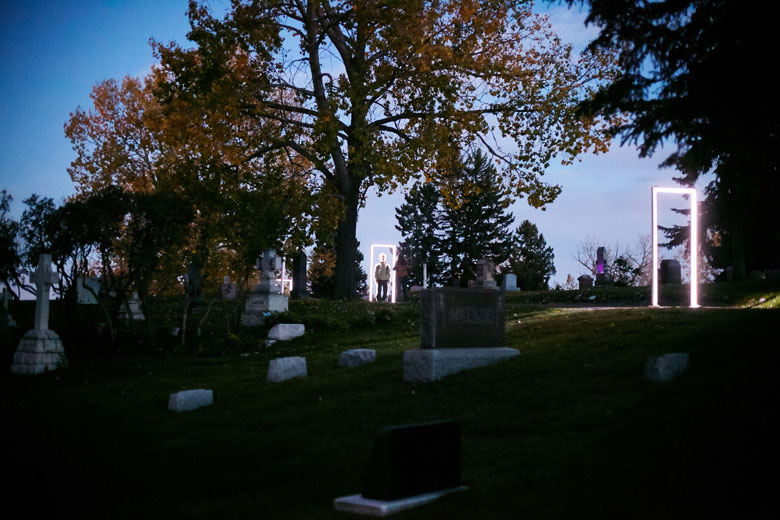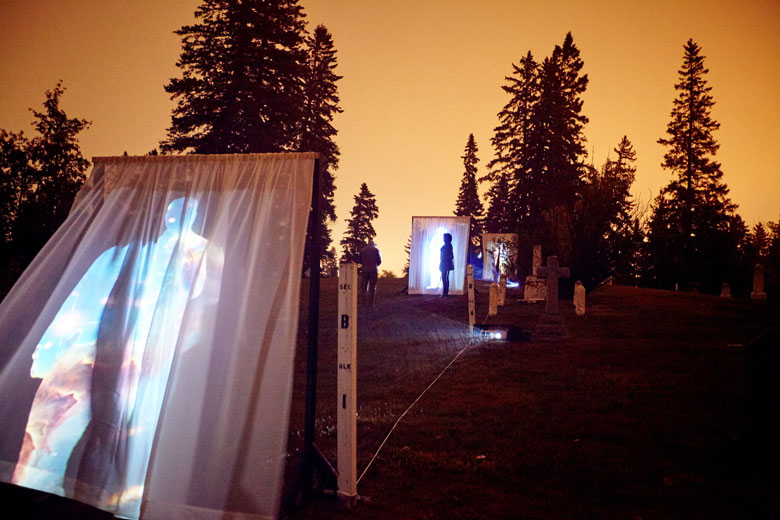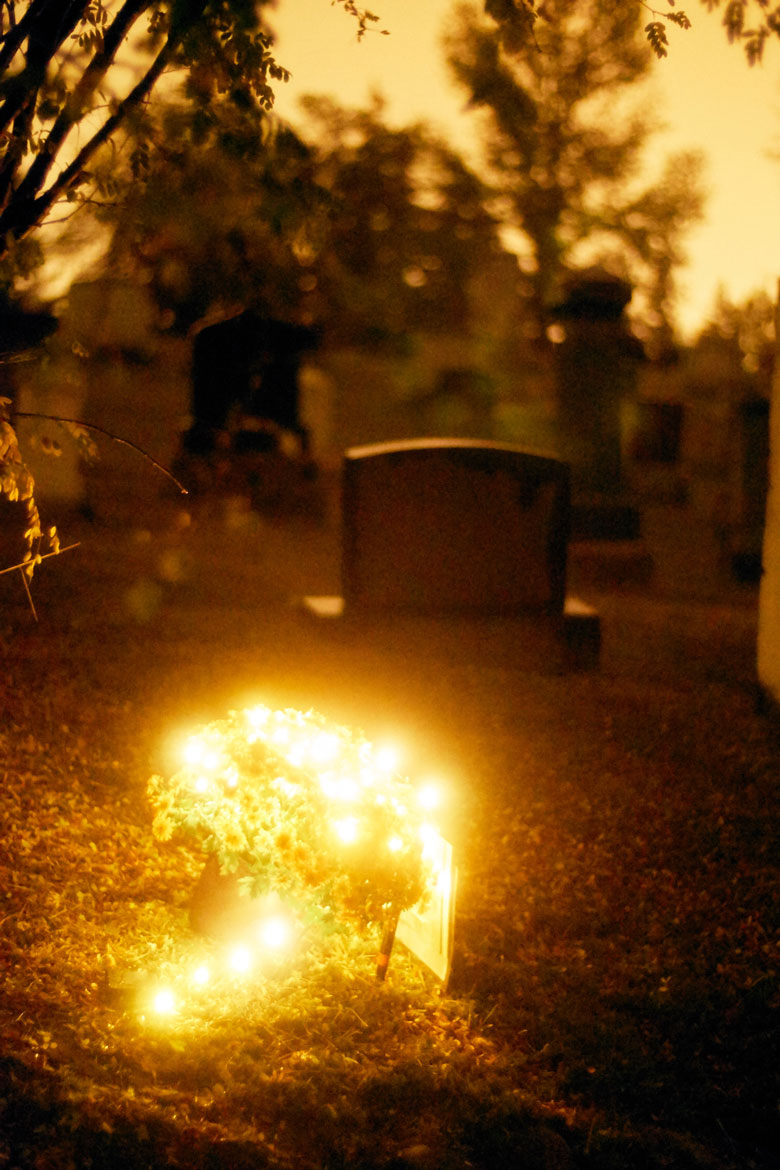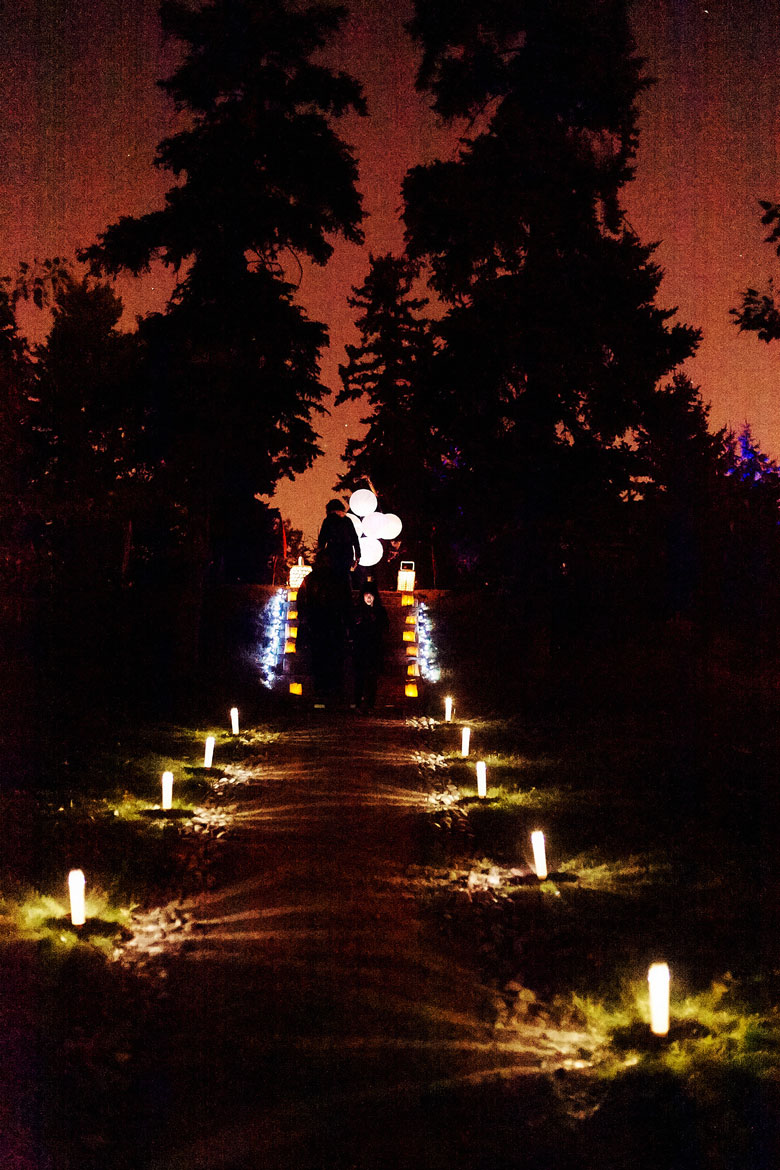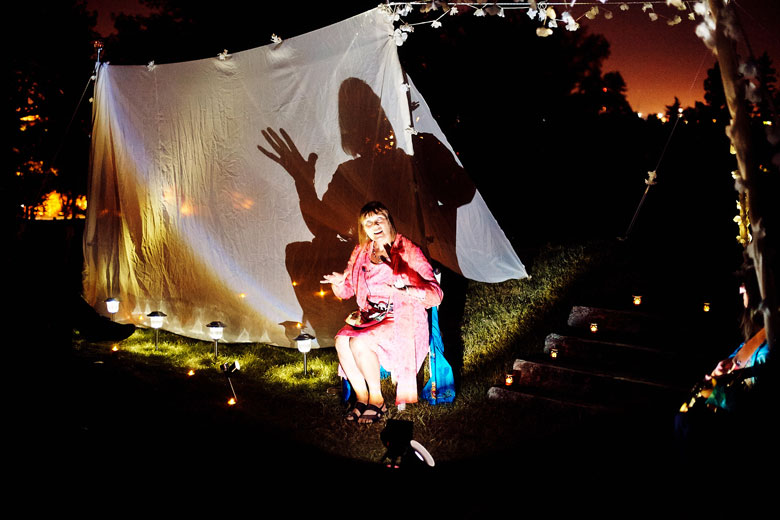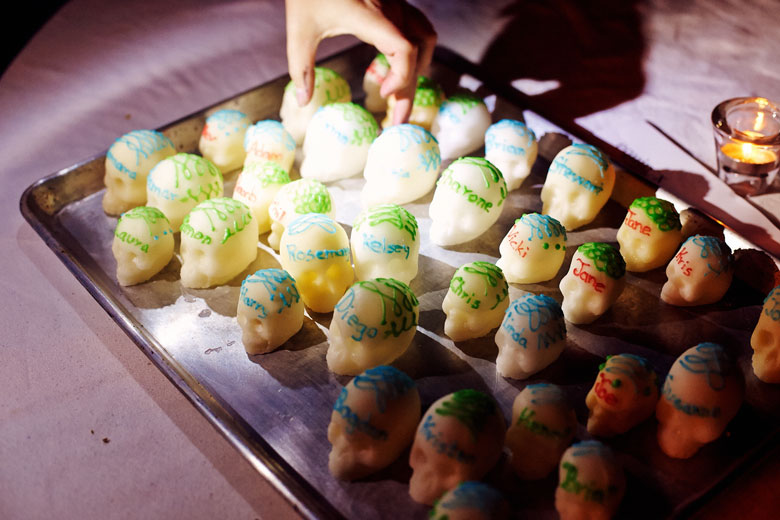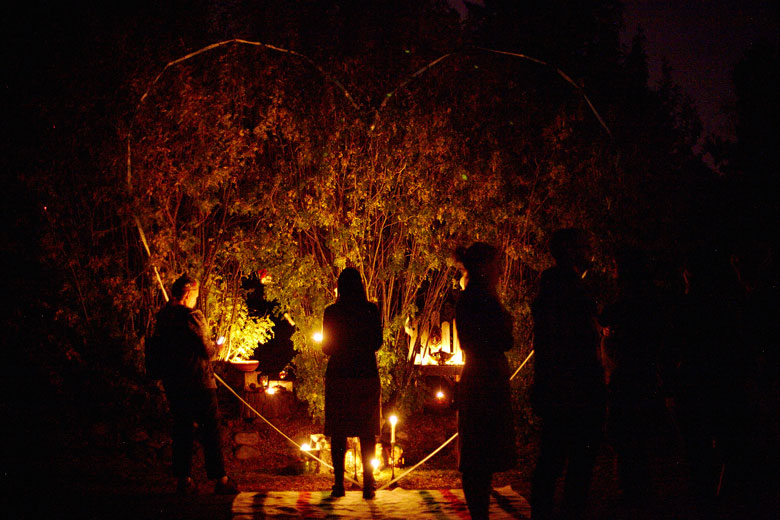 ---
Afterword by Aran Wilkinson-Blanc  
A tray of sugar skulls with our names on them, in a cemetery, after dark.
It was around August that a group of artists, technicians, and volunteers would gather to discuss the final preparations for the annual Equinox Vigil. For seven years Sharon Stevens brought us all together and coordinated our trip to the Union Cemetery. Under the fir trees and among the worn gravestones, a momentary artistic event was formed, a space and time for contemplation and celebration of our common journey. Without knowing it, last year's Vigil was our last and these photographs are now a memorial of that experience.
---
Sharon Stevens, an multi award-winning media artist and activist, is an instigator who's made a career of integrating art, activism, feminism, and social justice into a series of projects that enlighten, enliven and entertain.
Stevens' work demonstrates an unwavering belief in public, participatory art, and takes a beacon-like approach to leading Calgarians into artistic adventures in collaborative and meaningful art making.
Her projects in art and social engagement have had the intent to situate works within communities and actively engage participation, predominately through new media. She has produced a body of video work ranging from documentaries, to feminist narratives to animation. Building on these previous projects, she has evolved and responded to different technologies within her media art practice. With 30+ years as a practicing artist, Stevens has been involved with many of the city's arts institutions and has served on boards, juries, committees and staffs.