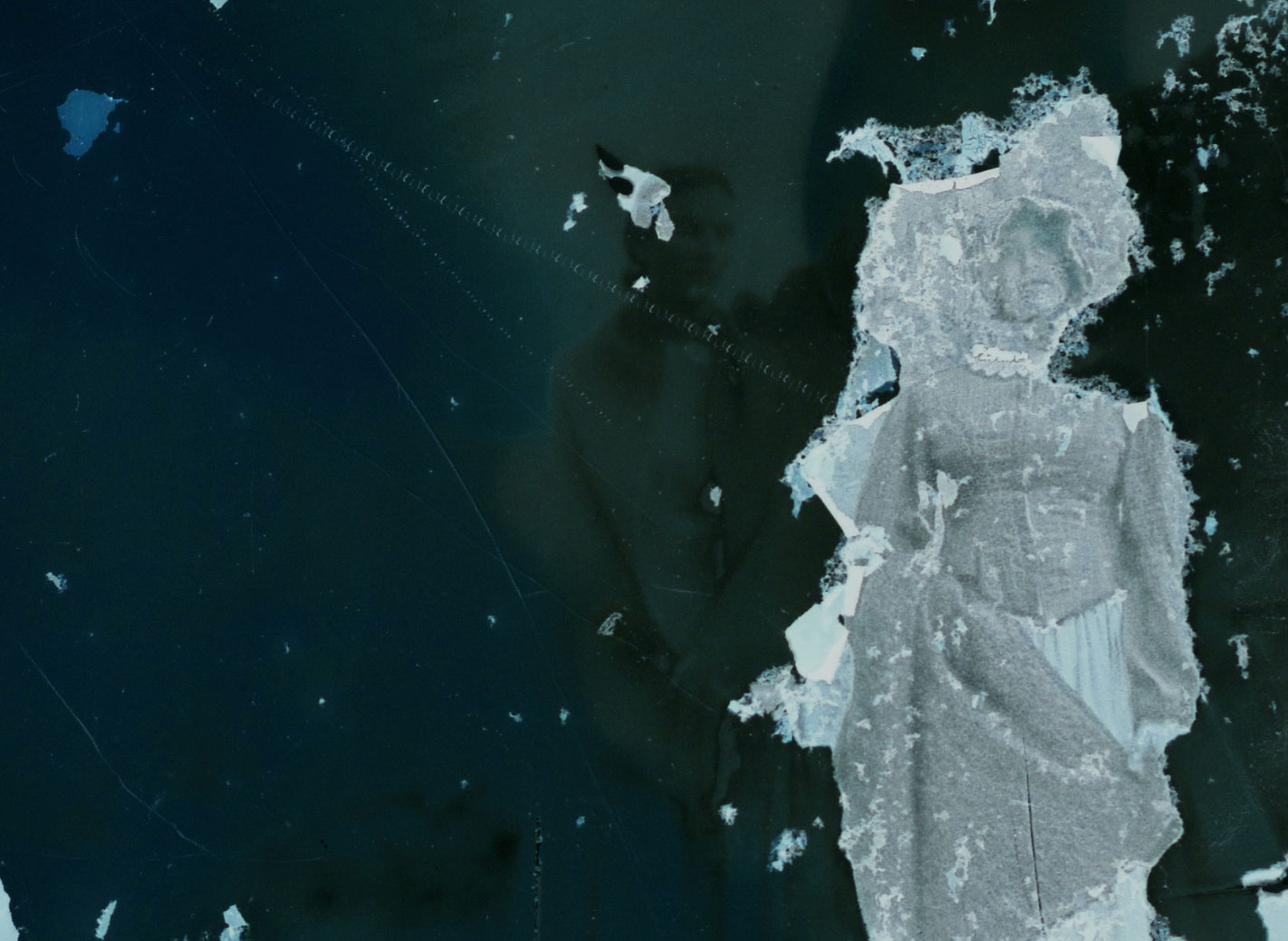 Jeremy Moss, These Ways I Transgress, 2018. Still.
PHOTO Courtesy of the artist.
Some time around the year 2006 at about the age of 28, American filmmaker Jeremy Moss divorced himself of the Church of Jesus Christ of Latter-Day Saints, ending all fronts and resolving an 8-year long process of renouncing the indoctrination of his youth; a process that began at the age of 19 while serving a two-year mission in Brazil. Moss' 2018 feature film These Ways I Transgress is an experimental documentary drawing upon the modes of essay film and surrealist motifs to investigate his ancestry, the roots of his own indoctrination, and the metaphysical reality of his eventual apostasy.
Fluctuating between a re-enactment of Joseph Smith's "Visitation",1scenes depicting pilgrims, missionaries and polygamists staged in the Mojave desert, and home-movie like sequences of the faithful walking to the temple in their Sunday Best are intertwined throughout the film with actual home-movies, showing the filmmaker at an age when his indoctrination was beginning, and documentary footage of landscapes and interviews captured over three years that span three continents. Theological symbols are ever-present throughout the film, particularly images of water, alluding to the ritual of baptism, and images of the father, son and the Holy Ghost. Moss describes his film as "a fantasia of post-indoctrination, immigration, and iconography. A pageant of wanderers and searchers: Mormon missionaries, a pioneer, polygamists, scouts, hunters, church-goers, and an aspiring prophet walk and walk and walk. A pilgrimage of memory, history, ancestry, and place."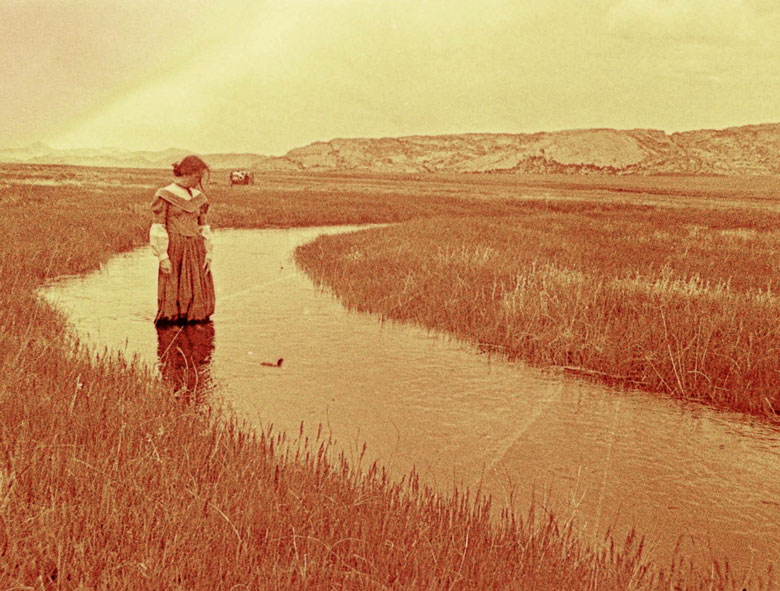 Jeremy Moss, These Ways I Transgress, 2018. Still.
Still Courtesy of the artist.
Moss is now a self-professed atheist, although even this allegiance makes him uneasy; "I am averse to any/all absolutes. I don't believe in god, but I don't want to join any team." These kinds of sentiments are common amongst those who have either officially resigned their membership, or have been excommunicated from the Church of Jesus Christ of Latter-Day Saints (LDS).
Southern Alberta is home to an estimated 81,000 Mormons, with the "Mormon Mecca" city of Lethbridge alone containing more than a dozen wards within the stake.2Stories illustrating the hypocrisy of the LDS abound.3Church policies permit same-sex attraction while acting on this attraction is considered a sin and baptism is denied to the children of same-sex couples. Putting children conceived out of wedlock up for adoption is encouraged while the Mormon Church declares their belief in eternal families. Mormonism was known for its practice of plural marriage until 1890 and polygamist marriages still exist, in principal, among some fundamentalist groups today despite the Church's official policy of excommunicating members found practicing polygamy.
"When I say pain of apostasy, I'm thinking more in terms of the film's tone - for me, there's a sense of pain and discomfort in some parts, tonally. But as I say, just as leaving one's indoctrination is complex in its experience, the film attempts to bridle many tones ... celebration, discomfort, pain."
Those who disavow the church often begin on their path to apostasy with small transgressions at first and over time come to question and deconstruct their belief-system which has been presented to them as fact. In a culture where even the term apostate has been twisted by the church to mean "those who lack strength and diligence and fall into disobedience" rather than "those who renounces a religious or political belief or principle", the guilt and emotional turmoil the apostate endures is serious and real. This cognitive dissonance, the hypocrisy of Mormon doctrine, and complexity of conflicting emotions–the simultaneous pain and relief of apostasy–are the subjects of Moss' film. Moss comments: "As an exploration of indoctrination… I see images of the father/son, Joseph Smith/Mormon Jesus, missionary/convert, scout leader/scout, patriarch/wife as examples of vehicles for indoctrination with the potential for "unrighteous dominion," to use a term from Mormon scripture. When I say pain of apostasy, I'm thinking more in terms of the film's tone - for me, there's a sense of pain and discomfort in some parts, tonally. But as I say, just as leaving one's indoctrination is complex in its experience, the film attempts to bridle many tones ... celebration, discomfort, pain."
These Ways I Transgress is a process-based work composed of hand-processed and often heavily manipulated 16mm film. The film's directly manipulated and destroyed images are a reflection of its' immaterial or intangible subject: physical and emotional systems of erosion and decay. The grainy texture of the black and white 16mm film is frequently punctuated by direct physical transgressions such as bleaching and reticulation, combined with a strict structural system of colour tinting and toning. According to Moss, "This actually goes back to a song [Our Primary Colors] I sang as a child in church. My strategy for the colors was this: yellow = ritual-like imagery; blue = landscape textures; red = ruins..."
 This structural system is frequently interrupted by a sequence of microscopic images–these are Moss's own blood cells, toned in all three colours separately and then eventually presented as the full colour composite. The blood cells serve a structural device for unifying all the sequences of toned film and reference the indexical nature of his DNA, the biological link to his ancestry that is irrefutable, and perhaps more significant than any religious credo.

Jeremy Moss, These Ways I Transgress, 2018. Stills.
Stills Courtesy of the artist.
Beyond this material treatment, the process of recording images for the film may be the most compelling element of the work. Moss travelled with his family (a trip to Europe with his wife Leigh Moss, and a trip across the USA with his son Iggy) to revisit the sites where his ancestors were converted to Mormonism in the 1800s. He also made a solo excursion to Brazil where the beginnings of his own apostasy had occurred. He recorded landscape images, staged scenes, and conducted interviews in Sweden, England, Northern Ireland, Brazil, upstate New York, the Great Plains, and the state of Utah. Moss says of his process: "I observe the landscapes of my ancestors as the places where my own imminent indoctrination began, and that it required a cross-Atlantic and cross-continental migration to get to the place that was the site of my indoctrination."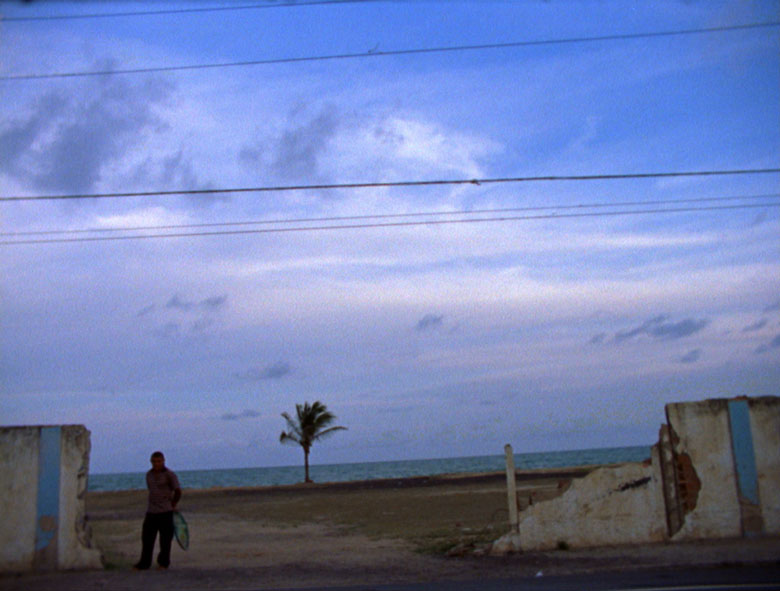 Jeremy Moss, These Ways I Transgress, 2018. Still.
Still Courtesy of the artist.
Much of the imagery in the film, the landscapes, people, and audio recordings were the result of Moss' travels and discoveries with Leigh Moss, who left the LDS Church along with him, and has been an integral collaborator on the film. At times the film takes on aspects of a travelogue and diary film. The act of returning to the place of his mission in Brazil, of walking on ancestral lands, of staging past experiences or Mormon iconography are essential to what the film is. We also see frequent glimpses of Moss' son playing care-free during their trips. The film, and the process of creating it, is as much about the family Moss has created as it is about the family and religion he was born into. The film places a particular emphasis on the symbolic relationship of father and son, as a familial rather than a biblical relationship, and this is no accident. Moss explains: "Mormon theology is tied tightly to the family; they believe in eternal families. They call it being 'sealed for eternity.' If a member of the family breaks from the church, they break the family seal and, accordingly to those who believe, that child is a lost for eternity. Now I don't believe that, but my father does. I broke the chain that was forged by my ancestors 150 (or more) years ago. I am the first to break the chain. The inclusion of my son is this idea that I see him too as part of this ethnicity but he (or the thought of having an offspring) was a key reason for breaking the chain." 
Jeremy Moss, These Ways I Transgress, 2018. Still.
Still Courtesy of the artist.
Although Moss has disavowed his religious heritage, he has not been able to deny the strong sense of kinship and pride he holds for his family and his ancestry. His treatment of this genealogical history in the film shows a great deal of respect for his ancestors. He may no longer identify as Mormon in theological terms but he still does seem to identify as Mormon ethnically. When viewed through this genealogical lens, the film seems less about the pain and struggle of apostasy, and more an observance and celebration of strong familial ties. When viewed through the lens of the diary film, as a record of cathartic experience and exploration of ancestry, the film becomes a cipher of history and interruption, a document that proves the "eternal seal" is never broken regardless of theological beliefs. 
---
MONOGRAPH presents two preview screenings of The Ways I Transgress on November 28, 2018 in Calgary at EMMEDIA and November 29, 2018 in Lethbridge at the Southern Alberta Art Gallery (SAAG) as the final selection in the series' first year of programming.
---
Jeremy Moss was born and raised in Southern Utah, an area where the Mojave and Great Basin deserts meet. He is currently based in Lancaster, Pennsylvania where he teaches at Franklin & Marshall College. His work explores ritual, place, memory, and movement, as well as the forms, landscapes, and shapes that influence and inform meaning, experience, and perception. His films and videos often overlap a number of genres—including dance film, surrealist non-fiction, and film emulsion-based abstraction. He received his BA from the University of Utah in English Literature and his MFA in Film and Video Production from Ohio University. His work has screened at various national and international festivals including Edinburgh International Film Festival, Jihlava International Documentary Film Festival, FLEXfest, Athens Film + Video Festival, Brooklyn Film Festival, Arkipel Jarkarta International Documentary and Experimental Film Festival, Chicago Underground Film Festival, and at a range of venues such as Anthology Film Archive, Northwest Film Forum, Echo Park Film Center, and Microscope Gallery. His films and videos are distributed by Light Cone.
MONOGRAPH is a new occasional screening series based in Calgary, Alberta. Each program features the work of a single artist or filmmaker, with a focus on avant-garde and expanded cinema, both contemporary and historical. As Calgary's only presenter dedicated to experimental media, the series aims to elevate the local cinematic community by exposing audiences to significant works that would not otherwise find a venue.