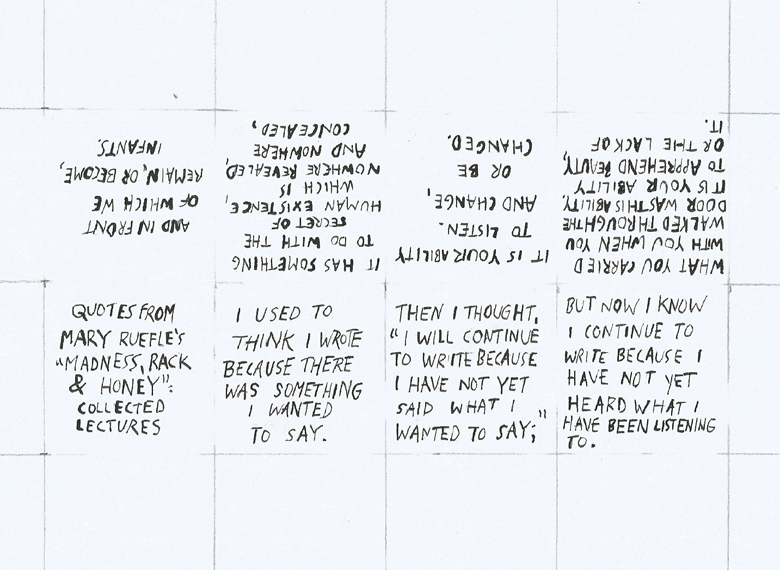 Lindsay Sorell, Quotes from Mary Ruefle's Madness, Rack, and Honey, 2017. Print-your-own-baby-zine. 
Photo Lindsay Sorell
Hygge enter Chapters enter Starbucks bean-smells coffee-floating friendly green tinge eco-friendly person-friendly coffee-friendly green damn. A fireplace chairs that loudly screech across brown tile floor the comfort of the bathroom nearby behind book-detector bars in case I attempt to read on the toilet. Grab a magazine read it in the chair just across the tile/carpet border technically on the Starbucks side test the waters see if anyone will tell you to put the magazine back recognize someone from highschool look away remember the horrors of being teenaged oh god we were all so aware of being under-developed. Coffee in hand move toward the candles charcuterie boards soft big-eyed stuffed animals past expensive cocktail glasses paperweights brass stir sticks blank moleskines past the cookbooks and up the steps to fiction rows and rows pass the aisle of notebooks with cliché yet inspiring slogans emblazoned on their covers. Over to the science fiction/fantasy aisles just to gaze at the sexy covers the wet breasts of aliens and hilariously innocent-looking men with sabers torn clothing falling of their bodies some sort of blazing light in the sky maybe an airship or two ah. Then there are the religion aisles maybe I'm sipping a Frappuccino scared to walk by scared there's a spell on the aisle scared the spirits will touch me or a hand will reach out with its spindly fingers and grab me dig its yellow fingernails into my flesh. Keep going maybe circle around the self-help books and scoff interestedly at them biology travel best paths in Calgary best mountains to climb oh the board game aisle the bestsellers the candles again the trinkets. My brothers are scattered around one has been sitting in a chair chipping away at a sci-fi for a couple hours another is in the Star Wars fan fiction area looking at pictures of star ships I gather them like stars in a constellation like Nuit the god I've always wanted to be star belly getting them out of there ushering them to daylight.