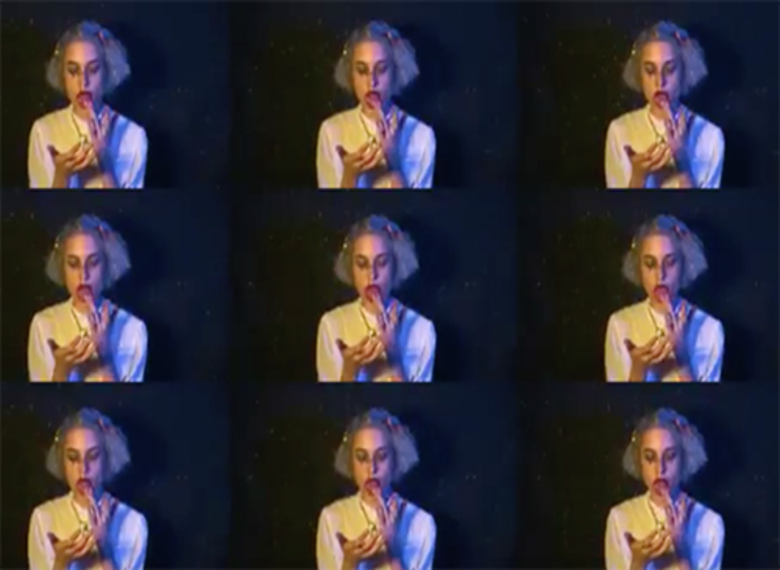 oualie's Confession, directed by Khrysta Lloren (2019).
Still Courtesy of the artist.
In a hazy, dimly lit party scene multiple queers share stories and shoot the shit about cunnilingus, necrophilia, and sugar daddies. Soon, the frame fades to a grisly, revenge horror scenes where we see the antagonist and protagonist(s) exact revenge on fuckboys and sadboys: perpetrators of toxic masculinity and emotional manipulation in heterosexual relationships.
Khrysta Lloren's Catfish Killer (2017) is about a serial killer lying about who they are and using online manipulation to seduce, meet, and murder straight men.1Its satire for queers and women, and true horror for straight men who could not fathom the power of queer folks when we are protecting our communities and holding space for one another's stories.
In Catfish Killer, the first victim is murdered after engaging in a tirade that resulted from a perceived rejection on a dating app, the second after "mansplaining" to his date about his obscure musical taste and attempting to force her to make out with him. We watch partygoers dance while this man is strangled with a rope by an anonymous figure in the bathroom. The final victim terrorizes multiple women through his phone by sending unsolicited dick pics before having his throat slit.
Camp and crassness create a melodramatic portrait of early 20s romantic life styled with bisexual lighting, a semi-recent phenomenon where purple, pink, and blue toned hues light a scene, as a means to reference the bisexual flag or denote a character's bisexuality.2Is the artist showcasing their acute awareness of contemporary queer storytelling or are they offering a veiled critique of the ways queer characters and their relationships are often treated in mainstream media (a critique of the style's recent use)?
I first met Lloren in 2014 and we became friends while attending house parties at a derelict house shared, frequented by queers and lovingly called "The K Hole". We were both inspired by the diverse cast of changing characters who came to the house including musicians, poets, artists, and photographers. "Meeting those people, I felt like I finally had like-minded folks who understood me and knew what I was trying to make and do. Everyone in that community was so supportive and being able to experience those connections kept me wanting to keep going with art," Lloren explained in a pre-COVID interview.3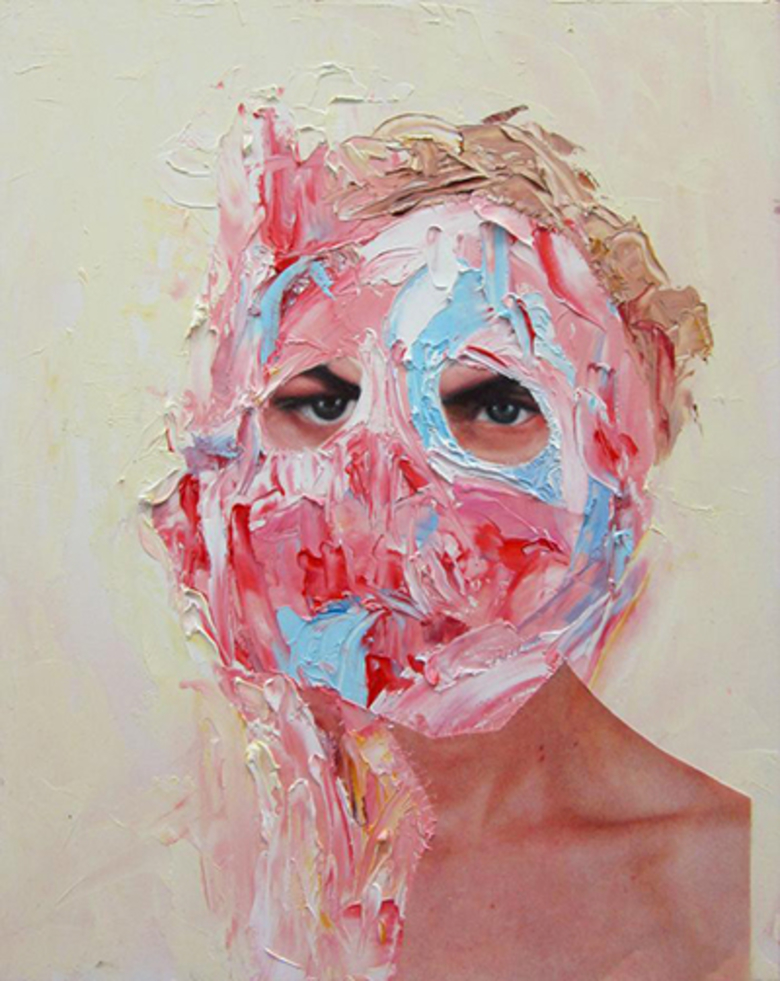 Khrysta Lloren, Harshmellow (from the #EYECANDY series), 2015
DIGITAL PRINT Courtesy of the artist.
Lloren moved to Calgary from Cebu City, Philippines at the age of 19 and attended the Alberta College of Art and Design (ACAD) where they majored in painting. I became completely enamored by their #EyeCandy (2015)painting series, where digital images were covered and manipulated with oil paint to create pastel-hued portraits that simultaneously conjured images of confectionary treats and horrific skin problems. #PostHuman (2016) also used the same pastel gradients to employ further manipulated faces, while exploring the implications of Photoshop, graphic design editing, plastic surgery, and hormone replacement therapy (as indicated by gradated squiggles representing chromosome) on perceptions of the self. 
Lloren has since shifted from painting to media art because, as they say, "painting did not give me enough of a narrative to explain my work, not just to art insiders, but to a broader public."4They are no stranger to the gallery model, having interned at Calgary artist-run centres, and serving on arts focused boards. However, they feel that the niche limitations of galleries, with highly academic art world perspectives, don't allow the average person to interact with their work in a way that is satisfactory to them as an artist. 
As they shifted away from painting, they quickly found their stride with their new medium of choice: film. They now prefer to disseminate their work online using Instagram (@nofac3.binch) since they can control their own narrative, engage in conversations about their work with an already developed audience in real time, and avoid the scrutiny of a more conservative and commercial setting.  "My work is very immediate: I take photographs or videos, and in a day or two I can post it. I don't want to spend too much time editing, if at all. That immediacy allows me to forgive myself. With paintings, it's much more tedious – taking weeks, months, or even years to get my desired result," Lloren explains.5

"I found identity through anonymity,"
Their beginnings in painting continue to influence their work. In Passing Time In Heaven (2019), frequent collaborator Ava Katz relaxes on a cloud and smokes in pink and blue lighting while gazing longingly off camera. Though the frame does not move and the subject only moves sparingly, shadows and glittering light create a rippling that evokes a painterly brush stroke effect. Lloren's Instagram is an evolving portfolio of their right now and helps people connect with other performers, artists, or events across Calgary's queer scene. Lloren explains: "It's their art, and I'm just a vessel or platform to record and showcase that through my own aesthetic lens."6Most of her recent works are short, under the minute. They are moving portraits and dynamic vignettes portraying the subjects through a candy-coloured veneer.7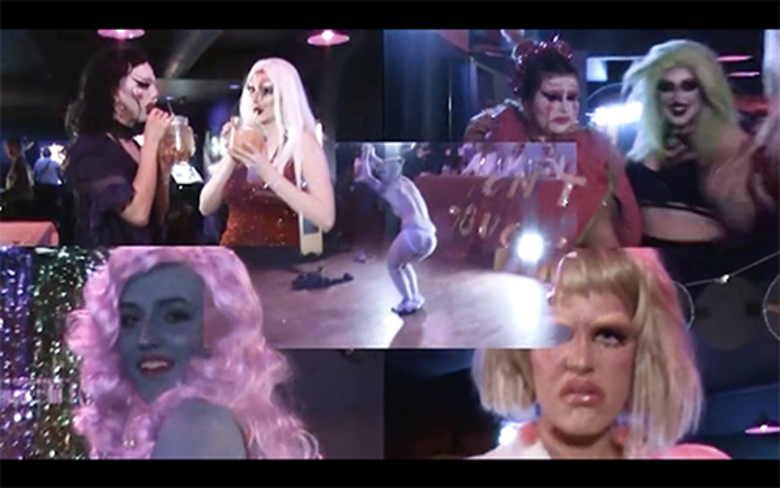 Local Degenerates, directed by Khrysta Lloren (2018).
STILL Courtesy of the artist.
It's a very Warholian tendency – to always be creating and "cranking out" a high volume of media projects, honing their craft as they advance. Like their other influences Kenneth Anger, Ryan Trecartin, and John Waters, Khrysta has never settled on one specific genre in their films moving between scripted shorts like Catfish Killer, documentaries, and experimental vignettes. Much like these same filmmakers that inspire them, Lloren's work often features close friends, peers, and collaborators. 
They have also created documentary works about queer parties in Calgary such as Fudge Packer Friday and Hy Dra Tion (both now inactive), Pink Flamingo, Buns, and Discreet Party. Discreet Party (of which Khrysta is a founding member) is a pop-up party inspired by the Club Kids of the 90s that has taken place at venues across Calgary. According to Lloren, these parties featuring drag performances, photo installations, dancing, and Calgary's queers "serving looks."8These histories are now immortalized online in the six-minute film Local Degenerates (2018).
Shot on an early 2000s using a digital camcorder, the participatory documentary showcases the specific moment in time that our group of friends and the extended queer community were experimenting and casting away the shame that most young queers are burdened with from a young age. The viewer joins the cast on various dance floors, stages, and runways as Lloren's manipulated voice sets the scene: "In this tiny space where everyone could smell each other's sweat and breath, where we were surrounded by loud music and you could feel the vibrations on the floor."9Scenes of fierce struts and drag performances fade into visual reflections of humour, joy, and whimsy – one figure removes their makeup, others dance and laugh together.  
At the time of writing this piece, there were three separate violent homophobic attacks in Calgary, a grim reminder of the importance for community care, celebration, and defiance. Documenting themself and their peers, Lloren creates a rich queer love letter in a city that often loses its creatives to the appeal of bigger metropolitan areas. Local Degenerates explores a Calgary queer scene which is not often recognized nationally and at least for this small group, canonizes an effort to take up space. The film's existence ensures that future generations of DIY queers can relate back to previous modes of resistance to heteronormativity in a city that can feel isolating to those who are different.  
Inspired by the Studio Ghibli character No-Face from the film Spirited Away (2001), Lloren began to use the moniker NOFAC3 in 2018. The change was prompted by their growing desire to "do a type of drag," but they didn't know how to do makeup so put on a mask to create a new character as an outlet for creative expression and to tell queer stories without fear of retribution. "I found identity through anonymity," says NOFAC3.5
In Abhi's Confession (2019) a lone shirtless dancer draped in chain jewellery gives a vogue hand performance to an undulating beat while maintaining direct eye contact with the viewer. The video begins with Abhi's proclamation: "Forgive me NOFAC3, for I have sinned… I've been taking gum off of city sidewalks…"10 Their image is manipulated, cut, replicated, and distorted over the 58 second video. There are four other videos in her Confession Booth series, each one a specific portrait allowing for the cathartic release of an unspoken truth – a continuation on NOFAC3 (and Lloren's) crusade to rid queers of the shame and doubts that might be holding them back.
"It's their art, and I'm just a vessel or platform to record and showcase that through my own aesthetic lens."
In oualie's Confession (2019), another lone figure declares: "Forgive me NOFAC3, for I have sinned… Only me and my brother know why his hand got broken."11The subject wears a white baby-doll style dress and has the word "Maggot" in reverse across the middle of their face. As the subject's bloody nose worsens and evolves into a hemorrhage, the subject tastes it, smiles, and dares the viewer to ask for more on the story. A child's singing voice coos sweetly and sonic tensions rise, while you are left with no further explanation. Filters replicate the subject's face and defiance sporadically through the piece. By flaunting queer resilience, Lloren creates a space for escapism where their subjects can exist authentically, albeit in a surreal setting.
Their Instagram vignettes often feature accompanying music scored by NOFAC3 such as in Sleeping Beauty (2019),where we have an aerial view of Katz' semi-nude figure. They wear bedazzled nipple covers and chrome stilettos while gesticulating to the sound of a sensual guitar and a trip-hop beat: an allusion to the famous American Beauty (1999) scene, rose petals and all.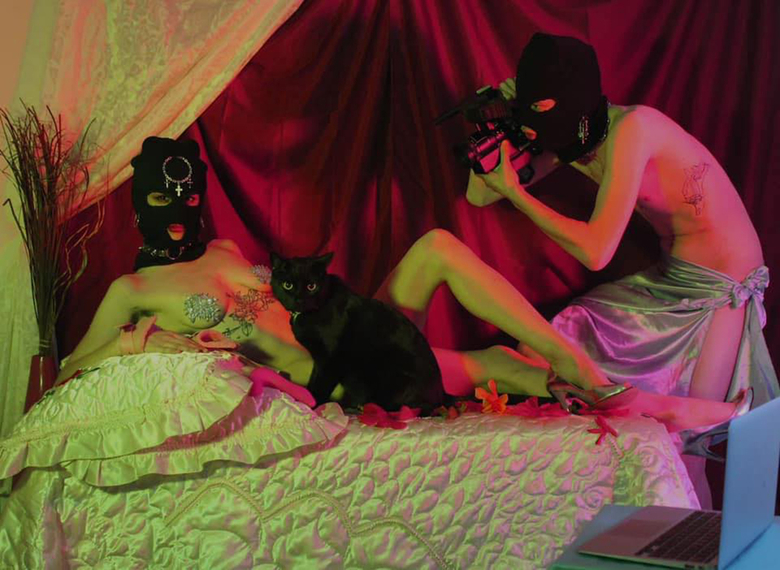 Olympia's Online, directed by Khrysta Lloren (2019).
STILL Courtesy of the artist.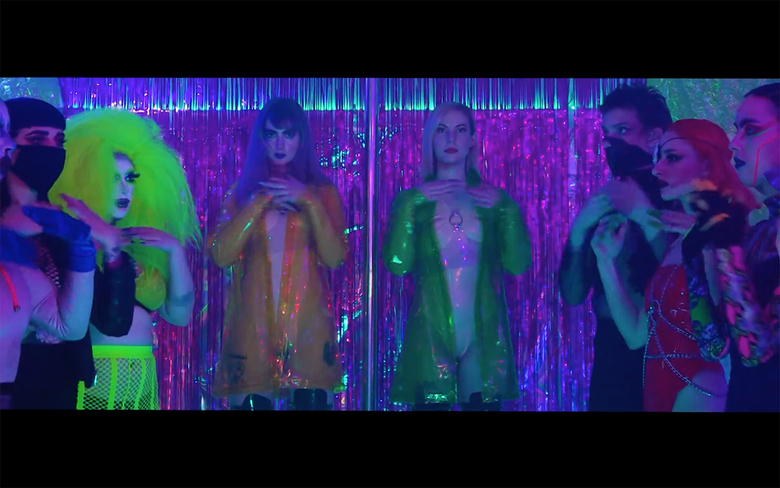 Toxigenic, performed by Khillah Khills and directed by Khrysta Lloren (2020). 
STILL Courtesy of the artists.
In 2020 NOFAC3 directed a music video for the song "Toxigenic" by Khillah Khills utilizing local queer talent. It's a culmination of the artist's aesthetic choices, using elements of horror, gore, and post-apocalyptic nuclear aesthetics to comment on the social factors that hinder queerness. The video provides a vision of strength and survival for our community. A sinister figure with an eye patch and claws with needle tips performs a science experiment on their latest victims. We are then shown glittering face masks and industrial harnesses adorning pole dancers. Their mutations are not to be ashamed of, but rather to be celebrated. Toxigenic features fetishists, drag kings, and drag queens under jewel-toned lighting in a post-apocalyptic dance party that summons the artist's vision of a hedonistic queer futurity removed from the humiliation that heteronormativity currently imparts. 
Through all of these multimedia projects, what is most striking is NOFAC3's distinct visual style. They use soft candy-coloured hues or stark, vibrant lighting to showcase the power of the LGBTQ2S+ individuals being portrayed, as in the Confession Booth series or in Local Degenerates. Though the context, characters, and content may change, NOFAC3 is the cohesive thread in the works and that is what allows NOFAC3 to capture everyface.