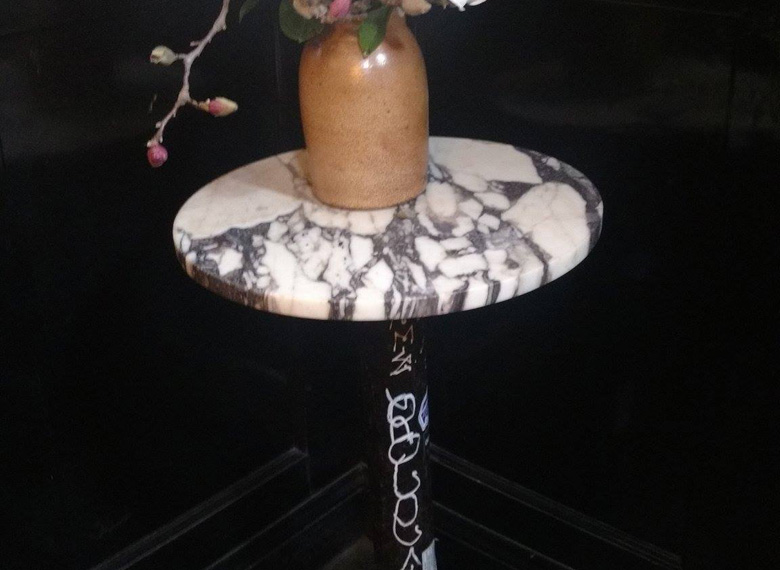 Lindsay Sorell, An Orchid on a Graffitied Marble Sidetable in a Bathroom in San Francisco, 2016. Photo. 
Photo Courtesy of the artist.
Working on this issue renewed my belief in the power of art and the power of writing about it. I was so excited just reading some of the drafts that I had to get up and walk around the room halfway through.
The individuals in this issue—writers, filmmakers, and artists—each take a marked interest in the people around them… using generous collaborations, absurd collages, to create spaces where uncertainty is not shamed, and not-knowing exists as medium. These individuals commission other disciplines and support other practices, collaborate rather than alienate. They leave the clarity of HD video behind in exchange for the actual lived experience, blurry as it may be. This is Dan McCartney, Lorenzo Fusi, Philip Hoffman, Miruna Dragan, Nine Kennedy, and Tasman Richardson: creating modern myths in undefined spaces. 
Angela Fermor's interview with Dan McCartney and Nine Kennedy, "Queers and Our Counterparts," registers every um, uh, and mhm uttered—a portrait of the humanity of three individuals, and criticism of stoic professionalism and the 'established artist.' It is a textual and auditory demonstration of non-tokenized queer spaces—spaces that extend beyond images of the nude queer form—and a challenge to "inclusivity": overcoming disingenuous box-checking.
Angela speaks about her own non-representational practice—making marks on a page to indicate moments in time. These marks I see as a moving image in itself, existing steadfastly alongside Philip Hoffman's films, both artists relying on their status as records of time. His films—collections of salvaged film drawn from different points in his past—stand with his efforts to cross-pollinate between disciplines as an educator, and to generate diverse ideas through community at his filmmaking getaway project, the Film Farm.
Drawing from another lexicon of diverse ideas, the unlimited library of open-sourced media, Tasman Richardson clips and manipulates found video, turning representation into abstraction, narrative video into pure non-representational signal, finally projecting it in space on and around the human bodies of its viewers. Expanding and abstracting the practice of salvaging to include open-sourced moving images, Tasman defends "those scavengers of modern myth, stealing and salvaging technology and remodelling it for their own purposes." He leads me to believe that non-representation is the uplifting of human presence—the human presence of the viewer as something primary or life-giving to the work itself.
Drawing also from an unlimited library, but the library of mediums, Miruna Dragan creates a physical collage of myth. Commissioning a series of woven rugs, studying molybdomancy, logic, mathematics, and architectural surrealism, wrapping the room in photographs, using lightboxes, colourful lightbulbs, painting—she opens up the limits of human experience, even hosting private nude viewings of her work.
The making collage of… colleges, is Lorenzo Fusi: never before have I seen institutions brought together in so many instances in Calgary in such a short time. Opening up dialogue between the University of Calgary, the Alberta College of Art and Design, Glenbow, The City of Calgary, artist-run centres, and thinkers from all over the world together, Lorenzo has gestured toward what has, in the past, taken the power away from the arts community in Calgary—a lack of mutual support. Using his position as Visiting Curator at the Illingworth Kerr Gallery to serve as the middle-man between these institutions, Lorenzo has set into action cross-disciplinary panels, exhibitions, and talks: the development of a stronger and more diverse discussion in this city, which—I think—is a gift from one person who didn't have to give it, to be gleaned by the rest of us for years to come.
And I am inspired to think that each of us one-persons could make a gesture with an effect—learn a different discipline you never thought was valuable, tell someone their work is meaningful to you, walk around the room when you are excited, recognize your body when you read. Read at all. Small things.